The other week I paid a visit to our city hall in my little town Amsterdam. Nope, not to visit our mayor; I needed to renew my ID card and driving licence. As usual when getting to the government counters to get something arranged, one will not be served immediately. Although, I don't complain at all, since I think our system in the Netherlands is one of the best, and one of the fastest in the world. We don't have to queue in the classical sense, we will get assigned a number, a digital board shows what numbers are next, and also gives an estimated waiting time.
I was free to do whatever I wanted.
Since the board told me the expected queuing time would be less then 20 minutes, I decided not to go into the city, but explore the art in our town hall.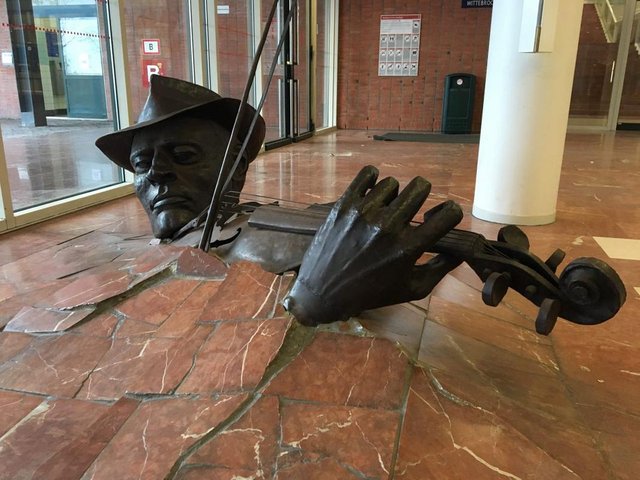 image: the violinist at Amsterdam city hall | © @edje
As usual when I enter the town hall, I always take a little moment at the main entrance to watch the iron sculpture of a violinist. For some reason I always like to spend a little time with this sculpture. Maybe because the piece of art is anonymous; Maybe because I like violin music a lot; Maybe because the face of violinist shows some familiarity; Maybe because the violinist has a pretty cool view towards the city: Who knows? :)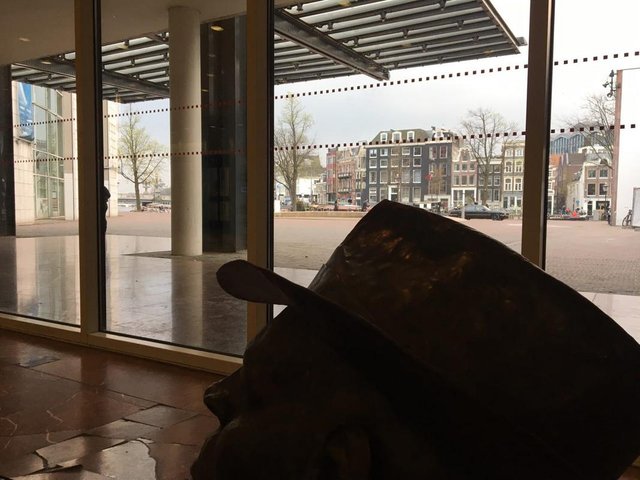 image: the view of the violinist #1 | © @edje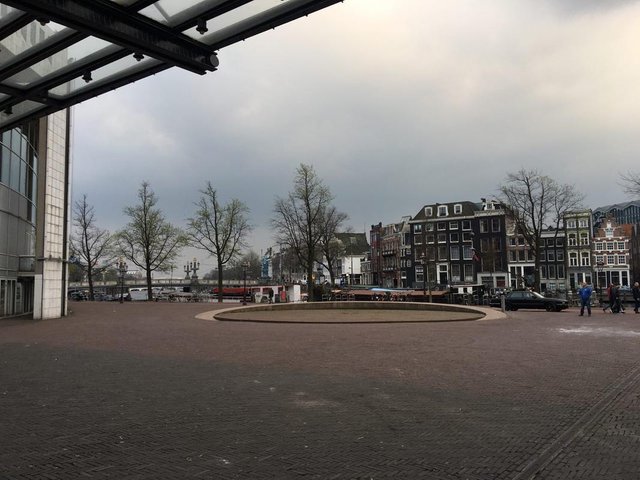 image: the view of the violinist #2 | © @edje
The interesting fact is that nobody knows who the artist is. The name of the artists was never revealed. The city hall once told a journalist, the artist is a medical doctor from profession, and a sculpturer in his spare time. They also informed the journalist: a deal was made between the artist and the city council to not reveal the artist name and in return the city would get ownership of the piece of art.
This resulted in various speculations. One of them: our former queen "Beatrix van Oranje Nassau" is the artist and the model for the violinist is her late husband, prince Claus van Amsberg.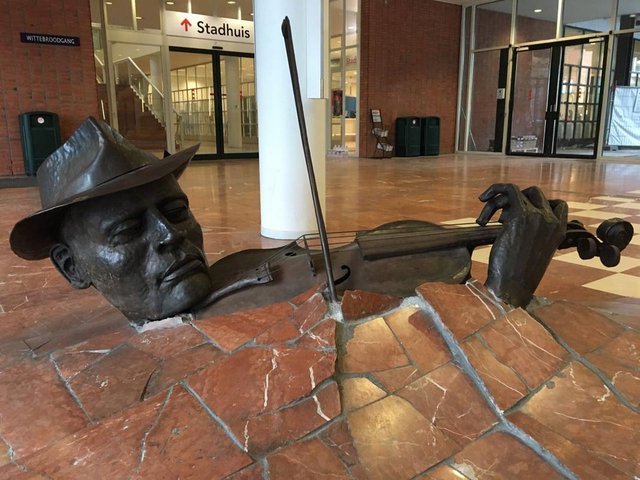 image: the violinist | © @edje
Whoever the artist is, and whoever the model was; I really like this piece. I also think the artist shall never be revealed. Let Amsterdam have our own Banksy :)
Anybody who is interested in art, and plans to visit Amsterdam, plan some time to meet the mysterious violinist. This guy can be found in our city hall 'Stopera' at Waterlooplein. You may extend your musical experience, since the Stopera has a concert hall as well and is the home for the Dutch National Opera and Ballet.
violinist: Janine Jansen | source youtube
NJOY
you like music? check @qsounds