Sometimes when life serves you up lemons,

you just have to make lemonade!
We were a few weeks into my wonderful wife's cancer treatments.
Weekly chemo treatments. Go home to recover. Make the trip back.

I don't recommend anyone get cancer, but if that's what life deals you,
I do highly recommend Cancer Treatment Centers of America!

Our hospital was located in Zion, Illinois.
I visited a local tackle store and found out the king salmon would be starting to run soon.
I had caught salmon on an Alaska trip I made with my Dad my senior year in '77

But Sylvia had never caught any.
The closest was some trout fishing in Colorado around '77.

So, I packed our poles and tackle boxes for the next trip there.
We drove 8 hours to get from our house in Missouri to Zion.
Stopped at Gander Mountain on the way and picked up a few salmon things.

#6 hooks and pink fluorescent salmon eggs...

and a lot of spoons, spinners and other tackle that, come to find out, we didn't need.

Stopped in the tackle store to purchase licenses.

tried a few places around the pier and by a motel

around midnight we ended up on the beach just south of where Pike River meets the Lake Michigan.
There were several locals fishing the area.
We are catfishermen, so didn't think to bring waders.
Oh well, fishing is fun even if you don't catch anything...

we set up our lawn chairs

baited up our catfish poles with the tiniest hooks they'll ever see

Cast out with bobbers.

Caught a little 4" odd looking fish.

Prayed more than once, "Lord, you know the tough bit of life Sylvia's had thrown at her? Could you please just let her catch a King Salmon. I don't care if it's a little one. She needs something good to happen to her. Amen"
And then it happened!!!
That bobber started dancing.
I figured it was another of those little odd looking fishes

But when I set the hook I knew it was quite a bit bigger than 4 inches!

It started pulling line out against the drag!
Honey, honey come here quick!
We got one!
YES!!!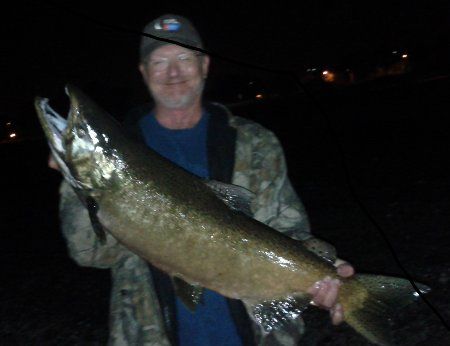 That tiny little hook
had that 25ish pound fish (according to the locals... we never actually weighed it...)

hooked in the pelvic fin.

It's a flat out miracle we fought it that long and hard and it didn't come loose!
Finally, a couple of hours later, the sun came up and we took it to the fish cleaning station down at North Point Marina by Zion.
We were able to get better pictures...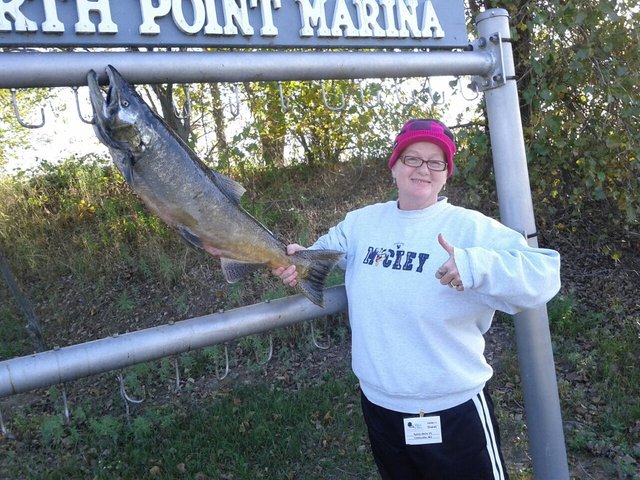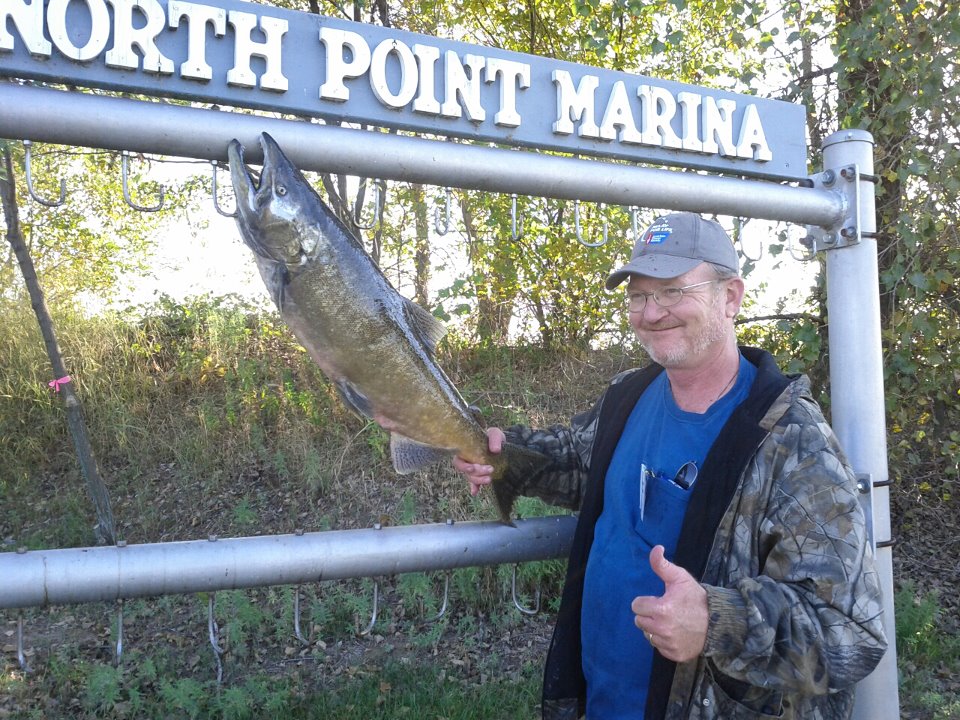 We took those filets back to Missouri and broke out the smoker.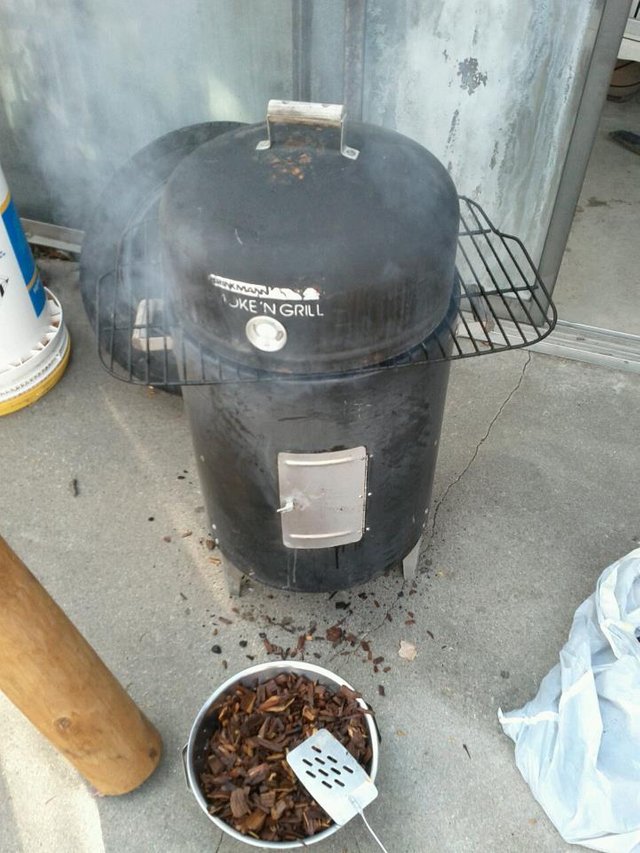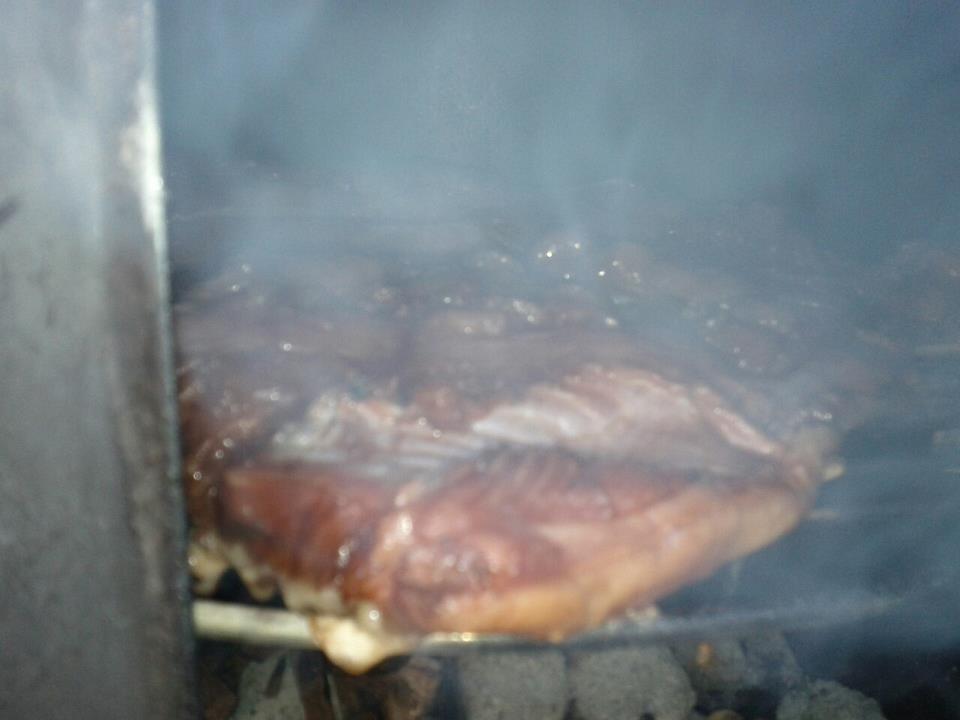 We enjoyed smoked salmon many times over the next few weeks.
Usually with

cheese and crackers and

a glass of lemonade to wash it down.
Well, there you have my October 6, 2011 fishing trip story.
Hope you enjoyed it!!!
...and oh btw...
She fought like a girl and WON!
Cancer free 6 years and counting!
Woohoo!!!