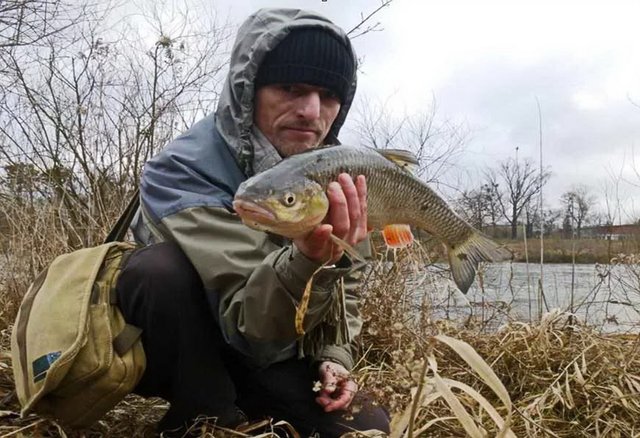 (с)
Fans of Chub fishing spinning, living in the middle lane of our country, are looking forward to the onset of this spring, with the first warm days of which it becomes possible to return to catching your favorite fish. Winter in our area catch a Chub ,even when fishing in warm rivers , was an accident rather than the system. Chub winter of course eats, but the traditional spinning lures ( lures and spinners) to seduce him to bite over difficult. Time can be spent a lot, and the good will be a minimum. Therefore, purposeful fishing Chub in the winter, almost no one is engaged, preferring to catch other predatory fish...
Very different is the case in the southern regions, namely in the Krasnodar region, where small rivers with a large number of Chub in abundance. And these rivers do not freeze all year round, providing an opportunity for spinners to catch their favorite trophy.
Rigging. Absolutely standard golovlevy a set of spinning light class test (12-18 grams) and coil dimension 2000-2500 on the line Shimano. Cord #0.4-0.8 on Japanese scale. Lures: most often will be effective small rolls (32-40 mm) with a depth of 0.5-1.5 meters.It is important that the roll in the animation periodically touched the blade of the river bottom. You can also try silicone imitations of the nymphs and insect larvae on jig-heads 1-2 grams.
This winter Alexey Shanin more than once caught Chub on small rivers of Krasnodar. In one of fishing trips with Alexey the operator of the AnglersZoom channel went to remove all details of catching of a winter Chub. And now we have the opportunity to see a video report about this fishing. Well, Alexey's comments about the choice of places for fishing, tackle and selection of lures are very detailed and will help all lovers of Chub hunting to be fully prepared when fishing for this fish will be possible on our rivers of Central Russia...
---