Sold out in minutes!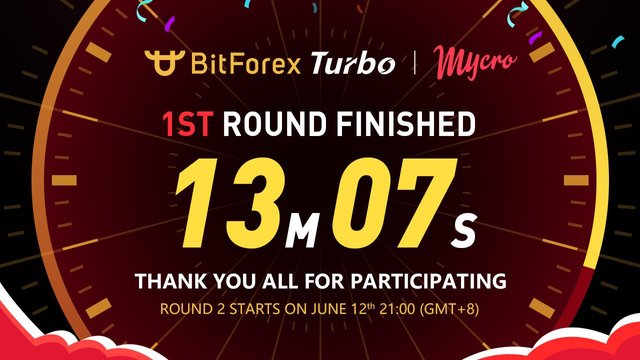 First job done! The first round of Mycro's IEO on BitForex's Turbo premium platform was an overwhelming success. All of the 800,000 MYO tokens were sold out in just 13 minutes and 7 seconds!
The next chance to participate is round 2, which starts tomorrow, June 12th, 21:00 (GMT +8), allowing everyone to join us by purchasing a maximum of 16,000 MYO per person. The price is fixed at $0.30 per MYO, and the total amount for round 2 is 2,000,000 MYO.
All tokens from round 1 were purchased in a matter of seconds, and we expect strong demand for round 2. Bear in mind that token buyer's from the first round will also be able to buy tokens during round 2, so be ready to buy before it's too late!Trading for the MYO token starts on the BitForex exchange on 17/06/2019 17:00 (GMT 8). It will be a MYO/ETH pair which we are extremely excited for!Good luck everyone for round 2!
Don´t miss out - Participate now