Eyes on MCC(MyCreditChain), "The blockchain based platform for personal information distribution"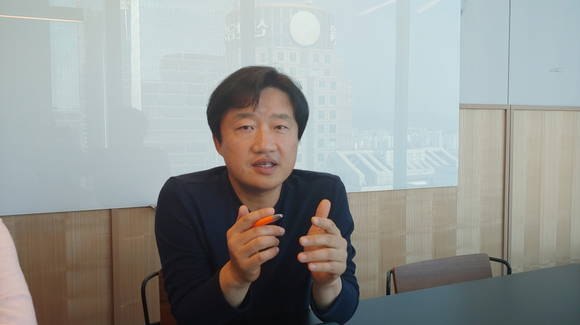 Co-founders of a fintech company MyCreditChain(MCC), Woo-sik Kim and Jae-bong Yang have set out to establish a 'personal information distribution platform' that enables the circulation of personal information using blockchain technology.
MCC has already completed the ICO(Initial Coin Offering) in Singapore this September, and is expected to showcase its real outcome in December.
The market's keen interest is on MCC as there have been only few cases of blockchain network based services in operation following the ICO.
In an interview, MCC's co-founder Woo-sik Kim(on the photo) said, "MCC would probably be the first to bring tangible results following the ICO. Aside from the 'Reverse ICO', which replaces existing service with blockchain network, the process normally takes about eight months to a year. Meanwhile MCC began developing the platform in June and we expect to showcase our preliminary results in December. Given that the ICO was completed in September, MCC would be making an accomplishment in a span of mere three months."
The government has recently announced that it will invest one trillion won in 2019 to vitalize the data economy, and this spurred IT industry to zero in on 'My Data market', a pillar for the data economy.
Once the government policy comes into full swing, personal information will no longer be in the hands of financial institutions or companies. Instead, individuals will be given rights to their own personal information, allowing them to decide on the scope and usage of their personal information disclosure. In simple terms, it will provide a foundation for individuals to use their information in exchange for better services and benefits from companies.
This, of course, requires a platform that guarantees safe and swift personal data transactions. The government plans to operate a system for authorizing 'My Data management business.' This signals that a market for personal information storage and circulation is on the rise.
Following this trend, MCC is trying to create a network where individuals can control and exchange their own personal information for something in return. And the backbone of this network is the blockchain.
Kim, the CEO of MCC said, "the ultimate goal is to create a personal information network that is enabled by blockchain technology." He also added that "this requires a structure and a platform that approves the circulation of personal information for My Data. We also aims to secure more than one million members, and MCC is working to develop a model that can partner up with consumers in demand of personal information."
Blockchain based data trading platform is convenient as all you need is your smartphone. MCC sends a push notification to customer's smartphone, and one can decide whether or not to provide the data. Once a customer consents the use of their personal data, necessary information will be acquired in an instant with the smartphone stored certificate and ID/PW using technologies like scrapping and API.
The acquired information will be stored on the customers' smartphone under security lock or blockchain, and unidentifiable information will be stored on MCC's server. As for important information, it may be uploaded on the blockchain network that provides greater security and unidentifiable information will be managed by MCC. When necessary, MCC can merge the information from the aforementioned sources, which is similar to how the financial sector stores biometric data.
MCC's blockchain based personal information trading platform utilizes 'Ethereum' to issue 'Tokens,' which are used by customers to take part in trading on the platform with loyalty. Once personal information is delivered to companies through the platform, the customers will be compensated with 'Tokens'.
For the initial phase of the service, MCC plans to minimize transactions by recording transactions on the Ethereum and using 'Hyperledger' to process internal transaction records. However, MCC is open to using different kinds of 'Mainnet'. Kim, the CEO of MCC said, "there remains a possibility for MCC to use a third generation Mainnet other than that of Ethereum."
Kim also added, "For the preliminary opening in December, MCC will focus on expansion of the services, by inducing more our customers to become our member. MCC will then have its second round of service opening in next March to introduce more sophisticated functions and transaction services. MCC is also pushing ahead to be listed on the foreign stock exchange. We expect to start the data transaction distribution platform in earnest with the third round of service opening, which is scheduled for June next year."
============================================================
Building Trust with Your Data!