MyCreditChain's "Good Morning" Service, Teaser Website Opened... Global Release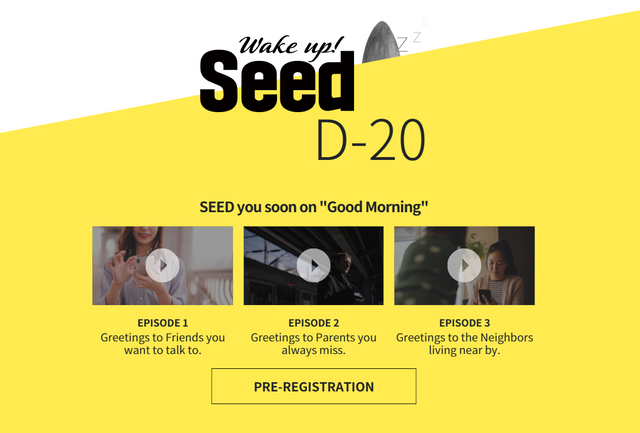 ▲Good Morning Service Teaser Homepage
MyCreditChain (CEO WooSik Kim), which is building a decentralized data distribution platform based on Blockchain/Crypto technology, has announced that they have released their official teaser video and teaser homepage of the "Good Morning(GoodMorn)" service on the 26th.
MyCreditChain's "Good Morning" App is a service that introduces 'Seeding', a unique incentive method that applies Gift Economy.
Unlike the existing social networking services that simply conveys greetings to other users, the service has implemented a unique and innovative idea that allows users to gift a 'Seed' along with the greeting. It is deemed noteworthy that the gifted seeds can be converted into Tokens and thus creating a revolutionary new form of online investment.
What's important is that this service does not require any sort of monetary investment from the individual and users can take part in this cryptocurrency investment by actively connecting with friends. The biggest difference between other Blockchain/Cryptocurrency projects and MyCreditChain's project is that people have a difficulty understanding and actually utilizing the Blockchain services, while MyCreditChain's project has overcome this difficulty by providing simple real-world applications to its service, making it stand out.
The 'Seed' of the "Good Morning" Service is a form of a 'Like', and it can be used to convey a greeting to a friend's message feed in the form of a gift. Only 5 Seeds per person are created each day and by gifting all 5 seeds, the sender will in turn receive their own seed. However, if all 5 seeds are not sent to friends, the remaining will disappear and be regenerated the next day.
The seeds gifted between individuals are converted into fruits which accumulated, can be exchanged as Tokens. In the end, Tokens can be converted into Cash via ordinary cryptocurrency exchanges, giving the users an opportunity to learn and have direct experiences with Blockchain technology.
As an individual gain more popularity and more friends the more 'Gift Seeds' they can receive, and the amount that can be received is infinite. As users increase and 'Gift Seeds' become more commonly used, the value of the Token will increase as well, making it an increasingly valuable investment just by sending daily greetings to friends.
As a result, this innovative idea is attracting much attention from the industry even before its official release. In addition, through collaborative research with the Industrial & Mathematical Data Analytics Research Centre at Seoul National University, they have been able to evaluate and analyze a user's social interaction between other members which as a result has the ability to create a new type of Trust Index.
CEO WooSik Kim has stated that "the "Good Morning" Service is only just the tip of the iceberg for our company's goal of providing a secure and reliable Blockchain based Personal Information Distribution Platform." It was also mentioned that "Indonesia will be a strategic base for acquiring users for the "Good Morning" Service in the Southeast Asian territory and will soon be collaborating with local partner companies in order to enter into the Offline Business Sector."
Currently, MyCreditChain has officially released the "Good Morning" Service teaser website for Pre-Registration simultaneously in Korean, English, and Indonesian.
The teaser website will be giving away prizes such as the latest iPhone XS through the Pre-Registration event and will launch the official service on December 17th. Pre-Registered users will receive various benefits as well as a guide upon official release.
Source: Digital Daily Reporter Park Ki-Rock [email protected]
============================================================
Building Trust with Your Data!
▶Homepage▶Telegram ▶facebook ▶twitter ▶YouTube
A development company that is creating a blockchain-based, decentralized, Personal Information and Data distribution platform in which individuals have the ability to capitalize on their own information and expand relationships through the MyCreditChain ecosystem to create new credibility where before was not available. Our goal is to return the ownership of personal information back to the individual, and to create a free and fair society by giving the ability for each individuals to reap the benefits from their personal information and trust index.
#MyCreditChain #mydata #personaldata #personalinformation #blockchain #굿모닝MCC #MCC굿모닝 #goodmorn #goodmornmcc #mccgoodmorn #goodmorningmcc #mccgoodmorning #MCC토큰 #토큰이코노미 #선물경제 #gifteconomy #마이크레딧체인 #굿모닝 #티저 #사전가입
#GoodMorning #Teaser #Preregistration #재테크 #investment