Birdland and Birdstrumentals Vol. 1--- NOW ON SPOTIFY!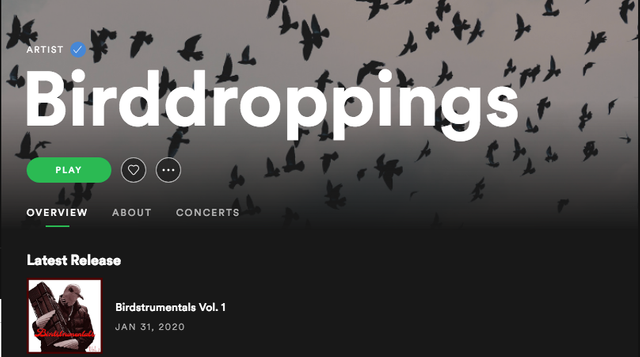 Hey everybody! By some miracle, Spotify has reviewed and accepted both of the albums I sent them, and now both are live and available to stream on the platform. It's an exciting moment, because it means I have the opportunity to reach a wider audience and see real-time statistics on what songs people are enjoying or not enjoying. It feels like the first step toward honing my craft and trying to take music more seriously than just something to do when I'm bored in my apartment.
All of my music I would classify as hip-hop instrumentals, but they certainly don't sound like the hip-hop you usually hear on the radio. All are sample-based, and my primary technique is to chop those samples and re-arrange them into something totally new and unrecognizable.
The first album, Birdland, is mostly older beats. One or two are from 2017, a handful are from 2018, and the rest are from early 2019. The beats have a more vintage feel to them, partly because of the old soul drum breaks and partly from the orchestral samples used in several of the beats.
The second album, Birdstrumentals, feels a little more polished. I improved my finger-drumming and started moving away from looped drum breaks. I got better at mixing and mastering, so the sound levels are more balanced and rich. I also diversified my samples a lot, moving from mostly orchestral stuff to a much wider variety-- everything from film soundtracks to jazz and classic christmas music.
Anyway, if you use Spotify, I hope you will take the time to check out my page! Let me know what you think!