Now Playing: Head Honchos' 'Bring It On Home'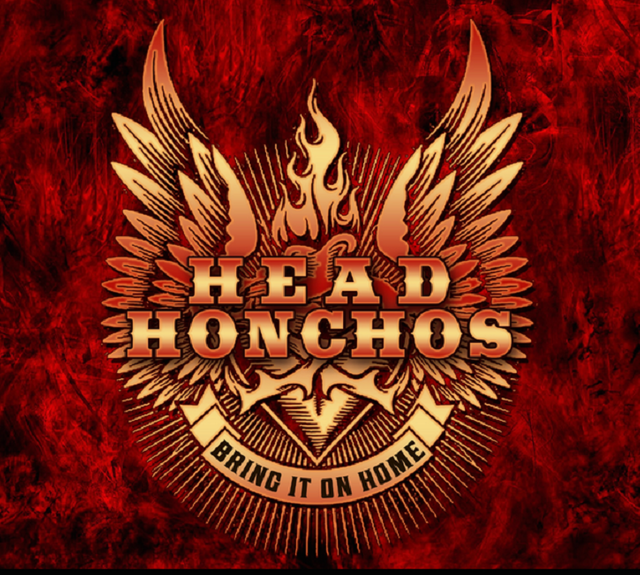 There's a new band in town and it's called the Head Honchos. Their premiere platter is titled Bring It On Home. But first, for those not up on their indie artists, a bit o' background on the band in question.
Head Honchos
The Head Honchos are an Indiana-born band with a family feel. The roster includes Rocco Calipari Sr. (guitar and lead vocals), his son Rocco Calipari Jr. (guitar), Scott Schultz (drums and backing vocals). and (on this album) both Roberto Agosto and CC Copeland on bass.
The band's signature sound is a musical mashup of music genres including hard rock, blues, southern rock, soul, and funk
Bring It On Home
Guest musicians include Steve Ball (keyboards), Phil Smith (percussion), Jo Jo Dotlich (harmonica), Joe J.B. Brown (saxophone), and Mitch Goldman (trumpet). The father and son element (as well as covers and new songs) here provides an obvious blend of maturity and the freshness of youth. There are five covers and eight originals. It's a groove-anchored, blues rock recording with a southern rock tinge.
Track by track
The CD opens on "Not For Me." The song gets things stirring quickly enough and is reminiscent of late 1960s-early 1970s R&B. It has a tribal touch to it.

"Old And Tired" has an admittedly old school feel complete with a bit of a funky blues vibe.

"Work" kicks up things up a notch. It includes the signature sound energetic vocals and killer guitar work.

"Come Strong" has that previously-mentioned southern rock touch amidst the straight-ahead blues-rock It's undoubtedly a great dance tune at their live shows.

"Next To You" features a good drum groove and some memorable slide guitar. It's perfect for a movie soundtrack when the protagonist spots the love of his life for the first time. You get the idea.

"Mean Old World" is the group's cover of the classic T-Bone Walker song.

The familiar "Fire On The Bayou" is a cover of a song by Cyril Neville and The Meters.

"Lucky's Train" is another example of what the band can do both in terms of songwriting and musicianship. It certainly works well enough and has its own identity but suffers slightly in its placement on the album.

"Whiskey Devil" is an early fave of the critics. It has a memorable, nigh irresistible up-tempo vibe to it that makes it work.

"That Driving Beat" is a road trip track that really moves. It's a rockin' cover of a song by Willie Mitchell.

"99 ½ Won't Do" is another cover. Here the band adapts one by Wilson Pickett and company.

"Going Down" is another early fan favorite. It's the band's own version of a Don Nix number.
The album endnote is "Soul Free." It's their final stand out stand-alone cut. It works well as a sign-off song.
Overall, this is a noteworthy new effort. The band sounds like they had fun recording it and that often transfers to the listener. Obviously inspired by the greats, this combo of covers and original audio offerings makes for a worthy initial outing. So check out the Head Honchos' Bring It On Home, feel "That Driving Beat" and set your "Soul Free."
(All media courtesy of original owners)