What is so special about Café del Mar?
A special place for Trance / House / Chilling Music & LOVE
But why? What is so special here and why is it famous? Good question, as of my early Techno / Trance DJ background I know Café del Mar since centuries. Seems this place is THE area of all electronic music fans out there, be it Techno, Trance, House, even Hip Hop and "Schlager" fans - the good old "SPACE" on the same island is another of these mystic music places on the island of Ibiza for many folks. The original Café is a real bar located in Sant Antoni de Portmany, established in 1980. Being the best place to enjoy relaxing music, sun and positivity the Café (owners) founded the record label Café del Mar Music back in 1999, since then it is a history place for different people that come to Ibiza, some for joint love of certain music, lifestyle or kind of freedom.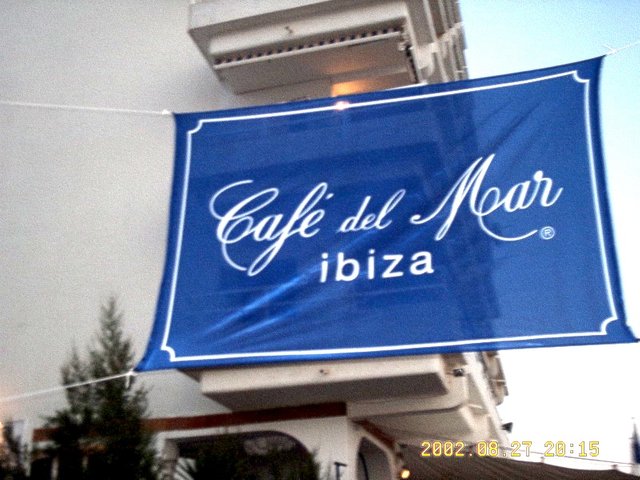 Another key point for this location is the thrilling community, here is the area where folks from different countries and backgrounds come together in peace and harmony to enjoy life. Given I am German and we have our historic "friendship" with English guys - on Ibiza and especially Café del Mar we are simply a group of friends. This is the contrary to Mallorca and its party places where (just as an example) Germans and English love to do their vacation, but often endinfg in old war shit behaviour nationalistic shit.
Ibiza is different, Ibiza is for me also a special place that is like our community of de-centralized blockchain fans her on Hive, Leofinance and other parts of this lovely blockchain.
Historic facts about the location
Our beloved Wikipedia brings this into proper language:
The Café del Mar was founded on 20 June 1980. The look of the Café del Mar was designed by architect Lluis Güell. He was in charge of the design, decoration and architecture.[citation needed]
DJ José Padilla who became famous for his sunset sets that began in 1991 at Cafe del Mar died October 22, 2020, of colonic cancer. He created the first six volumes of Cafe del Mar compilation albums between 1994 and 1999.
Source: https://en.wikipedia.org/wiki/Caf%C3%A9_del_Mar
Some music from the special Café
Let us enjoy some of the great relaxing music produced, played or composed at this magic area or linked to it. Enjoy and let me know whether you also been a guest or would love to come over.