Dance music came into my life in stages. Growing up on the East Coast in the '80s, Cybotron, Strafe, and Run DMC were early ballistic missiles which struck me in third grade, when my gym teacher broke out linoleum squares and tried to teach a room of suburban kids how to breakdance. Hip hop and electro became my first loves, first fueled by NYC radio and beginning in '88, daily doses of Yo! MTV Raps and Rap City. Also in '88, Inner City's "Good Life" and "Big Fun" entered my world through metromix sessions on Pittsburgh's urban radio station, which I recorded to cassette. Although I had no idea who The Belleville Three were at the time, those tracks were my first introduction to the sounds of Detroit.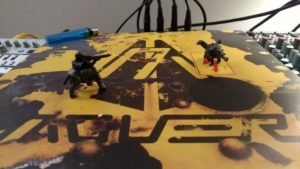 The Mover: Selected Classics (Remastered 2017) at home with various toys.As I started listening to and more and more music, my tastes had grown to include electronic pioneers Yello and The Art of Noise, but oddly it was the work of the demoscene that really started to pique my interests towards techno. For those unaware, in the early '90s various groups of computer programmers would code "demos"—self-contained programs showcasing original art, motion graphics, and music to showcase their creative talents. Distributed on computer bulletin board systems and (very) slowly downloaded by dial-up modem, these demos became progressively more awe-inspiring with each release as the artists honed their digital tricks, often rivaling or exceeding the work of popular video games of the day. And the music really got me going—soundtracks filled with original music that I soon learned was techno, trance, and ambient. The demoscene inspired me to dig deeper—admittedly only superficially at first, as some of my earliest purchases were cornball compilations picked up at the mall. But everything changed after THD's own Deadly Buda threw Power Rave '92—my first rave—at a roller rink just outside of Pittsburgh. The music that night was harder and darker than anything I had heard before, and by the end of the night, mall compilations were certainly no longer cutting it. I bought my first mixtape the next weekend at Turbo Zen—Buda's record store—as well as Industrial Strength Records' first compilation. First cut on the disc? Mescalinium United's "We Have Arrived", now widely known as the track that gave birth to hardcore techno. The title couldn't be any more apt, and I was instantly hooked—a whole new take on the 808s and 909s that fueled my earliest musical interests.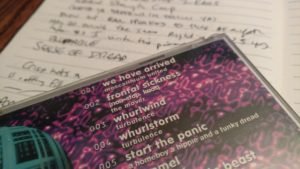 Industrial Strength ISCD1: The compilation that introduced me to The Mover in '92Through attending as many parties as Pittsburgh could throw at me, I quickly grew to consider Marc Arcadipane (and his countless aliases) one of my favorite musical artists. I blew out speakers to "Nightflight (Non-Stop to Kaos)" over the years—watch your bassbins, I'm tellin' ya—and I may be doing the same right now, 25 years later, as I write this piece.
The 2×12" of "Selected Classics" was released on Killekill's sub-label Boidae, licensed by Acardipane's new Planet Phuture label. Even for a 33 RPM pressing, the hats and snares are crisp, and looming basslines blast thick enough to rattle fillings. A carefully curated, fully remastered track selection runs the gamut from the aforementioned "We Have Arrived" (originally recorded in '89 and released in '90) to album cuts from 1993's The Final Sickness (Planet Core Productions) and 2002's Frontal Frustration (Tresor) and the EPs released throughout. Sorely missing from the 12" release is "Over Land & Sea" from the Signs of '96 EP, a slow, brooding track that culminates in a doom chorus of nightmarish, growling bass and crashes. Dystopian 3 a.m. fog and strobe material that to this day desperately needs to be in a movie. (Digital release purchasers of this compilation, however, will be pleased to find the track included, as well as 2002's "Spirit Slasher".) You'll find the pumping "Waves of Life" with its driving vocal stabs and synths that rounds out in a downright blissful coda, the disorientating, uneasy spiral of "Reflections of 2017", and the percussive, percolating "Astral Demons" and its absolutely dope stereo acrobatics.
As a fully indoctrinated fan, each of the selections are fully ingrained in my psyche, but for the uninitiated, this collection should be a truly rewarding journey into the unique energy and vivid imagery that The Mover presents. For those trying to decode the mythos of Acardipane's "See you in 2017" message (for a deeper look into this, be sure to read The Hard Data's Spring 2017 issue) over the years, well, we have arrived. Today, Aphex Twin and Nina Kraviz are unleashing Mover tracks upon a whole new generation at festival crowds. Acardipane added yet another label under his belt (the surfacing of Planet Phuture), and we're in store for a new Mover album this fall. And not to ruffle any political feathers, but was "The Emperor Takes Place" prophetic?
To this day, this still sounds like some of the most futuristic music I've ever heard, and is eerily on-target. Welcome, at last, to 2017. Lying dormant since 2002 and rising like a dark phoenix, the Mover is back—as it was foretold to faithful listeners. (5/5)