Hard Electronic addicts in the USA are in for a treat this month, as Malke brings his musical artistry to New York and Los Angeles. For those of you not familiar with him yet, we were able to get a few words out of him while he was preparing for the shows.
Ok Malke, tell us the basics…
I'm from Campo Grande, Brazil. There I've had the opportunity to enjoy dance music at clubs at early age, which instilled a passion for the music right away.
What's the story behind your DJ Name?
Well, Malke is actually one of my surnames, so that was kind of easy to come up with.
What are you trying to convey with your music?
Energy and excitement are the two words that best describe what I want to deliver to the audience. I love to blend the chaos of metal music concerts with the danceable mood of the clubs and festivals. Sometimes the lyrics on my tracks have deeper messages related with politics and society but some others I've only looked for cool sounding words and that's it.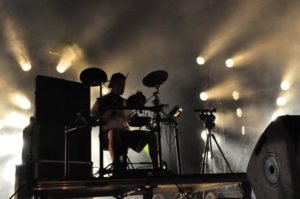 Malke killing the drums!What moments do you cherish the most so far in your career as an artist?
If I had to pick just a few I'd definitely pick my first international gig in Venezuela and my moving to Europe was another really important step up in my career. Playing at Nature One this year was definitely out of the chain but also my debut album on Industrial Strength Records is something I am really proud of.
What can the audience expect from you at Hard Electronic?
I brought all my collection, from Techno to extreme Hardcore, so I have the freedom, within my style, to follow what I feel the crowd is wanting to hear at each moment.
Anything extra you want to say before signing off?
Thank you to all hard electronic music supporters out there, you really rock!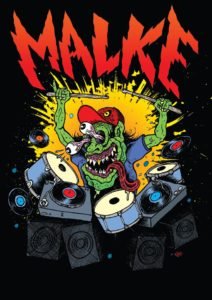 This is what Malke looks like when the party gets pumping!Videos:
https://www.youtube.com/watch?v=sFeA1pw7NUU
https://www.youtube.com/watch?v=syc2jRVJP3M
https://www.youtube.com/watch?v=cxclyX1xlow
http://www.bandsintown.com/Malke%28official%29
Webpage & Socials
https://www.facebook.com/mariomalke
http://www.youtube.com/mariomalke
http://www.mixcloud.com/mariomalke7
https://twitter.com/mariomalke
http://mixlr.com/mario-malke/me