I arrived on the scene fashionably early, only getting slightly lost on the way to the venue. Parking was amazing, I parked literally across the street from the venue. Upon entry I was patted down for safety. I then proceeded into the venue, quickly overlooking the outside hang out area. When I entered the venue, it was heavy with smoke from the fog machines and to my surprise there was no music playing. There was a bar at the end of a room which had a doorway adjacent to it, which lead to the main hall, which I had yet to enter. I happened to run into another early bird, one of my friends Hanssel, who has been a long time raver and part of the underground electronic community for a long time. We talked for a minute and caught up, we originally became friends, after I had done a video commentary on RonDCore's performance at a DJ Tron tribute concert hosted by TechnoBelligerent, Hanssel reached out to me and was able to send me links to all these old school DJ's whom I had never heard.
Although I arrived slightly early, it was time for the event to start, and yet there was no music… Hanssel and I were commenting on it when all of a sudden the music comes on. I go passed the bar through the doorway and across the room, which was full of only a handful of people at the time, but there spinning was a lord of the underground. The one known as Deadly Buda.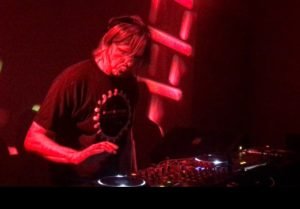 Deadly Buda Tearing it up!I might add Deadly Buda is a friend of mine and and the prime catalyst of TheHardData magazine. Needless to say, Deadly Buda is a big dog when it comes to the underground. I listened for a good minute, but soon after he started his set on the tables, that another headliner came on and took his place. I was concerned, due to Deadly Buda having such a short set, especially also just as an opening set. After he got off the tables I was able to say whats up to him. He told me that his set would come on later and that he was just spinning until the first DJ arrived, I was stoked to hear this because I did not drive two hours to see Deadly Buda play a 20 minute set. His set brought people inside the main hall, despite the earliness of the night. However by the second hour the room was about filled people.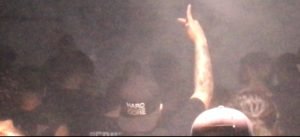 The crowd going crazyIt should be known that hardcore is a type of music that should be understood like this. There are certain levels of energy one puts out during a hardcore event. The first is the spectator. The spectator goes strictly for appreciation of the music, not dancing, not socializing much, but mainly just listening. These are the people that are usually closest to the stage. I found myself there for sometime. The second type of hardcore raver I like to call the Bobble Heads. This is a mild form of head banging, these types of hardcore party goers nod their heads to whatever time signature they please. Since hardcore has so many levels of percussion and sounds, there are many ways of "riding the beat" as one could say. So the Bobble Heads all vary in timing and motion of the way they nod their heads. However, the third class, the most intense class of them all. The type of hardcore fan that dances to the music. I simply call this, "Going Ham". These body movements can range from stomping in quick succession, flailing arms and legs as if your almost fighting an invisible man and also appearing as if one was playing dance dance revolution at the same time. The amount of endurance and strength it takes to dance to hardcore is admirable. Ive seen people who make dancing to hardcore look amazing and creative. I took a step back to watch some of the hardcore raver's moves. Some of the hardcore raver's dancing was very impressive. Of course, other raver's who tried hardcore dancing looked like they were having seizures. It was not a pretty sight, but still it was radical that they were dancing to the brutal beats and not caring what people thought.
I was going hard, dancing a lot. It got hot fast, i was pleased to find that water was cheap and cold. There was also a place outside where one could take a breather as well. The night air was perfect for cooling off and socializing.
The talent that played this night was phenomenal, not one DJ disappointed. Shout out to Deadly Buda for slaying his full set that I had been anticipating. The most epic set of the night was when the DJ known as Lenny Dee spun with with Malke. The crowd went wild. Malke was live drumming on pads while Lenny Dee was spinning. I honestly have not seen this done by anyone before. Just as the performance peaked and everyone was losing their minds…. the power went out… the music literally died and all that could be heard was random ramblings and shouting from disgruntled people. Until one loud voice from the crowd shouted, "Is it over?!". At that point Lenny Dee replied, "WE JUST GETTING STARTED!!!!".
It seemed after he shouted those words that the power came back on and the party went even harder! After that, I cannot remember much because I was dancing so hard. So after his set I took a breather outside to relax and center myself. It was here where I got to see and converse with some of my friends.
I was happy to capture an epic moment. I managed to ninja snapshot a photo of Deadly Buda talking with Lenny Dee about their sets and music. To myself, it was very important and exciting to catch these two legends conversing about one of the most important aspects of my life; electronic music.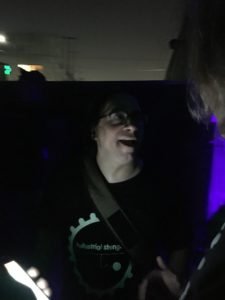 Center frame is Lenny Dee, To the right is Deadly BudaIt was nice to be there surrounded by familiar faces at these events. Shout outs " DJ Seppuku of Dead Culture Crew" and shout outs "TechnoBelligerent" for representing too. Shout outs to all the other people who went to Hard Electronic. See you at the next event!
-3MiloE