It's kind of weird to interview yourself. But, since my job was to interview as many Hard Electronic artists as possible, and a day went by without one, I figured I should fill the gap, as I'm playing the L.A. show. We basically made a list of stock questions for the artist to answer how they wanted. So, I figured this would be easy. Lo and behold, the strangest thing was that I surprised myself with answers to the questions I wrote! So, if you've got a few minutes, let's hang out…
Where are you from? How does your geographic location influence your music?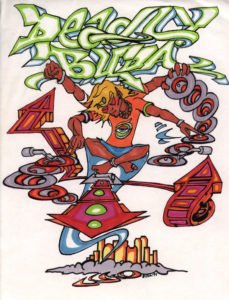 A Deadly Buda graphic from 1994, Pittsburgh PA.I was born in Pittsburgh, PA. There, like most places in the civilized world, the population is force-fed garbage music repeatedly, brainwashing them and compromising their lives. It was there that I decided to fight against the insipid audio enslavers, be they man or otherwise. Eventually forced out of the city, I slowly made my way across the USA and have lived in Los Angeles County for the last 17 years, where I continue to wage my guerrilla campaigns to varying degrees of success.
What's the story behind your DJ Name?
The original story is that "Buda" was my graffiti tag name, taken from a high school social studies report. I added "Deadly" with my first rave DJ gig in 1991. I wanted my DJ name to sound like a kung-fu movie name, like my DJ heroes growing up, Grandfaster Flash, mainly. But as time went on the meaning changed various times. I read years ago about certain Buddha's whose job it was too destroy egos in order to set people free from the identity others have forced upon them. I like that idea, so that's what my name means, now.
Who or what events in your life are responsible for you being the artist you are today?
My neighbor, Phil Schoemer, who first taught me how to DJ, was the biggest influence. I still remember things he taught me today, and still struggle to do them. DJ Controlled Weirdness, who introduced me to so much music in the early 90s and we threw raves together as Hear 2 Go, Christoph Fringeli from Praxis Records after that. I've always listened to everything Lenny Dee has to say, because he is more experienced and forward thinking than anyone in the dance music industry, period, and today when I get to work with Rob Gee on videos and stuff, helps me keep my sanity in a world gone mad.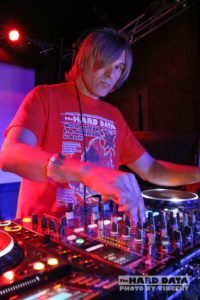 Deadly Buda will be appearing at Hard Electronic September 9, 2017What are you trying to convey with your music? What are you trying to communicate? What are you giving to the crowd that listens to you?
Though I try to make my sound dimension-bending and otherworldly, at the core I guess I am just trying to communicate that they aren't alone… that we see really see these things and enjoy things together. I feel what they feel, too. Ultimately, life is more psychedelic than any drug you will ever take. So, I think when I play "crazy" hardcore I am just really describing life as it is, without a filter, and I want to just geek out with my friends about it and what we're doing.
What moment do you cherish the most so far in your career as a DJ?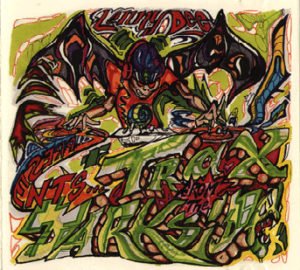 Lenny Dee's Trax from the Darkside album art by Deadly BudaThere are some big ones for sure, Even Further '95, and of course Even Further '96. Both were some of my greatest sets for big crowds, and of course legendary parties. But the first one that always comes to my mind when asked is Catastrophic New Years in 92-93, in Washington DC. It was my first ever out-of-town gig, and Catastrophic was one of the biggest, if not the biggest rave crew on the East Coast at the time. My friend Dario Kenning gave them a tape and the next thing you know I'm playing 'til midnight for the biggest, most illegal party I'd ever seen or maybe will ever see in the USA. They were diplomat's kids, the Baez brothers, and they literally were pulling electricity right off the telephone poles into the warehouse and all the cops were obviously paid off. Ravers surrounded by Secret Service, it was unreal. I was already playing hard at the time, and I'll never forget when I asked Mike Battaglia (now known as Mike Bee) what I should play, because I thought I might be too hard for them. He laughed and said, "just play hardcore!" and raised his fist and laughed. So I did and it went through the roof!
But for cherishing, I'll always cherish the first raves I did in Pittsburgh with Controlled Weirdness: Psychotronic Slackrave, the Beehive parties, and after he moved, the Turbo-Zen and Millennium parties, which are stories for another day.
What specifically are you planning to give to the audience at Hard Electronic?
Original Deadly Buda style with new and improved ingredients. Since it's Hard Electronic, I am going out-of-my-way to break the mainstream rules, really my old style. So, starting at 133 BPM and in a half hour, crank it up to 200+ BPM. I'm going to start banging some new Dave Delta tracks, and end up with some Mr. Madness at the end. Make sure to get there by 10:00 PM though, because that's when I start. There are so many great DJs playing that if you blink you'll miss one of us!
What is something you really want to tell the public that we might not have asked about?
The world today is dangerous, and meant to be confusing and overwhelming. It's easy to get upset and impatient with everything going on. Just when you think you know the answers, another contradictory layer to the madness is revealed and frustrates. In today's world we cannot rely only on logic or emotion, but must hone our intuition to navigate through the madness. Mistakes will be made by us and others, but if you proceed knowing you are good, and look for and amplify the good in others, be they friend or foe, we can navigate around the dangers and feel immediate satisfaction in our actions. I have to remind myself of this, so maybe others need to hear it too.
Links
Deadly Buda's Musicoin Profile