Fred Astaire Gets Funky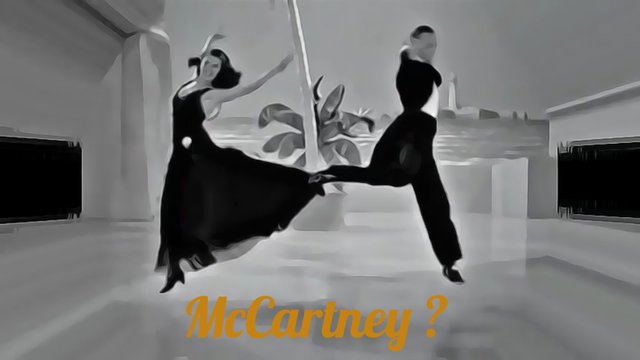 This post is another product of my Steemit break. I enjoy finding seemingly incongruous things that work surprisingly well together. This is such a case, Fred Astaire dancing to Paul McCartney.
As I've mentioned before, Michael Jackson was a big fan the dancing movie star Fred Astaire, and listed him as an influence. Other people have taken old movie clips of Fred Astaire dancing and added a sound track with soul, funk, or rock music. I'm not even the first to have done this with Paul McCartney's music. Previous versions drew upon McCartney compositions inspired and performed in the style of his own father's music – because of the retro musical style those clips work, but that's not surprising.
I got the idea to use a funky version of a song McCartney did during his 1989/1990 world tour called "Coming Up."

Fred Astaire dances to Paul McCartney
End of the Short Version for busy Steemers
---
Below Extended Version for Beatle fans & Music Geeks
I went to two concerts from McCartney's 1989 world tour. At that time he was an unusually youthful 47 and completely on top of his game musically. He still had his voice, his playing was better than ever, and he had finally embraced his Beatle past. He had just released an album, "Flowers in the Dirt" which was reminiscent of the best of the Beatles. This was defintely NOT a case of having to suffer through a weak new release in order to hear some of an artists best work. "Figure of Eight," "My Brave Face," "This One" and "Rough Ride" would have all been worthy of a Beatles album.
At that point it had been ten years since his last tour (in 1979 when he still toured as Wings.) I was determined to take advantage of this opportunity and got to the arena hours before the start, and ended up in the third row for one of the best rock concerts I've ever seen.
This tour was filmed, but fortunately Frankfurt was only the 5th concert date and it wasn't filmed – that gave the band time to work things through and get the kinks out. I write "fortunately" because a month later I also went to Rotterdam to see that concert (3rd row again :-) and it was filmed. In Frankfurt Paul played to the audience and the energy was incredible, but in Rotterdam he played more to the cameras. If I hadn't been to the Frankfurt concert I might not have noticed it, but it was indeed a different experience.
I hadn't known what to expect, but McCartney had really pulled out all the stops for this tour. First, it was a remarkably long show -- over thirty songs, from the Beatles, Wings, a few pre-Beatles rock & roll standards, and several from Flowers in the Dirt. Frankly, at that time I never imagined I would hear songs from the Beatles Sgt. Peppers album performed live, but they were, and they were excellently done thanks to the remarkable band.
Here is "Coming Up" which I used in the Fred Astaire clip above.

Paul McCartney: "Coming Up" (Live - World Tour)
"Coming Up" was on McCartney's third solo album that was released in 1980 to poor reviews. It was released as a single and charted quite well, which is surprising given how it was recorded:
I originally cut it on my farm in Scotland. I went into the studio each day and just started with a drum track. Then I built it up bit by bit without any idea of how the song was going to turn out. After laying down the drum track, I added guitars and bass, building up the backing track.
Then I thought, 'Well, OK, what am I going to do for the voice?' I was working with a vari-speed machine with which you can speed up your voice, or take it down a little bit. That's how the voice sound came about.
— Paul McCartney in a Rolling Stone interview
Paul released a video in which he plays (along with Linda) the various instruments. Here is that video.

Coming Up McCartney Solo version
The live version, thanks to the band, is a huge improvement. You'll notice there is a tip of the hat to the funky sound of the Average White Band in the live version. That is not an accident, Hamish Stewart, whom McCartney recruited for his band, was a founding member of the AWB.
Here's Hamish doing the AWB's hit "Cut the Cake" on Ringo's All Star tour. Yes, that's Edgar Winter on sax! SKIP forward to about 1:10
Paul also enlisted a second fantastic guitarist for the band, Robbie McIntosh. He's probably best known as lead guitarist for the Pretenders.
Robbie McIntosh with the Pretenders -- SKIP forward to about 1:40
But younger fans will remember him from his many tours with John Mayer.
Someone put together a short best of video of Robbie McIntosh – this is worth watching.
Photo: YouTube screen capture effects @roused