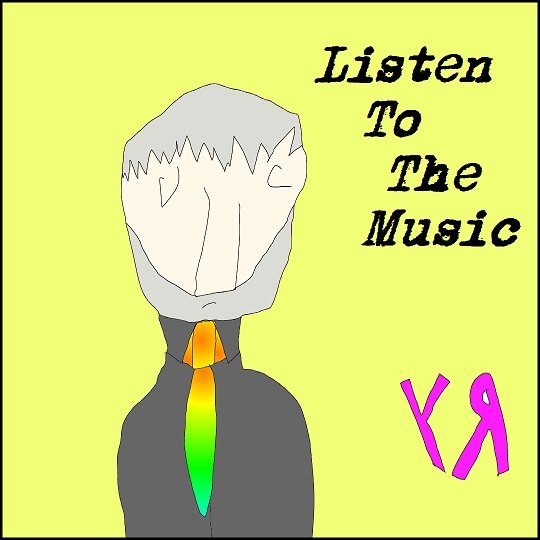 [Here's some sad news: Not every song in this playlist is going to be in the playlist! If you haven't been following my constant whining over the last few days, I'm having some trouble with 8tracks (which I've used without any trouble for about 8 years!!!), and I can't seem to get tech support to get back to me---so I'm just going to take the tracks that won't load properly out of the 8tracks stack. I'm LEAVING the songs in my list here, though, because I want people to know what I INTENDED for this playlist to be. If you don't know any of the songs that had to be removed, I recommend just doing a quick YooToob or Gooble search for them and giving them a listen. I only put awesome songs in my playlists, so it makes me sad to have to remove even a single track, but I'm too impatient to wait for I.T. to get back to me, and I want to get this little chapter of my life completed so I can move on to other things. The playlist was supposed to be 101 songs, but now it's 89… That sucks, but what else can I do??? What follows is my original post, from 24 Feb., that I didn't get to post… Thanks for your patience and understanding!!! ---RFY]
I'm in a NEW WAVE mood today. I've been making a lot of CDs to listen to in my car as I'm driving around making deliveries, and the songs that seem to be giving me the most enjoyment lately are those old, 80's waver cuts! Of course, I'm never a purist, so there's also some techno in there, and some industrial, punk, psychedelic and classic rock tracks, songs from the '90s, songs from the 2000s, and songs from the '70s, and so on. Perhaps surprisingly, a lot of the cuts I've picked this time were fairly popular in their day---even Top 40, in a few cases---but I think it's important that people not be afraid of listening to music just because it WAS popular at one time or another.
FEAR NO POP!!!
You don't have to LIKE everything in my playlist---I would never assume that anyone but me would enjoy EVERYTHING in a giant playlist like this! (101 songs is a LOT of music!) However, if you're young and feeling adventurous, or if you're in your 40's or 50's and feeling nostalgic, or if you want to do some old-school dancing, OR if you're just a fan of a VARIETY of music styles and eras and looking for something novel to put in your ear holes, here's SEVEN HOURS of tunes JUST for you!
That's probably all I need to say at this point. If you're a fan of any of these bands, let me know in the comments below. If you remember some obscure song from the clubs in the 80's or 90's that you haven't heard since you were puffing on a clove cigarette and using half a can of Aqua Net to keep those bleached bangs pointed at the ceiling, let me know (I probably have it and I can include it in my next playlist!) And blah blah blah… Let's just get to the music…
To listen, for free, click the link: LISTEN TO THE MUSIC (JUKE) or just scroll down to see what you're not hearing!
"Listen to the Music (Juke)" Playlist
Approx. 7 hours and 6 minutes. [Actually, it's twelve songs less than 7 hours and 6 minutes...]
Split Enz – "My Mistake"
Culture Club – "I'll Tumble 4 Ya"
Elvis Costello and The Attractions – "Watching the Detectives"
Men at Work – "Dr. Heckyll & Mr. Jive"
Fingerprintz – "Madame X"
[REMOVED! Which sucks!!!] Duran Duran – "The Chauffeur"
Arcade Fire – "Reflektor"
The Damned – "In Dulce Decorum (Extended Mix)"
Crystal Castles – "Air War"
Front 242 – "Melt (Again)"
Single Gun Theory – "Surrender (Extended Mix)"
Soho – "Hippychick"
Hithouse – "Jack to the Sound of the Underground"
The Waitresses – "Square Pegs"
This Mortal Coil – "Sixteen Days / Gathering Dust (12" Version)"
Wall of Voodoo – "Tomorrow"
Alien Sex Fiend – "Radiant City"
They Might Be Giants – "They'll Need a Crane"
[REMOVED!] Control X – "Turntable"
Electroset – "How Does It Feel? (Theme from Techno Blues)"
The Dead Milkmen – "Punk Rock Girl"
Donovan – "Riki Tiki Tavi"
Alice Cooper – "Generation Landslide"
[REMOVED!] Paul Lekakis – "Boom Boom (Let's Go Back to Your Room) (Radio Edit)"
E-Trax – "Let's Rock"
D-Mob feat. Gary Haisman – "We Call It Acieed"
EMF – "Unbelievable (Ralph Jezzard Mix)"
Underdog – "Films"
Minutemen – "Boiling"
The Bonzo Dog Band – "The Bride Stripped Bare (By the Batchelors)"
Pink Floyd – "Time"
Monroe Mustang – "The Bees"
Controlled Bleeding – "Crawl"
[REMOVED!] Yolk – "Bish Bosh"
The Kinks – "Better Things"
Len – "Feelin' Alright"
Fun Lovin' Criminals – "Scooby Snacks"
Matthew Sweet – "Scooby-Doo, Where are You?"
Tripping Daisy – "Piranha"
Manufacture – "Little Caesar"
Erlend Oye – "Sudden Rush"
[REMOVED!] The Monroes – "What Do All the People Know"
[REMOVED!] Control Freq – "Lola"
Big Audio Dynamite II – "Rush"
[REMOVED!] Dinosaur Tank – "Dinosaur Tank"
[REMOVED!] Acen – "Close Your Eyes ("XXX" Mix)"
S'Express – "Theme from S'Express"
Them – "It's All Over Now (Kissy Klub Version)"
Depeche Mode – "Something to Do"
[REMOVED!] Skinny Puppy – "Wornin'"
Sky Cries Mary – "Wots… Uh the Deal"
The Fall – "New Big Prinz"
Utah Saints – "Something Good"
The Cure – "Fascination Street"
Bob Marley and The Wailers – "Mr. Brown"
MGMT – "Song for Dan Treacy"
Material Issue – "International Pop Overthrow"
Ned's Atomic Dustbin – "Grey Cell Green"
Until December – "Call Me (13" Version)"
ABBA – "S.O.S."
[REMOVED!] D.M.S. – "S.O.S."
Liam Lynch – "SOS"
Grafton Primary – "SOS Hello"
Hot Hot Heat – "Save Us S.O.S."
[REMOVED!] Tilt – "Libel"
Screeching Weasel – "Cindy's on Methadone"
The Polyphonic Spree – "Section 12 (Hold Me Now)"
Communique – "Ugly Moon"
The Shins – "So Says I"
Alice Donut & Killdozer – "Aquarius / Let the Sun Shine In (Medley)"
Fad Gadget – "Collapsing New People"
Paul McCartney – "Temporary Secretary"
Joe Jackson – "Steppin' Out"
Suzanne Vega – "Blood Makes Noise"
Thick Pigeon – "Wheels Over Indian Trails"
The Doors – "People are Strange"
The Smiths – "Vicar in a Tutu"
[REMOVED!] Groovie Ghoulies – "Devil Town"
Beck – "Fume"
The Rezillos – "Somebody's Gonna Get Their Head Kicked in Tonight"
Swains – "That's What We're Living For"
Thin Lizzy – "Bad Reputation"
Bananarama – "Venus"
Yello – "The Roxy Cut"
The Art of Noise – "Close (To the Edit)"
The Orb – "Toxygene"
Mouse on Mars – "Actionist Respoke"
Modest Mouse – "Lampshades on Fire"
Killing Joke – "Dominator (Version)"
GG Allin – "Don't Talk to Me"
Tom Robinson Band – "2-4-6-8 Motorway"
Lita Ford – "Kiss Me Deadly"
Shannon – "Let the Music Play"
Thelma Houston – "Don't Leave Me This Way"
Siouxsie and The Banshees – "Dear Prudence"
Yaz – "Bad Connection"
Alphaville – "Fallen Angel"
Real Life – "Catch Me I'm Falling"
Garbage – "Vow"
Black Randy & The Metrosquad – "I Slept in an Arcade"
"Weird Al" Yankovic – "Stop Draggin' My Car Around"
---Richard F. Yates
(Primitive Thoughtician and Holy Fool)
[P.S. - I still have no idea why SOME songs were deemed unacceptable this time around. Some of the tunes were ripped from CDs that I own, some where bought digitally, and I haven't a clue what the platform found problematic. Maybe, if tech support ever gets back to me, I'll add the cut songs back in...]
SUPPORT INDEPENDENT FOLKS WHO ARE JUST MAKING STUFF BECAUSE THEY LOVE IT!!!
https://steemit.com/@richardfyates
https://primitiveentertainment.wordpress.com/read-a-damn-book-list/
https://makersplace.com/store/richardyates/