The Orville: Original Television Soundtrack: Season 1 - Soundtrack review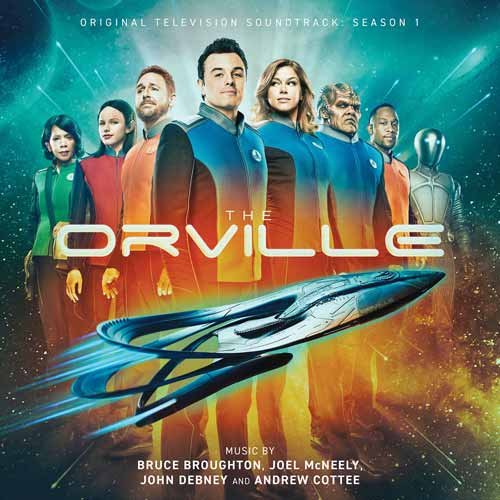 The original soundtrack to season one of The Orville, has been released by La-La Land Records. Seth MacFarlane's space adventure series is set 400 years in the future, and follows The U.S.S. Orville, a mid-level exploratory spaceship. Its crew, both human and alien, face the wonders and dangers of outer space, while also dealing with the problems of everyday life...
The soundtrack album to the first season of The Orville is spread over 2 discs and contains 55 tracks (2 hr, 30 min, 09 sec). Composers along for the ride include Bruce Broughton, Joel McNeely, John Debney and Andrew Cottee.
If, like me, you're a fan of music from Star Trek: The Next Generation and Star Trek: Deep Space Nine, as well as Jerry Goldsmith and James Horner's work on the Star Trek movies... you're going to be swamped with nostalgia here.
While this is all original music, it's certainly in the style of Trek. This is mostly down to the instrumental choices of the orchestrations, and in particular the use of trumpet. While there's plenty of original music, some of the homages are so obvious that it's impossible not to spot them. This will come as little surprise given that the series is a homage to Star Trek. And with creator Seth MacFarlane being such a sci-fi geek it's hardly surprising that not only did he want The Orville to look and feel like Trek, but to also sound like it too.
To open and close the album, Broughton gives us the show's main theme: A Star Trek: Voyager-esque piece that also mixes in a little from all the Trek TV show main themes.
'Krill Attack / Shuttle Escape' brought to mind Alan Silvestri's music for Back to the Future, while 'Exploring the Bio-Ship' pays homage to 'Vejur Flyover' from Jerry Goldsmith's score for Star Trek: The Motion Picture.
'Alara Gets the Cold Shoulder / Approaching Calivon' has elements of James Horner's work on Star Trek: II (most notably 'Genesis Countdown'). 'Shuttle to the Ship' and 'Extermination Process Continues / Bortus Hatches His Egg' has a lot of similarities with Dennis McCarthy's soundtrack for 'Encounter at Farpoint', the pilot for Star Trek: The Next Generation.
'Arriving on Moclus' borrows from Deep Space Nine as well as giving a nod and a wink to Silvestri's score for Predator. 'Searching Pria's Room / Dark Matter Storm / Navigating the Storm' incorporates elements of Silvestri's music for Back to the Future and Goldsmith's score for Star Trek: The Motion Picture.
'Cannot End Simulation / Back to Normal' has a Total Recall (Jerry Goldsmith) feel to it. 'Plasma Storm / It Was Late Evening' once again pays homage to Silvestri's Back to the Future. And 'Alara Hallucinates / Deserted Ship' and 'Within the Anomaly / Time to Reflect / Quantum Bubble Is Deteriorating' hark back to classic Trek.
'Krill Ships Approaching' and 'Within the Anomaly / Time to Reflect / Quantum Bubble Is Deteriorating' don't even try to disguise the fact that they borrow heavily from 'Mars' from Gustav Holst's The Planets, Op. 32.
I've been listening to this album for several weeks now and every time I play it I spot another little segment here and there I'd previously missed. It's not a surprise, given the calibre of the composers, that this is an incredibly strong and emotive score.
This is a recording that should be on everyone's wishlist, especially so if you're a fan of Trek scores. This is a meticulously crafted love letter to what has gone before.
10/10
Track listing:
Disc 1
The Orville Main Title (1:04) (Bruce Broughton)
Old Wounds (1LAB01)
Composed by Bruce Broughton
Shuttle to the Ship (1:54)
She Requested It / Departing for Landing (1:09)
Krill Attack / Shuttle Escape (4:14)
Emergency Docking (2:27)
Kelly Has a Plan / Asking Kelly to Stay (3:51)
If The Stars Should Appear (1LAB02)
Composed by Joel McNeely
The Bio-Ship / Exploring the Hull (2:22)
Exploring the Bio-Ship (2:45)
Finding Alara / Space Battle (2:53)
Dorahl / The Roof Opens* (4:05)
Command Performance (1LAB03)
Composed by John Debney
Distress Signal Received / Alara Freaks Out / Explosion (5:54)
Alara Gets the Cold Shoulder / Approaching Calivon (3:52)
Extermination Process Continues / Bortus Hatches His Egg (2:39)
About a Girl (1LAB04)
Composed by Joel McNeely
Western Simulation (1:01)
Asteroid Destroyed / Relieved of Duty (1:07)
Arriving on Moclus (1:42)
Trip to the Mountains (2:15)
Tribunal Adjourned / Epilogue (3:27)
Pria (1LAB05)
Composed by John Debney
Rescuing Pria* (3:51)
Searching Pria's Room / Dark Matter Storm / Navigating the Storm (4:06)
Approaching the Coordinates / Isaac Saves the Crew* (3:19)
Pria's Theme (1:41)
Krill (1LAB06)
Composed by Joel McNeely
Distress Call (1:29)
Krill Attack the Orville (2:49)
Bomb Found (4:54)
Intruder Alert / Preparing the Weapon (2:59)
Turning on the Lights / New Enemies (2:29)
Disc 2
Majority Rule (1LAB07)
Composed by John Debney
Lysella Wakes Up / Looks Like Earth* / Rescue Mission (1:39)
John Gets Arrested / Alara Seems Suspicious (2:05)
Ed Has a Plan (1:33)
Bringing Lysella Aboard / Casting the Votes / Their World Can Do
Better (6:06)
Into the Fold (1LAB08)
Composed by Joel McNeely
Sucked In (2:44)
Claire Breaks Out (1:26)
The Fight (1:21)
Claire Returns to the Wreck (2:11)
The Attack (1:55)
Claire Thanks Isaac (1:21)
Cupid's Dagger (1LAB09)
Composed by John Debney
Archaeologist Arrives / Claire Visits Yaphit / Claire Kisses Yaphit (3:12)
Fleets Approach / War Before Peace / Cleared for Duty / Darulio
Departs (4:38)
Firestorm (1LAB10)
Composed by John Debney
Plasma Storm / It Was Late Evening (3:08)
Alara Blows off Steam / There Was a Clown (3:04)
Alara Hallucinates / Deserted Ship (6:55)
Cannot End Simulation / Back to Normal (4:03)
New Dimsensions (1LAB11)
Composed by Andrew Cottee
Damage Report / What Happened to the Plants? (2:00)
Krill Ships Approaching (2:30)
Within the Anomaly / Time to Reflect / Quantum Bubble Is
Deteriorating (2:25)
Engaging Tractor Beam (2:17)
Mission Complete / Commander Lamarr (2:48)
Mad Idolatry (1LAB13)
Composed by Joel McNeely
Investigating an Anomaly (1:09)

Emergency Landing (3:41)

Searching the Planet (2:38)

Walking Through Town (2:21)

Spread the Word (1:17)

Isaac Steps Up / Civilization Restored (3:14)

The Orville End Titles (0:34)
---
The Orville: Original Television Soundtrack: Season 1
Composers: Bruce Broughton, Joel McNeely, John Debney and Andrew Cottee
Label: La-La Land Records
lalalandrecords.com
RRP: £TBC
Release Date: 22 January 2019
http://www.reviewgraveyard.com/00_revs/r2019/music/19-01-22_orville1.html