L.A. Confidential: Original Motion Picture Soundtrack (1997) (2019 Vinyl release) - Soundtrack review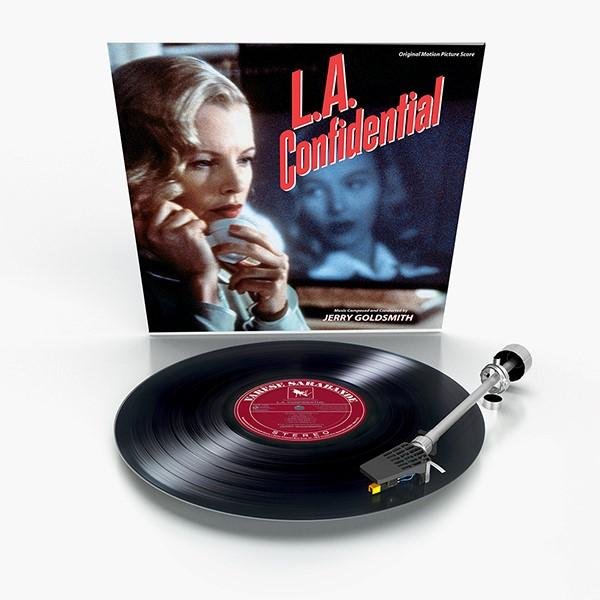 Varèse Sarabande release the long-awaited LP debut of Jerry Goldsmith's score to 1997's L.A. Confidential. The black vinyl release is a VareseSarabande.com exclusive and limited to 500 copies. The last great noir score of the 20th century dives into the glitz and grime of 1950's Los Angeles as envisioned by Goldsmith...
Jerry Goldsmith gives us a dark and moody noir-esque jazz score for L.A. Confidential. If I had to describe it to someone who hadn't heard it, but were au fait with Goldsmith's style, I'd have to compare it to his score for Rambo. There are a lot of similar motifs, and L.A. Confidential ends up sounding like a jazzy Rambo.
The 11 tracks come in at 30 min, 02 sec and if you're a Goldsmith fan you'll need to add this to your collection. It's a little different to what the composer normally delivered and that makes it all the more interesting. With only 500 editions manufactured, soundtrack collectors should get their skates on.
Track listing:
Side A
Bloody Christmas (02:50)
The Cafe (02:20)
Questions (02:20)
Susan Lefferts (02:54)
Out of the Rain (02:47)
Rollo Tomasi (03:08)
Side B
The Photos (02:28)
The Keys (01:52)
Shootout (04:09)
Good Lad (02:19)
The Victor (02:32)
7/10
---
L.A. Confidential: Original Motion Picture Soundtrack (1997) (2019 Vinyl release)
Composer: Jerry Goldsmith
Label: Varèse Sarabande Records
varesesarabande.com
RRP: £TBC
Click here to buy - varesesarabande.com
888072070103
Release Date: 01 February 2019
http://www.reviewgraveyard.com/00_revs/r2019/music/19-02-01_la-confidential.html