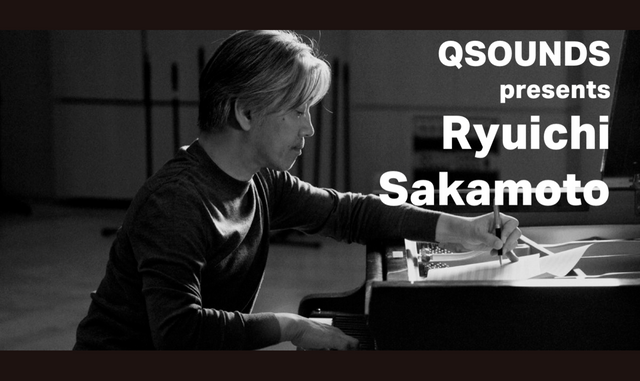 Ryuichi Sakamoto is one of Japanese producers I respect a lot! He has a long career with his first production released in 1976. He worked with many big names in the industry, such like Iggy Pop, David Byrne, and Maceo Parker in the 80s when he was focussing on 'Pop' music. You may know this guy also from the many soundtracks and movie scores he made, amongst them "Merry Christmas Mr. Lawrence" (1983), "The Last Emperor" (1983, for which he won an Oscar), "The Sheltering Sky" (1990), "Little Buddha" (1993), and the "The Revenant" (2015).
Now, since 8 years and a battle against throat cancer in 2014, he released his new full album and I can only say: "Absolute Brilliant!". The album "async" is quite experimental, a style I really love; Maybe because it is far away from what is considered mainstream, but probably because it forces me to really listen to the music to be able to understand, appreciate and like & love it!
The vocals popping up here and there in the tracks are from well respected artists, writers and composers Paul Bowles and David Sylvian with whom Ryuichi worked with before. David Sylvan recites a poem from Andrei Tarkovsky's father, the famous Russian poet Arseny Tarkovsky. Peter Bowles says: "Because we don't know when we will die, we get to think of life as an inexhaustible well"; a recording that was made in 1990.
I'm really pleased with what Ryuichi Sakamoto was able to achieve with all his experience creating music. Async is an album that gets to my heart and sits right in the middle when listening to it. An album that I listen to when I like to really listen to music, meaning: I play this album while I do nothing else, not writing this post for instance, or cooking, or cleaning the house, or working. This album requires a 100% focus on the music, therefore it requires absolute chill position of the body and the mind. Luckily I have a great lounge coach at home :)
Artist: Ryuichi Sakamoto
Album: Async
Style: Experimental, Abstract, Ambient, Modern Classical
Year: 2017
Whether or not you have heard of Ryuichi Sakamoto and whether or not you have experience with Experimental and Abstract music, I suggest to try this album!

It is best to play this music on something better than your standard laptop or smartphone speakers though. Connect it to your sound system at home, or at least some better speakers connected to your laptop or smartphone.
Ryuichi Sakamoto - Async (2017) - play full album [click here]

Music
Spotify: click here
YouTube: click here
Soundcloud: click here
Discography
Discogs: click here
Gigs
Resident Advisor: click here
Artist Website: click here
Website
Artist Website: click here

sources [1]