I mentioned it in previous posts already, when I got my first Hifi system with CD player in 1988 and was living around the corner of a new service provided by a company/retailer "CD-theek" in Rotterdam renting out CD's for a week, I started to discover a lot of music. I found myself drown to the none-mainstream music; All kinds; From electronic to classical.
In those days I discovered an Irish family band "Clannad" producing Irish Folk and New Age music. At that time New Age was typical viewed as kinda weird to like it; But nowadays New Age may be called Ambient and has a much more friendly appearance.
Through Clannad I 'met' Enya. She was part of her families band in the 70s and early 80s after which she started a solo career as sing/songwriter and producer. Enya's second solo album "Watermark" was the first CD from her I got in my CD player.
Dissatisfied with her role in the group, she quit in 1982 and teamed up with the band's former manager Nicky Ryan and his wife Roma, a poet. Although there was little commercial interest in what they were doing - the trio were broke and recording in a garden shed - their songwriting swiftly began to develop. "I started writing instrumentals but Roma pointed out they were very visual, so she started writing lyrics," Enya told The Times in 2005. "And Nicky had this idea of creating a wall of sound and started multi-tracking my voice." This led to commissions to provide music for 1984 film The Frog Prince and TV series The Celts, which attracted the attention of Warner Music chairman Rob Dickens, who signed her, saying "Sometimes the company is there to make money, and sometimes it's there to make music. Enya is the latter."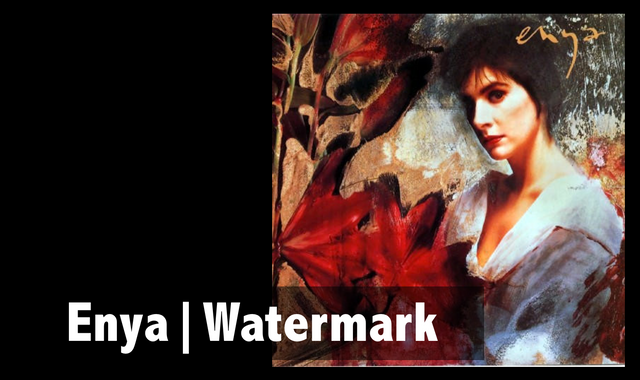 Enya accompanied me frequently while driving the car to and from parties I attended so many of decades ago. She would give me the counter vibe to the fast and pounding techno of the 90s and early 2000s. She would give me the necessary chill mood while preparing for a 'heavy' session. And she enabled the road to relaxation when turning back home again. Also, my friends would welcome her sound and voice on our way back, since it would help them to fall asleep, leaving me - most of the time - by myself steering the car.
Artist: Enya
Album: Watermark
Year: 1988
Country: Ireland
She engraved a kind of watermark in my brains!
Tracks
Watermark
Cursum Perficio
On Your Shore
Storms In Africa
Exile
Miss Clare Remembers
Orinoco Flow (Sail Away)
Evening Falls...
River
The Longships
Na Laetha Geal M'Oige
Music
Spotify
Beatport
Soundcloud
YouTube
Discography
Gigs
Artist

sources [1][2]
brought to you by @qsounds managed by @edje