Leafar Legov I first heard in the Panorama Bar in Berlin. As you may know, Panorama Bar is the club room upstairs in the Berghain, the Techno temple of Berlin, well, maybe the Techno temple of the Universe.
A couple of years ago when we were in Berlin and planned our Sunday morning and afternoon in the Berghain, we decided to go to the Panorama Bar the Friday before, since we discovered the Giegling clan playing there that night. Names like Edward and DJ Dustin were on the line-up and we did want to hear them in our most beloved club in the world. After these guys, a duo 'Kettenkarussell' started their live set. WOW! What we heard! Simply WOW! The combination of Giegling's leader Konstantin and Leafar Legov resulted in a great tech house-ish adventure.
Interestingly Leafar Legov is more a house artists, as he says himself. And true, although I heard him in clubs and on festivals only as Kettenkarussell, this guy has some really great solo set recordings on Soundcloud. He calls it house, but it is a mix between ambient, abstract, (deep) house and tech house. Done so Beautifully; I would travel distances to hear him perform at a cool club. Until then, I enjoy his recordings available on the internet. One of them - I think - is perfect for the this Sunday morning and early afternoon.
Artist: Leafar Legov
Set: RA.514
Year: 2016
Country: Germany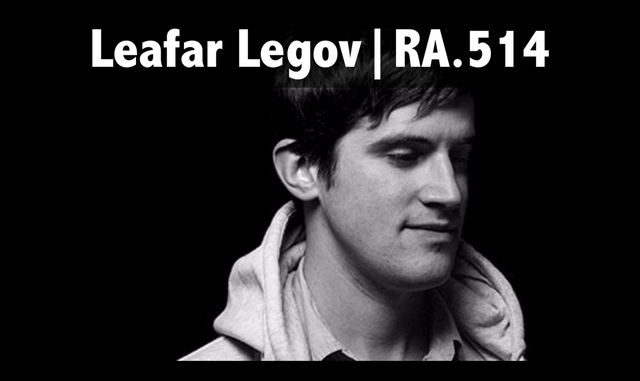 RELAX & NJOY

Leafar Legov - RA.514 (2016)
Music
Spotify
Beatport
Soundcloud
YouTube
Discography
Gigs
Artist

sources [1]
brought to you by @qsounds managed by @edje