Last Sunday it was time to enjoy the last party of ADE (Amsterdam Dance Event), and where better to go then to our own Berghain of Amsterdam, De School. This club is by far the best club in Amsterdam! It has the underground atmosphere. It attracts the right people, the music fans. It programs good artists, usually. Two rooms, 1 Terrace, and a 24 hour permit! Weekenders can start at Friday night and continue till Monday morning, without a break. ADE is special: the club started at Wednesday night and continued till deep in Monday afternoon! Some years ago this would not be possible in Amsterdam, but with the liberal politicians running the show since a couple of years, the entertainment sector gets more freedom.
When we entered the club at the end of Sunday afternoon, Jasper Wolff and Maarten Mittendorff were spinning the wheels. I heard these guys before, but only a very small snippet. I think it was in the Shelter, another club in Amsterdam. A shame I didn't had time then to really listen to their set, since my best friend told me that they are good! Now it was time for me to really check them out!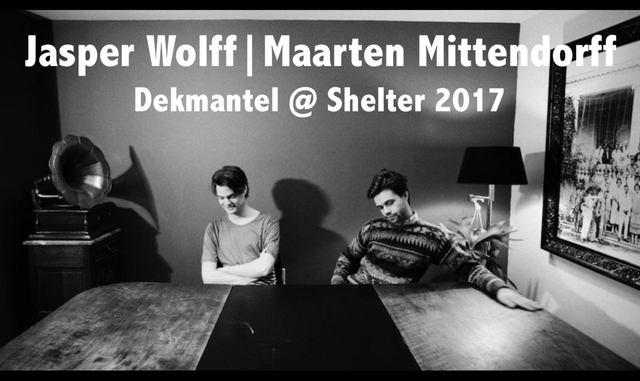 Just 10 minutes into their set, while I was standing in the dark main room (the basement) a couple of meters away from the massive speaker system - the sound system in the basement can be considered to be best club sound system in the Netherlands - I noticed I had goosebumps all over my body; and these didn't fade away for a considerable time! WOW! They hit the nail! Another fantastic discovery for me this ADE! Great choice of records; Super feel for dynamics; Simply AMAZING artists! Even Nina Kraviz (the mystery guest playing a three hour set after these guys) could not top them; To be honest: Jasper & Maarten's set I valued quite a bit more than Nina's set; Don't tell Nina! :)
A shame the set of last Sunday is not available on Soundcloud. Therefore I share with you their performance recording in the Shelter earlier this year; One they did for the after hours of one of most well respected promoters and labels, Dekmantel; Quality Assured!
Artist: Jasper Wolff & Maarten Mittendorff
Set: Dekmantel Festival By Night - the Shelter
Year: 2017
Put Your Dancing Shoes ON and NJOY

Jasper Wolff & Maarten Mittendorff - Dekmantel Festival By Night - the Shelter (2017)
Music
Spotify & Spotify
Beatport & Beatport
Soundcloud & Soundcloud
YouTube
Discography
Gigs
Resident Advisor & Resident Advisor
Artist

sources [1]
brought to you by @qsounds managed by @edje