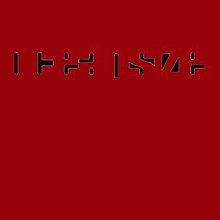 I've been thinking about starting this blog for a long time. Emphasis on thinking (and probably long). As we are all too painfully aware Christmas has just happening which, for me, entails an annual homage back to my home town to see family and friends alike.
One such friend I stumbled upon in the dives of the local Wetherspoons was Morgan. I hadn't seen Morgan in a long time. We discussed what we had been up to – you know, small talk. He explained how he'd recently taken a turn for the better in his life (we're both philosophical in nature) and had started to 'become involved' again. I'm not going to go in to details but he looked rekindled.
Now; I like Morgan, we rarely do small-talk when we meet and we take the big issues head on. We also share a love for 'Naughties British Post-Hardcore' as we call it (I warned of sub-genres) – and its a love that runs deep (I once bought a Biffy Clyro ticket (one of maaaany) simply on the grounds that Morgan would be there – he was). Inevitably the half-drunken conversation turned to such subject and we started discussing the 'classics' (Biffy Clyro, Hundred Reasons, Million Dead) with nostalgic merriment.
Then I said the word "Oceansize". To which I could see the gleam rapidly roll over Morgan. "OCEANSIZE!" was the response and literal physical excitement pursued.
Morgan's existential turning of a corner has inspired me to get this blog up and running. I'm going to roll with it with the very band that fueled this meeting and their masterpiece 'Frames' (2007).
Now I don't want to throw masterpiece around too willy-nilly on here but in these circumstances it is justified. I've mentioned the 'Naughties British Post-Hardcore' scene (probably not official terminology) that Oceansize spawned out of. There is no doubt that I will return to this genre at some point in the future as there we're some simply sublime bands from this era.
(Some questions you may be having about our self-termed name:
'Naughties' is in the name; why? Well quite simply (and arguably more so than any other genre) the scene existed predominately (if not exclusively) within this decade. With the exception of Biffy Clyro's astonishing (continual) rise to super-stardom (which ironically started with 2009's 'Only Revolutions').
Isn't calling it 'British' a little Nationalistic of you Mezz? Nope. America or the rest of the world didn't really get involved or follow on from it. It just existed on our little Island for 10 years.
Shall we continue?)
Oceansize first, Frames as a masterpiece second.
From their first release in 2001 to their final one in 2010, Oceansize failed to release at least one EP a year – with only 2008 the exception. 14 releases in 9 years. Really Oceansize?! From the offset they made it clear that they were going to play the game on their own rules. Their first major release was 4 tracks long and clocked in at over 24 minutes – Oceansize like an epic that's for sure. Signed to Beggars Banquet which was pretty much the holy grail of record companies for this scene the future looked bright for the boys from Manchester. Two albums and a whole host of EPs and singles later the band left Beggars and moved onwards to Superball Music for the release of album three. The very album which is under the microscope here. Frames.
After a quick wiki a 'masterpiece' is described as:
"Masterpiece or chef d'œuvre in modern use refers to a creation that has been given much critical praise, especially one that is considered the greatest work of a person's career or to a work of outstanding creativity, skill, or workmanship."
I think that sums up Frames pretty nicely. Much critical praise? Tick (Classic Rock named it in their top 10 progressive albums of the decade). I personally would consider it their greatest work – that's why i'm writing about it. Outstanding creativity? Tick. Skill? Tick. Workmanship? Tick (watch the complimentary live DVD of 'Frames' in it's entirety – stunning). On that note Oceansize live was an absolute treat. Tightly packed crowds attempting to rock or sway to mental time signatures yet uniting as one whole when a simple beat/groove kicked in – great fun.
So without further ado, shall we have a listen?

The first track is in 9/11 (I think?) but is catchy as hell – something Oceansize were truly the kings of. Memorable vocal melodies and guitar riffs over time signatures you need a degree in maths to understand.
Equal parts heavy, melodic, technical, gentle and atmospheric all at once. From start to finish this album just keeps giving.
My personal favourite vein within the album probably runs from track four ('Savant') to track seven ('Sleeping Dogs and Dead Lions') book marked with the catchier opening on one side and ending in a sheer epic 22 minute conclusion on the other. Structurally alone they've nailed it for me.
I'm not going to get in to individual tracks in this post (maybe i shall return one day) mainly because the argument here is what a good album it is. This isn't 9 tracks slapped together in some sort of order (put the lead single at track three etc) this was well planned and by the sounds of it, a shed load of work.
The production is crisp as hell when it wants to be and soaked in reverb when it needs to be. The drums sound incredible (and i'm not a drummer) and the atmosphere that the selection of synths grants is stunning. There was a big post-rock scene coming out of the Nordic countries at the time whereby critics described the sound as 'glacial' – I would argue that Oceansize tapped in to just the right degree of this 'glacial' element.
If you want Oceansize in their sincerest simplicity check out 'Savant' (if this song doesn't make you feel something you need to check yourself) or if you desire something considerably more sporadic check 'Sleeping Dogs and Dead Lions' (I alluded to these before).
Take some time out of your day to blast this beauty from start to end. Criminally under-appreciated throughout their whole career really. Considering the level of musicianship and songwriting involved, I (and probably they) would of expected greater things of this band. Personally I think that the band never, in their entire career, sacrificed musical credibility to make it more famous (to 'sell out' apparently). On Frames for example the shortest song was 6:32 minutes long – try fitting that on a 7″ as a single!… I don't think so. Its almost like they deliberately put a middle finger up to the music industry to create something that they and they alone (except for their adoring fans) wanted to produce – I'm not sure too many bands/artists nowadays would be completely satisfied with an album because so few artists manage to maintain 100% of the vision.