Different types of chords
Here I'm willing to share some important stuff linked with music theory and more precisely, a "chord dictionary" I found out that can be useful as a reminder, whatever DAW you're using to produce electronic music. You always need chords to create tracks, these are important components of an EDM track, especially if you're into progressive house (techno could still use it but far less). The 2 main components of a progressive house track are the chord progression and the melody (the melody can even be the chord progression itself, it's a trick you can use as well).
Let's review the different types of chords:
-Major
-Minor
-Diminished
-Major Seventh
-Minor Seventh
-Dominant Seventh
-Suspended
-Augmented
This takes into account you have the basis of music theory knowledge. If it's not the case, don't neglect that part of the learning, it shouldn't be skipped as it will help you for life. Music can be felt but as for my experience, I needed the theory to be able to find the harmony faster. These are 2 tutorials that can be useful for you then:
The second one is a full music theory tutorial that you can do in 4 or 5 sessions if you know nothing at all about it. Don't rush it, learn and practice.
Now I'm sharing the reason why I decided to write this article. Keep it somewhere, you can even print it, as it can be useful to find any type of chord without even thinking too much. Music theory helps you find out why it's like that. But you better practice it as well to develop your ear which is probably 80% of how you'll form your own musical identity.
![chordsdico.jpg
(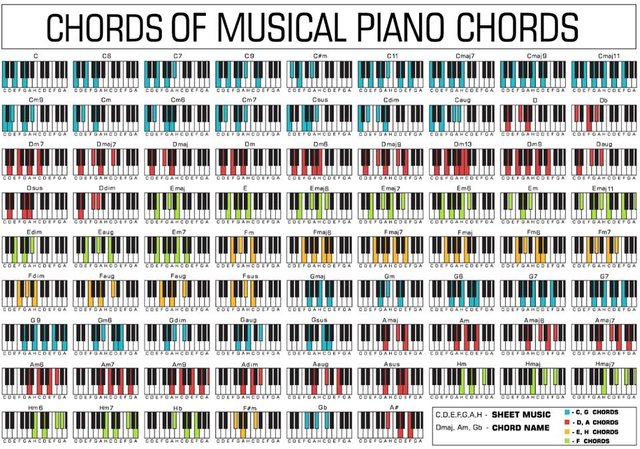 )
Enjoy whatever you're producing, and don't forget the most important thing is to finish anything you started before starting with a new idea.