Jerusalema | Master KG feat Nomcebo || Karen Manrique [Cover Violín🎻]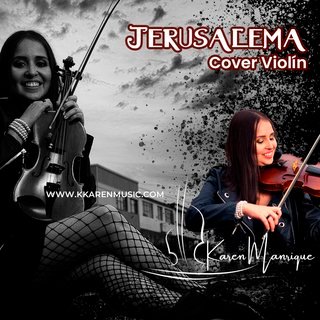 Este tema Jerusalema en su época fue un boom y hasta coreografía tenía 😲, yo la iba hacer así jejeje 😆 pero grabe el audio y nunca grabe el vídeo correspondiente 😔, me lo conseguí en el baúl de los recuerdos y decidí compartirlo hoy 😉, en esa época no tenia micrófono ni un buen programa para edición, así que esta a lo puro jajajaja espero igual lo disfruten.
De igual manera quiero contarles un poco de este tema, Jerusalema está escrita en idioma venda, hablado en Sudáfrica y su letra habla de Jerusalén como la ciudad celestial en la que estar en comunión con Dios. Se trata de un himno místico a la vida donde canta a la ciudad de Jerusalén como un hogar fraternal para todo el mundo.
Definitivo un ritmo muy pegajoso que tuve una repercusión ufff en el momento de su salida espero lo disfruten 🎻.

This theme Jerusalema in its time was a boom and it even had choreography 😲, I was going to do it like this hehehe 😆 but I recorded the audio and never recorded the corresponding video 😔, I got it in the trunk of memories and decided to share it today 😉, on That time I didn't have a microphone or a good editing program, so it's pure hahahaha I hope you enjoy it anyway.
In the same way I want to tell you a little about this topic, Jerusalema is written in the Venda language, spoken in South Africa and its lyrics speak of Jerusalem as the heavenly city in which to be in communion with God. It is a mystical hymn to life where he sings of the city of Jerusalem as a brotherly home for all the world.
Definitely a very sticky rhythm that had an impact ufff at the time of its release I hope you enjoy it 🎻.

Aquí está el enlace de YouTube / Here is a YouTube link: