[ESP//ENG] The Dragonborn Comes | Soundtrack Skyrim || Karen Manrique [Cover Violín🎻]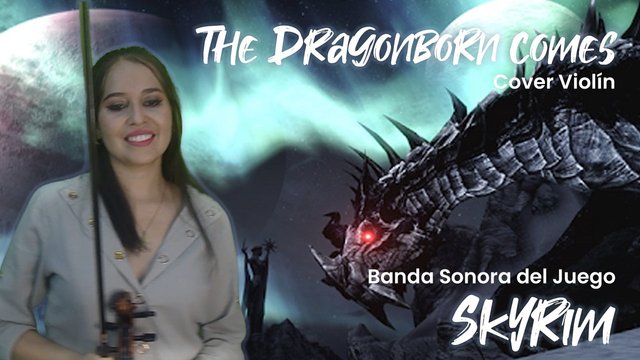 Hace algunos meses me hicieron un pedido de un tema que es la banda sonora de un videojuego llamado Skyrim, y el tema se llama "The Dragonborn Comes".
La verdad no conocía ni el tema ni el videojuego, pero para mi mayor sorpresa cuando estoy haciendo la revisión correspondiente para ver a qué sonaba sencillamente me encantó, me gusta mucho esos aires de caballeros de la corte, Reyes, doncella, dragones…y todo lo que conlleva esa época; además la música es increíblemente buena con esos detalles que te atrapan.
Me gustaría sacar más temas de ese estilo, bandas sonoras de algún juego o películas. ¿Me podrían recomendar algunos?
¡Espero que te guste! 😉🎻

A few months ago I had a request for a song that is the soundtrack of a video game called Skyrim, and the song is called "The Dragonborn Comes".
The truth is that I didn't know the theme or the video game, but to my greatest surprise when I'm doing the corresponding review to see what it sounded like, I simply loved it, I really like those airs of court knights, Kings, maidens, dragons... and everything what that time entails; also the music is incredibly good with those details that catch you.
I would like to release more themes of that style, soundtracks of some game or movies. Could you recommend me some?
I hope you like it! 😉🎻

Aquí está el enlace de YouTube / Here is a YouTube link: