[ESP//ENG] Callar | Aladdin || Karen Manrique [Cover Violín🎻]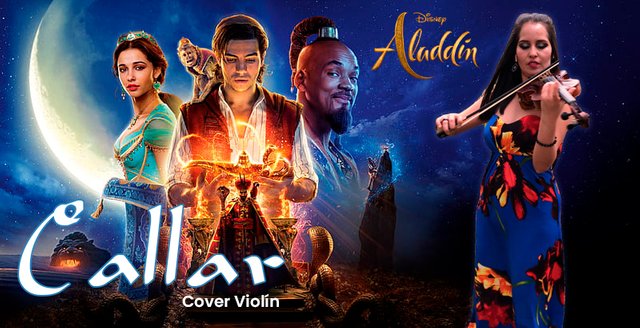 Fa# menor es la tonalidad de este tema llamado "Callar", muchos compositores han hecho uso de esta tonalidad entre Haydn con la sinfonía de los adioses, el increíble Rachmaninoff, Wieniawki, entre otros.
Es una canción el cual me la han pedido, y se convirtió en unas de mi favoritas, por qué? Luego que me tocó estudiarla y revisar la estructura completamente me di cuenta que está en fa# menor y desde que estoy en este mundo musical (desde los 8 años) ha sido mi tonalidad favorita, ya que su armonía describe los colores exactos que puedo sentir más allá de sonidos.
"Callar" es uno de los temas de la película de Aladdin (live action) interpretado en la versión en español por Isabela Souza y en Inglés por Naomi Scott, el tema tiene una carga de energía increíble entre la armonía y la melodía donde se va trasformando de manera perfecta hasta llegar el éxtasis y quedar tatuada en la mente como todo un fa# menor. No podemos dejar por fuera la letra, que para mi es un grito de auxilio en varios aspecto
La grabación de este vídeo fue en los alrededores de la catedral de sal de Zipaquirá, fue perfecta para trasmitir el mensaje perfecto de la canción.
¡ESPERO QUE LO DISFRUTEN!

F# minor is the tonality of this theme called "Callar", many composers have made use of this key between Haydn with the symphony of goodbyes, the incredible Rachmaninoff, Wieniawki, among others.
It is a song that I have been asked for, and it became one of my favorites, why? After I had to study it and review the structure completely, I realized that it is in F# minor and since I have been in this musical world (since I was 8 years old) it has been my favorite key, since its harmony describes the exact colors that I can feel beyond sounds.
"Callar" is one of the themes of the Aladdin movie (live action) interpreted in the Spanish version by Isabela Souza and in English by Naomi Scott, the theme has an incredible charge of energy between the harmony and the melody where it goes transforming perfectly until reaching ecstasy and being tattooed in the mind as a complete F # minor. We cannot leave out the lyrics, which for me is a cry for help in various aspects.
The recording of this video was in the surroundings of the Zipaquirá salt cathedral, it was perfect to transmit the perfect message of the song.
I HOPE YOU ENJOY!

Aquí está el enlace de YouTube / Here is a YouTube link: