[ESP//ENG] Bendición | Jesse & Joy || Karen Manrique [Cover Violín🎻]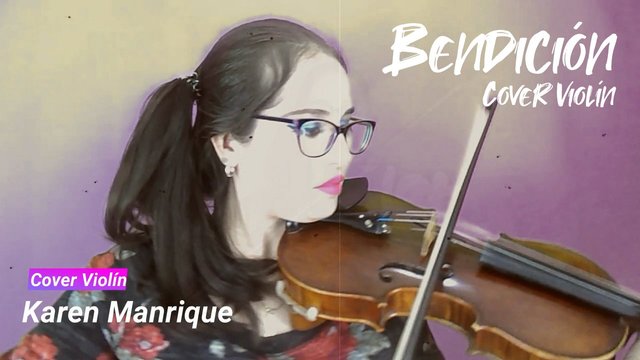 Jesse & Joy son un dúo de música pop originario de México, y quiero compartir hoy un tema llamado "Bendición" que ha sido un pedido 🎻
Es una canción de ritmo suave, donde la guitarra acompaña una voz, que en este caso lo hace el violín.
Si prestamos atención a su letra, nos habla de que una ruptura no tiene que estar llena de sufrimiento sino más bien verla como una lección o etapa aprendida, así como lo dice parte de sus líneas:
"Te di todo lo que soy
Y ahora desconozco quién eres tú,
Creí que éramos los dos,
Pero al final solo estaba yo
Gracias por darme una lección
Dejarte ir se convirtió en una bendición"
¡Espero que lo disfruten! Y recuerda que si quieres escuchar un tema en especial, no dudes de comunicarte conmigo en mi canal de Discord 🎶

Jesse & Joy are a pop music duo from Mexico, and today I want to share a song called "Bendición" that has been requested 🎻
It is a song with a soft rhythm, where the guitar accompanies a voice, which in this case is done by the violin.
If we pay attention to his lyrics, he tells us that a breakup does not have to be full of suffering but rather to see it as a lesson or stage learned, as part of his lines says:
"I gave you all that I am
And now I don't know who you are,
I thought it was the two of us,
but in the end it was just me
thanks for giving me a lesson
Letting you go became a blessing."
I hope you enjoy! And remember that if you want to listen to a particular song, don't hesitate to contact me on my Discord channel 🎶

Aquí está el enlace de YouTube / Here is a YouTube link: