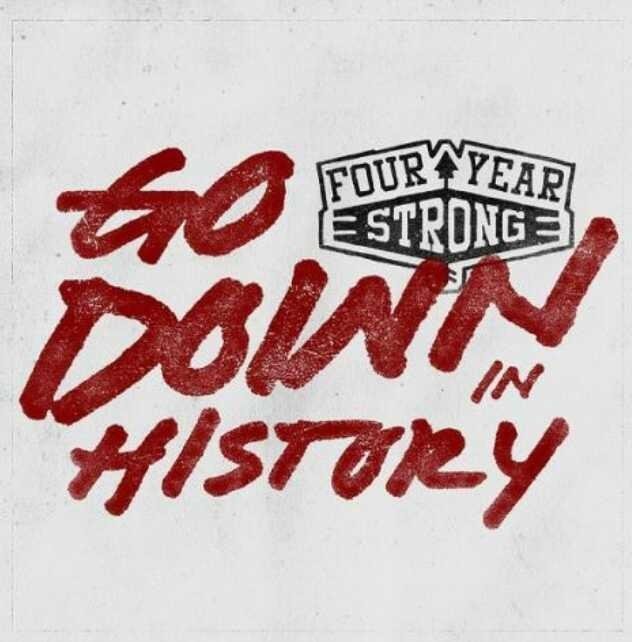 Easycore once dominated the pop punk scene just a few years ago. If we ask who is responsible? I'll tell you one of them because of Four Year Strong. The band from Massachusetts is a bearer of fresh air in the pop punk scene that at that time seemed to be in hibernation. For you FYS fans are already familiar with the typical style of FYS which this time they spilled in an EP entitled Go Down In History. This EP they release on July 22, 2014 and through the rising pop punk darling label, Pure Noise Records.
---
---
Tracklist: 1. What's In The Box? 2. Living Proof of A Stubborn Youth 3. Tread Lightly 4. Go Down In History 5. So You're Saying There's A Chance.
This EP became one of the headline news for this July. How not, it's been 3 years since Josh Lyford (synth) came out and they decided to take a break from music. Their last album In Some Way, Shape or Form (2011) is considered quite disappointing by some of their fans therefore some critics wondered as to whether the Four Year Strong material would be presented later on. Four Year Strong responded by releasing an EP that I think is pretty spectacular. Go Down In History contains 5 tracks. The songs on EP have sounds like their 2010 album, Enemy of The World, which has been refined. So basically, Go Down In History is a modern version of Enemy of The World sound-wise. Just a tip for you who want to listen to this EP, put your headphones and be prepared for the first song "What's In The Box?" Directly attack you so aja. The first track of Go Down In History, "What's In The Box?" Presents a tight beat and a catchy chorus. Can be heard Alan Day and Dan O'Connor have not lost his touch in presenting an easy-to-like guitar riff. The song is directly connected by "Living Proof of A Stubborn Youth" so aja mercilessly. As if you did not give an opportunity for your ears to rest, this song is heavier than the first track but still ear catchy. The lyrics to the song from "Living Proof A Stubborn Youth" is in fact also observed, especially the part "Waiting for the resurrection / rising from the dead we've all been / taking back our generation" wah! Maybe they mean the days of easycore triumphant huh? Whatever it is, you've got me sir! It would be boring if I kept emphasizing how good the guitar, beat, and chorus riffs were from this song. Because of that I just described it entirely, "Go Down In History brings an old nostalgia in a better version for you with a touch of artistic sound." You could say all the tracks from Go Down In History are my favorites. However personally "Go Down In History" is the most favorite song. Perhaps you could say this is the most catchy chorus song they ever wrote. EP Four Year Strong this emang full package, can be imagined how moshpit atmosphere when they play all the tracks from this EP. Madness! This EP is perfect for sing along, but personally I prefer to calm down while enjoying every second of Go Down In History. If the title of this EP is defined as an event, they have succeeded to write their name in a history book.