This is a video of "Zeitfluss" ("Flow of Time" or "Time Flow" in German) for piano solo, composed and performed by Juan María Solare (Yours Truly) on the Feurich grand piano of my chaotic studio.
The video was made (filmed) by Noé Rouco de Urquiza in Bremen, Germany, in May 2, 2018.
The metric is 5/8 and is written in the Dorian mode, in a musical language that can remind the classical Hungarian composer Béla Bartók.
This little etude was conceived for piano students, albeit not for absolute beginners. Say, for advanced beginners.
Zeitfluss was composed in the small city of Worpswede, North Germany, in February 2003. The world premiere was performed by Brian Benítez at the Conservatorio de la Ciudad de Buenos Aires (Argentina) on 17 December 2003.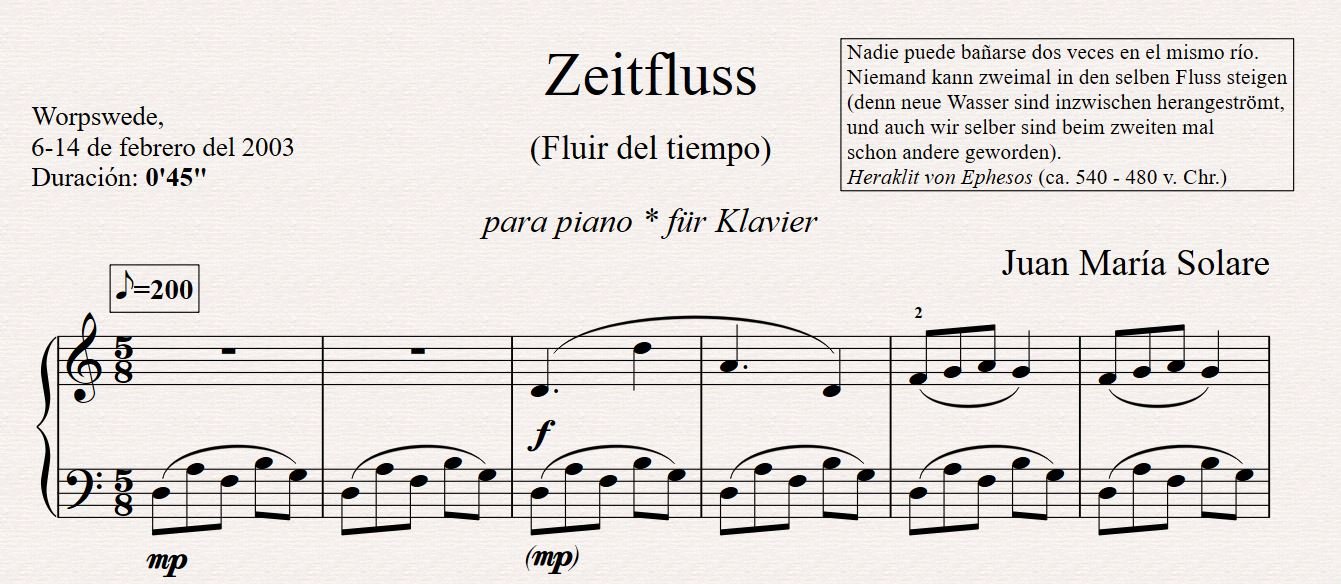 The sheet music of the piano version is available upon request (as PDF file, one page). Don't be ashamed and do contact the composer and mention "steemit" somewhere in your message
There is a second version of Zeitfluss for quartet (vibraphone, marimba, e-bass and tube bells), adapted for the short film Mesa para dos (by Spanish film makers Angel Almazán & Medardo Amor.
And there is also a third version for that tiny instrument, the Music Box! Which is included in the album Music Box Music. You can listen this version on Spotify (or any other streaming service such as Deezer, Tidal, Qobuz or Apple Music):
Zeitfluss for Music Box on Spotify
Find / Follow the artist on
Spotify
Facebook
#easypiano #piano #sheetmusic #Feurich #grandpiano #classicalmusic #musicvideo
#music #Spotify #Dorian #album #Video #MusicVideo #ListenToThis #Playing #NowPlaying