How can I join imusify? What can I find on the platform?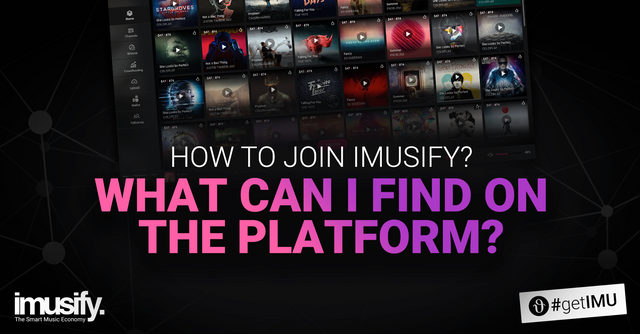 We say that blockchain technology is setting up the stage for musicians. For the 90% of undiscovered artists, tremendous opportunities may arise as blockchain opens new doors of expansion. In specific, artists — who currently receive USD 5,000 per 1 million stream — may now claim bigger streaming payouts, as well as enjoying new incentives from joining an award-winning platform imusify. Indeed, imusify is reinventing the music economy, offering multiple sources of revenues for musicians, record producers, and songwriters. So what makes imusify special and how can I join today as an artist?
Streaming and crowdfunding all in one place
imusify knows how well musicians struggle to achieve their creative goals and sustain a real living. The USD 17,3 billion recording industry is segmented with many intermediaries who keep control of the revenues. As of today, the biggest streaming platforms generate constant revenues, fueling the digital music industry worldwide. In 2018, there had over 160 million users streaming music in the U.S, according to Statistica. But with an average of USD 0,00074 on each stream on YouTube, musicians struggle to receive the payout they are entitled to. On top of it, artists need to allocate significant efforts in either raising funds for promotional activities or simply purchasing equipment. Finally, musicians need time and energy to "sell" themselves on social media to build their brand.
imusify has built up a platform for artists to perform all of the activities above and generate extra revenues from the blockchain. Offering a crowdfunding service like Kickstarter, a top streaming platform similar to Spotify, and combined with social media channels, imusify enables musicians to simply manage all their creative work while keeping a close eye on the money they earn on the platform.
What's different from other streaming platforms?
First of all, no single streaming company today allows musicians to earn unlimited payouts from streaming. Most streaming platforms work by volume, leading smaller artists with few opportunities to get discovered; and even the bigger artists such as Taylor Swift stepped away from streaming platforms. imusify works differently. On the platform, musicians engage with their fanbase directly who receive incentives to listen to music. Since everyone is incentivized on the ecosystem, everyone can win according to their participation. Unlike most streaming platforms, thanks to the blockchain, imusify rewards users for their active participation, not by volume.
Second, imusify can let smaller artists expose their music and connect to their userbase at zero fees. There's no charge to join imusify. Yet, as the platform evolves, a charge may incur on transactions but not based on a subscription model. Plus, as an award-winning blockchain company, imusify has created a sustainable digital currency pegged against the USD which will be used as a means of payment or to exchange value on the platform, which is IMU. IMU Tokens as utility tokens will be used to pay artists and fans, or even to sell a portion of digital work that belongs to a specific party or copyright holder, offering investment opportunities.
How does imusify compare to other blockchain services?
Despite the hype behind blockchain, some claim that the technology is not there yet to help musicians. At imusify, we believe technology is more ready than ever to correct the huge pitfalls we currently see in the music business. Furthermore, blockchain brings every user to a tokenized world where everything remains transparent over copyrights, royalties, and ownership of a work. At least, this is what most music blockchain platforms claim, but we believe we are getting closer to reality.
The way we approach the market is through educating artists about the benefits of the blockchain, and specifically, on imusify. Unlike other music platforms based on the blockchain, imusify's mission, team, product, and community is thriving with vibrant Telegram and Discord users, and experts in the tech industry have given full support. Based on a smooth vision of how a music platform should really serve musicians, imusify provides the best of streaming, crowdfunding, social media, and digital file management in an ergonomic, easy-to-use web platform. For those familiar with Slack, Steemit, Reddit, and Kickstarter, we can say imusify is a combination of all these services, powered by blockchain technology.
So let's enter the smart music economy and discover how musicians can now make the best of it.
By: Angel Lebailly @angelbali | imusify
IMU token will be listed on O3 and Switcheo