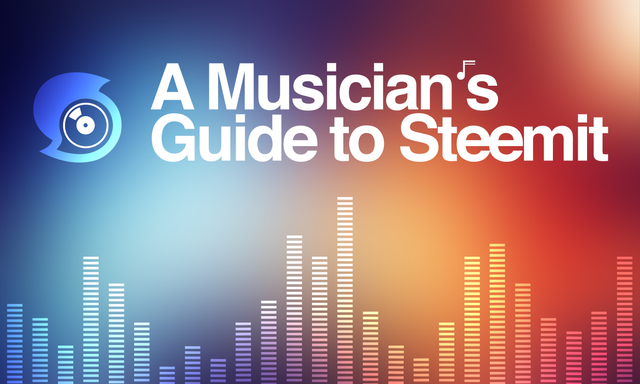 What is the Musician's Guide to Steemit?
The Musician's Guide to Steemit will be the portal that enables tens of thousands of musicians from around the world to onboard onto the Steem platform and become regular users here. It will demystify the world of Steem without requiring people to learn abstract technical knowledge about blockchains.
You don't need to learn to program if you want to start a YouTube channel - why should you need to learn about blockchain to start a Steem channel? You can learn as you go - all that matters is to create the account and start exploring.
What is a Full-Time Steemian?
Right now the idea of someone being a career "Steemian" is so new that few people understand it. But if I told you I was a full time "Youtuber" you'd know exactly what I mean. The next generation of social media influencers won't be YouTubers or Snappers - they'll be Steemians.
As it stands today, there are maybe a few dozen musicians earning "full-time" income on Steem. I'd like to see that number go up to a few thousand by mid-2019.
I am hoping that this book will be THE crucial guide for many Steemians on the path to a full-time income. It will serve as a promotional tool for Steemit and a "musician's bible" of how to succeed here.
When you try to learn something new, you are supposed to "RTFM" - "Read The Fucking Manual." When a new musician on Steemit says "How do I succeed," I hope people will say RTFM!!! and that The Musician's Guide to Steemit will be that "M."
How Close is the Musician's Guide to Being Finished
The text of the book is ~60% written, maybe a little more. Fundraising is 50% complete with more than $1,000 raised so far - and next week job listings will go up, so we can expand the team from one person (me) to 5+ people! More info on that in the next sections of this post.
You can read the chapters that have been published so far. Here's the "table of contents" as it stands today:
The progress has been amazing so far and I suspect that we will speed up tremendously in February.
Whats Next for the Musician's Guide to Steemit?
Here's a basic roadmap for the next 2-3 months:
(1) Finish Fundraising (Goal Date: Feb 14th)
(1b) In parallel with fundraising, finish writing the first draft of the book.
(2) Hire Steemians for key jobs: Graphics, Book Design, Cover Art, Editor, and Administrative Assistant
(3) From First to Final Draft: Entire book is edited and finalized text-wise, graphics and cover art are created, book layout/design is developed.
(4) Second Round of Fundraising (funds for marketing and promotion)
(4b) Soft launch of book - at this point we can make book available for all Steemians in a quiet way.
(5) Second round of hiring, this time for promotion/marketing jobs.
(6) Advertising and PR Campaigns activate for about a month and we see how it goes.
(7) ??? — project could be done here, or it could expand. Is the book only the beginning?
How To Apply for a Job With The Musician's Guide to Steemit
Many job listings are going to go up next week, and I may be talking with people even sooner than that.
More information is coming soon - but if you want to get ahead of the crowd, feel free to leave a comment on this post telling me what kind of job you can do to help us finish the book. We definitely need some things - see the next section of this post for more info.
Job Listings for Musician's Guide to Steemit (Work In Progress)
These are NOT final listings. Do not apply for jobs yet.
These are NOT final listings. Do not apply for jobs yet.
These are NOT final listings. Do not apply for jobs yet.
GOT IT?!
Each job will be posted as a separate STEEM GIG post from the @musiciansguide account (I will resteem them on this account too).
I am sharing these job listings with you to get you excited and show you what is coming next week. These jobs each pay hundreds of dollars' worth of steem - its a huge opportunity to earn more money. You could use this as a way to power up more SP and build that nest egg, or you could raise funds to buy new equipment for blogging, pay the rent, even just go on vacation or buy some beer.
The point is, we have money and jobs and we've giving 'em both away! So here's the list, and if any jobs look good to you please keep an eye out for the official posts coming next week.
These are NOT final listings. Do not apply for jobs yet.
———
Project Administrator
Lead: Matt Sokol - @heymattsokol
+ Act as central organizer of the project. 
+ Determine which tasks need to be done, when, and by who.
+ Send tasks for each week to the appropriate team members.
+ Follow-up when needed.
+ Receive feedback and facilitate public conversations when needed to make project-related decisions.
+ Manage the budget, including ensuring safety of funds and proper distribution of payment for work on the project.

Pay: Not allowed to receive any pay from the project budget.
———
Secondary / Assistant to Lead: ____________ (NOTE - this job posting may go up early)
+ Act as project liaison for team members and broad community. 
+ Check in with everybody and relay relevant issues/information to Lead Administrator 1-2 times per week.
+ Help recruit new team members when needed.
+ Do small miscellaneous project-related tasks to assist Lead Administrator when needed (to a reasonable degree)

NOTE: You need to be able to work a little bit every day (5-6 days per week) for this role. It's a 20-30 mins per day job for the duration of January - you'll be expected to check in once per day via Steemit Chat or email, 5-6 days per week.
Number of people: Preferably one person for the whole project from now through the end of March.
Pay: $100 USD per Week (paid as Steem, SBD, or 50/50 of both (your choice) based on coinmarketcap.com price at time of payment) — this one is paid in USD equivalent to reduce income volatility in case market fluctuates too much from week to week.
———
Graphic Designer (Interior)
LEAD: __________________
SECONDARY: __________________
TERTIARY: __________________
NOTE: We will need a ton of images for this book. I'm aiming for at least one image per 1-2 pages of the book — a largely visual experience. This is a huge opportunity for graphic designers to pick up some extra paid work.
+ Create Professional-Quality Images to Compliment the Text of the Book
+ Coordinate with Project Administrators to Know What Images Are Needed
+ Be Available for Possible Revisions in a Month or Two (will pay extra for major revisions)

Number of People: At least two, if not three designers who are actively working on the project. We're also going to be open to image submissions from anybody - but the "official" people will be the first in line, they'll be the ones that the Project Administrator messages whenever a new image is needed.
Pay: STANDARD RATE FOR APPROVED IMAGES is 5 steem per image (USD equivalent: $30). Alternate rates may apply to some images if super hard or easy to do. Standard rate always applies unless alternate rate is officially agreed to with a Steem Contract prior to the final submission of the image.
Flexibility: I'm hoping for a lead graphic designer who will stay on for the whole project, but the secondary members of the team have more flexibility.
———
Editor
Lead: __________________
Number of People: It would be ideal to hire one consistent editor for the whole process.
I feel like having a quality editor is crucial, so much so that if we can't find someone perfect to do it within Steem, it may be smart to recruit a freelancer from outside the Steem ecosystem. I'd prefer to do it 100% inside the Steem ecosystem though - so we'll see. Are you a great editor? Please apply!!
Pay: 50 Steem + 50 SBD for editing the full book (USD Equivalent: $650). Half (25SBD + 25 steem) to be paid after successful completion of the first chapter's editing process, half after finishing the final edit for the book.
Flexibility: Scheduling is flexible, but you need to be good at Getting Shit Done. The majority of the book's editing will take place during a two week period TBD, looking towards late February / early March. - you must have availability (~10hr/week for those two weeks seems like a good estimate) during that timeframe.
———
Cover Art Artist
LEAD: ____________________
Number of People: One person, although you can work with a team if you want.
Pay: 35 SBD and 35 Steem (USD Value: $450). Half upon acceptance of first draft / selection as final artist, half upon acceptance of the final artwork.
Note: The success of this book hinges in large part on having great cover art. I want something that, when anybody sees it, they go "Wait, what is that?" That's why I am allocating so much money to this area.
Another Note: The final choice of who gets to do the cover design will be made by the same impartial committee that decides on graphics in general, plus two additional people, comprising the "Cover Art Council."
Flexibility: The schedule of work doesn't matter, so long as the deadline (mid-February for final) is met. Open and frequent communication will be expected throughout the process, including several deep revision rounds if needed.
———
Book Layout Designer
LEAD: __________________
Number of People: One person to do the whole design probably makes sense. We can add more (probably "assistants" to the lead designer) if it makes sense, for now I will assume one though.
Pay: 35 SBD and 35 Steem (USD value $450) for the whole project. Half paid upon approval of first design drafts, half upon completion of the final design.
Flexibility: Flexible day-to-day as long as you can communicate and meet deadlines. Most of the design work will take place in a one week period following the end of all writing/graphics, towards the end of February.
Note: Experience necessary for obvious reasons. The quality standard here is "fully professional."
———
Writer
LEAD: @heymattsokol
•   Write the Book

Flexibility: None, I will write the whole book.
Pay: Not allowed to receive any pay from project budget (but I keep the post rewards for my project-related posts unless otherwise noted in that specific post)
——
These are NOT final. Do not apply for jobs yet.
These are NOT final. Do not apply for jobs yet.
These are NOT final. Do not apply for jobs yet.
——
Future Roles
I'll be seeking some other roles relating to the promotion of this book (advertising, PR, and other forms of marketing). More information on these jobs will be available in a month or two.
——
What questions do you have? Please feel free to ask anything in the comments of this post. I am trying to make this project as clear and inclusive as possible, which means more updates and a better effort to signal boost the message about this project.
I'll answer as many questions, comments, and ideas as I possibly can - even if this post gets crowded - so don't hesitate to share your thoughts.
Resteems are greatly appreciated for this post as we try to signal boost the project as far as we can.
Thank you!!!