Hello everyone,
yesterday I had a very good time, a good friend of mine along with me we booked ourselves two tickets to attend a gig of a band [Evergrey] we both like.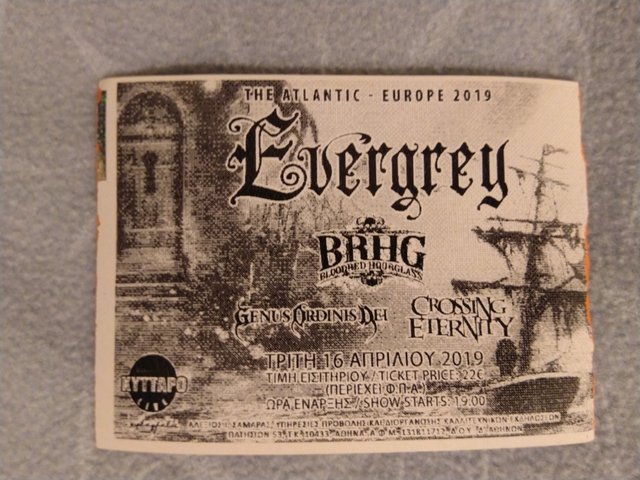 I got to know this band from this friend of mine actually, we had attended their previous appearance in our city together as well. I still have the poster of their previous gig in the same live club it took place this time again.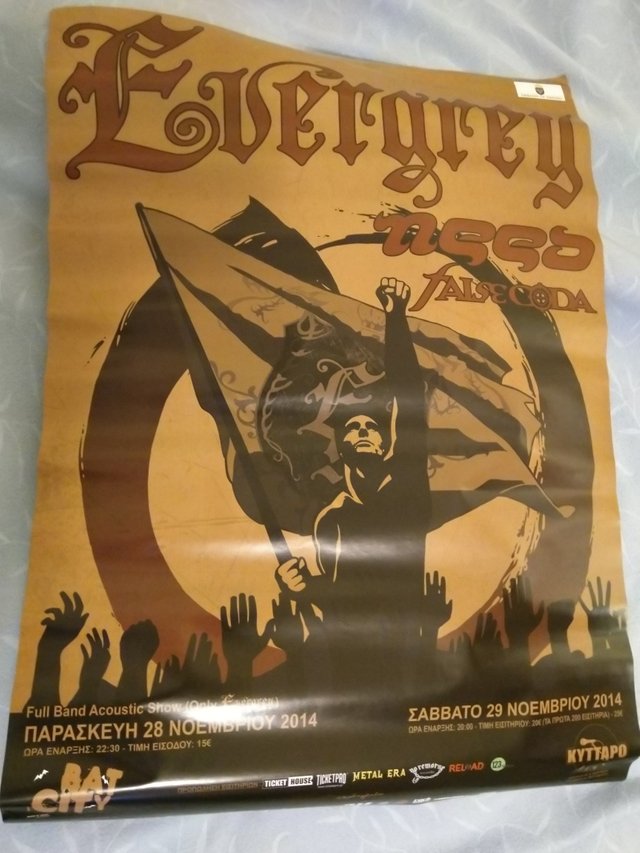 Yesterday's schedule besides Evergrey also included another three bands (as seen on the ticket), but unfortunately we couldn't be at the club from the very beginning and having made an appointment with my friend to meet and drive to the club from the day before, we weren't aware of some changes of the times of the bands' appearances, we finally arrived at the club just when BRHG (Bloodred Hourglass) were about to start performing their last song of their set. I wanted to record a song from their setlist but I'm always trying to capture the entire song, so I thought to start taking some photographs and to start recording their next song, not having realized that we were just seeing them performing their last song.
So a couple of photographs of Bloodred Hourglass on the stage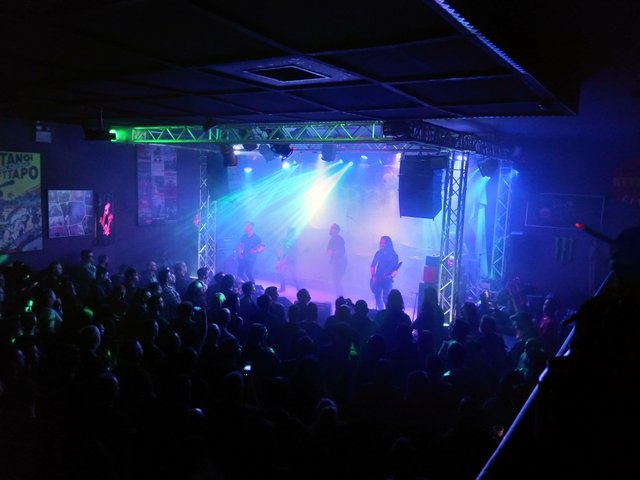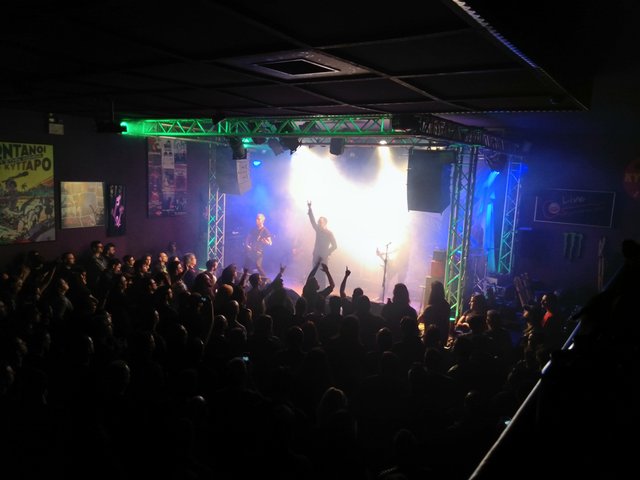 And so, they finished leaving myself and my friend wondering whether that was it (?!). It was that for us, not for the people being there before us. Anyway, the sad part was actually for my friend who knew their music and actually really wanted to see them performing live. After approximately half an hour of impatient waiting time until the stage got ready for Evergrey to hit it, I took a photograph of the audience, the club was full of people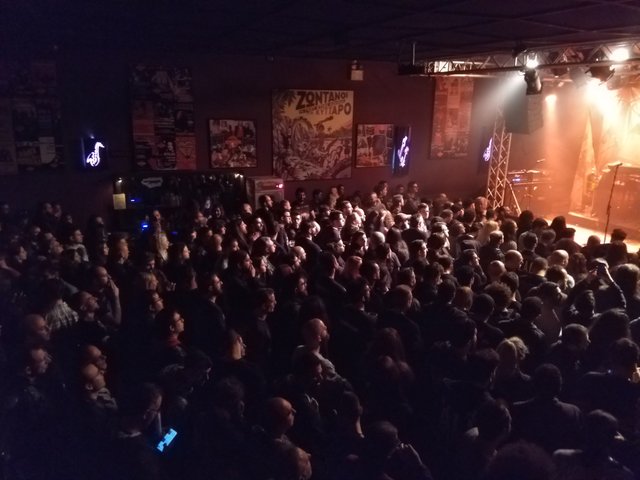 and the show was finally on. I've recorded a few songs, their set starting with two songs from their new album, which has been released this year (2019) titled The Atlantic.
The guys on the stage warmed up pretty well and kept playing giving us a great time, the following song belonging to the album titled Hymns for the Broken and this album was the one I got in touch with the band, the cover art actually is the one in the poster shown above from 2014.
Moving on, next song I recorded is from their previous album The Storm Within released in 2016
Last song is again from the Hymns for the Broken album (2014)
These three album mentioned here are linked in the form of a trilogy as my friend has told me, I'll paste here the words of the frontman Tom S. Englund
The first album of the trilogy was the 'Hymns For The Broken' album, where I was at a point in my life where I had to change something. I wasn't sure what it was at that time, but I needed it and change was about to come. For 'The Storm Within' album, those thoughts were even more evident to me and I would say that unconsciously that I made a decision that it needed to be. For 'The Atlantic' album, it's where I am now, basically. Maybe not stranded on a new shore, but at least on the other side of a huge, dark obstacle that was taking me through the depths of the deep end and frustrations and the fears and thoughts of what I will become next.
We had a really great time seeing Evergrey performing and I really recommend their music to everyone to listen to and enjoy!
Thank you for checking this post out, please leave me a comment below if you want and/or kindly upvote & resteem it if you liked it.
Thank you!