Elvis Presley, The Beatles or Dámaso Pérez Prado?
Hi dear steemians!
During these days I feel I'll be writing about my birth country and Latin America in general. Maybe because Christmas is almost here and I'm not going to be home with my family, and I start feeling that absence... Anyway, I'll be traveling this week to Argentina with my partner and we will be fine with his family. So I'll try to continue in activity from there.
Now let's go to what brings me here today!
1950 World Record
In 1950 a Cuban musician marked a world record, unmatched by neither Elvis Presley nor the Beatles.
It was Dámaso Pérez Prado (1917-1989) with his piece "Patricia" that was 15 weeks
consecutive in the Hit Parade of U.S.A
This man, known as The King of Mambo https://es.wikipedia.org/wiki/Mambo, was a Mexican musician, composer and arranger of Cuban origin. He began playing music in his birth province, Matanzas, and when he had the opportunity, he went to Mexico. Once he was there, he received the help of some friends who were already installed from before. One of them was the also known Beny Moré https://es.wikipedia.org/wiki/Benny_Moré
Soon he formed an orchestra with an instrumentation inspired by the great jazz bands, adding the essential Afro-Cuban percussion. On this basis he created a sound that would be his hallmark and with which he would create the mambo style, where the real soloist was the orchestra.
Here I share a video for you to see a sample of his work. Enjoy it!
Hola amigos de Steemit!
Durante estos días siento que escribiré sobre mi país de nacimiento y Latinoamérica en general. Tal vez porque ya casi llega la Navidad y no voy a estar en casa con mi familia, y empiezo a sentir esa ausencia ... De todos modos, esta semana viajaré a Argentina con mi compañero y estaremos bien con su familia. Así que intentaré continuar en actividad desde allí.
Ahora vamos a lo que me trae hoy aquí
Récord mundial de 1950
En 1950, un músico cubano marcó un récord mundial, sin igual entre Elvis Presley y los Beatles.
Fue Dámaso Pérez Prado (1917-1989) con su pieza "Patricia" que tenía 15 semanas
consecutivos en el Hit Parade de E.U.
Este hombre, conocido como El Rey de Mambo, fue un músico, compositor y arreglista mexicano de origen cubano. Comenzó a tocar música en su provincia natal, Matanzas, y cuando tuvo la oportunidad, se fue a México. Una vez que estuvo allí, recibió la ayuda de algunos amigos que ya estaban instalados desde antes. Uno de ellos era el también conocido Beny Moré. Pronto formó una orquesta con una instrumentación inspirada en las grandes bandas de jazz, agregándole la esencial percusión afrocubana. Sobre esta base creó un sonido que sería su sello distintivo y con el que crearía el estilo mambo, donde el verdadero solista era la orquesta.
Sample of Afro-Cuban instruments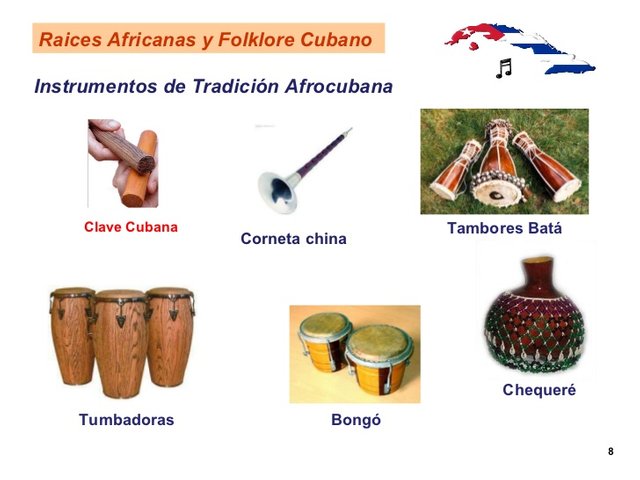 Thank you very much for your time and your comments!
Have a very happy sunday. Peace and love, that's all we need!