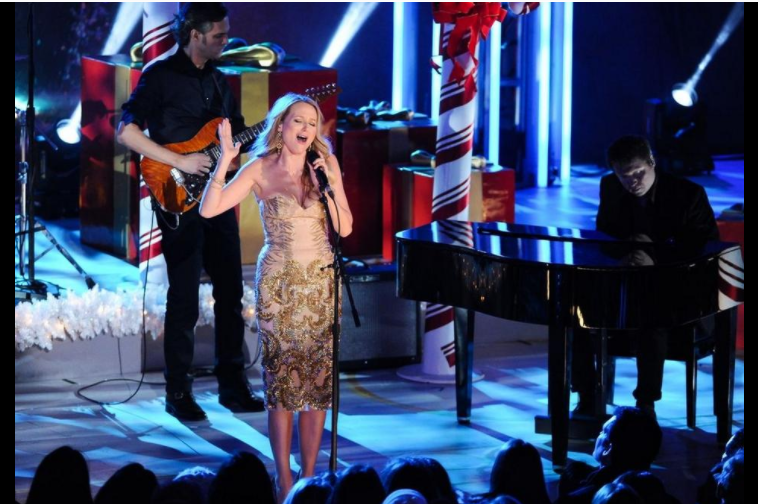 If you're making a playlist, check it twice to avoid some the season's more annoying tunes and make room for classic hits and modern marvels that will put you in a jollier mood.
You've heard Christmas songs in the stores since Halloween. OK, I lied. Since Labor Day.
And you might be sick of them. Or at least some of them. But we're in the home stretch toward the big day. So, as my gift to you this holiday season, I'm suggesting songs that belong on your ultimate Christmas playlist — along with ones to avoid — as you wrap gifts, bake cookies and, for you slackers, just start shopping.
Follow along with this nifty naughty-and-nice guide:
NAUGHTY
‒"Frosty the Snowman" by The Beach Boys: What the what? The guys who gave us "Surfin' Safari," "California Girls" and "Surfin' U.S.A." sing about a cold-weather dude with a corn-cob pipe and two eyes made out of coal? Frosty's shelf life is already limited. He doesn't need a warm-weather band causing him to prematurely perspire.
‒"Baby, It's Cold Outside" by various artists: This tired and once-playful song is frankly kind of creepy in retrospect, and flies in the face of the nation's current climate. And by climate, I don't mean the weather.
‒"Our Love is Like a Holiday" by Michael Bolton: If your significant other told you, with a straight face, "Our love is like a holiday," you would suspect one of two things: infidelity or mental incapacity. Plus, I mean, Michael Bolton.
‒"I Saw Mommy Kissing Santa Claus" by the Jackson 5 (or any other artist): Talk about your holiday horrors. Here's the gist: A kid steals a look at his mother kissing Santa and tickling him under his beard. It's open to interpretation whether that's her husband dressed as Santa or the real deal himself. Either way, get a room.
‒"Grandma Got Run Over by a Reindeer" by various artists: Basically, this supposedly whimsical song is about an old lady who got hammered on eggnog, forgot to take her medication, staggered out into the snow, and the narrator and her husband found her the next day with "hoof-prints on her forehead and incriminating Claus marks on her back." No urgency, no 911, no nothing. But hey, hubby is taking it all so well by watching football, drinking beer and playing cards with cousin Mel. Mariska Hargitay would have this case closed in an hour.
‒"Santa Baby" by Madonna (or any other artist): What's with all the crass commercialism in this holiday tune? The singer wants a sable (mink coat, presumably), a convertible, a yacht, the deed to a platinum mine, a duplex, checks and, oh, a ring. Wow. And you're complaining about forking over the dough for the kid's Xbox?
‒"All I Want for Christmas (is My Two Front Teeth)" by various artists: This was annoying the first 1,000 times we heard it. Although give it this much — the singers aren't asking for a sable, yacht or platinum mine.
NICE
‒"Santa Claus is Comin' to Town" by Bruce Springsteen and the E Street Band: The Boss' take on the holiday classic is pure rock 'n' roll that could be played any time of the year and not seem out of place. It's even better in concert. And it's spawned at least one parody: Jimmy Fallon's portrayal of Springsteen singing, "Robert Mueller's Comin' to Town."
‒"O Holy Night" by Jewel: My favorite religious song of the season, with "Silent Night" a close second. These classics from the singer with the angelic voice are especially moving on Christmas Eve.
‒"Happy Xmas (War is Over)" by John Lennon and Yoko Ono, with the Harlem Community Choir: Their closing lyrics of "War is over, if you want it/War is over now" offer hopeful comfort in these tense times of conflict.
‒"White Christmas" by Bing Crosby: Nothing evokes a more nostalgic feel for the holiday than the crooner's warm bass-baritone voice singing this classic. And it's sort of mandatory listening in Erie, where a white Christmas is almost as assured as a winless Cleveland Browns season.
‒"Blue Christmas" by Elvis Presley: This one's on some critics' naughty list, but for me, it works as another piece of holiday nostalgia. Ask your favorite Elvis impersonator to perform it while he's still in the building.
‒"Merry Christmas Darling" by The Carpenters: Richard Carpenter composed the music and Karen Carpenter is in peak form. You can hear the ache in her voice for that special someone who isn't around for the holidays.
‒"Hark the Herald Angels Sing" by the Vince Guaraldi Trio (and the Charlie Brown cast): This closing number to the holiday TV classic almost compensates for the bullying that Charlie Brown endures for picking out a sad-looking Christmas tree. Especially cutting is Violet's comment, "Boy, are you stupid, Charlie Brown." Ouch.
Source: http://www.goerie.com/entertainmentlife/20171221/14-naughty-and-nice-christmas-songs-for-holidays