Y después de casi dos meses .. ya estamos llegando a la gran final !!! Y todo es gracias a vosotros, por vuestros votos, por vuestra ilusión de seguir viendo quién llega al número 1 y por seguir semana tras semana ahí con este proyecto. Empezamos el proyecto recaudando en el primero post unos 0,50 céntimos de dolar y poco a poco a ido creciendo hasta conseguir los 15 dolares en el último post. Muchas muchas gracias por darme esta ilusión con este primer proyecto de steemit en mi blog. Y no os voy a hacer esperar más.. aquí está el ÚLTIMO TOP de #TOP10MUSIC !!!
---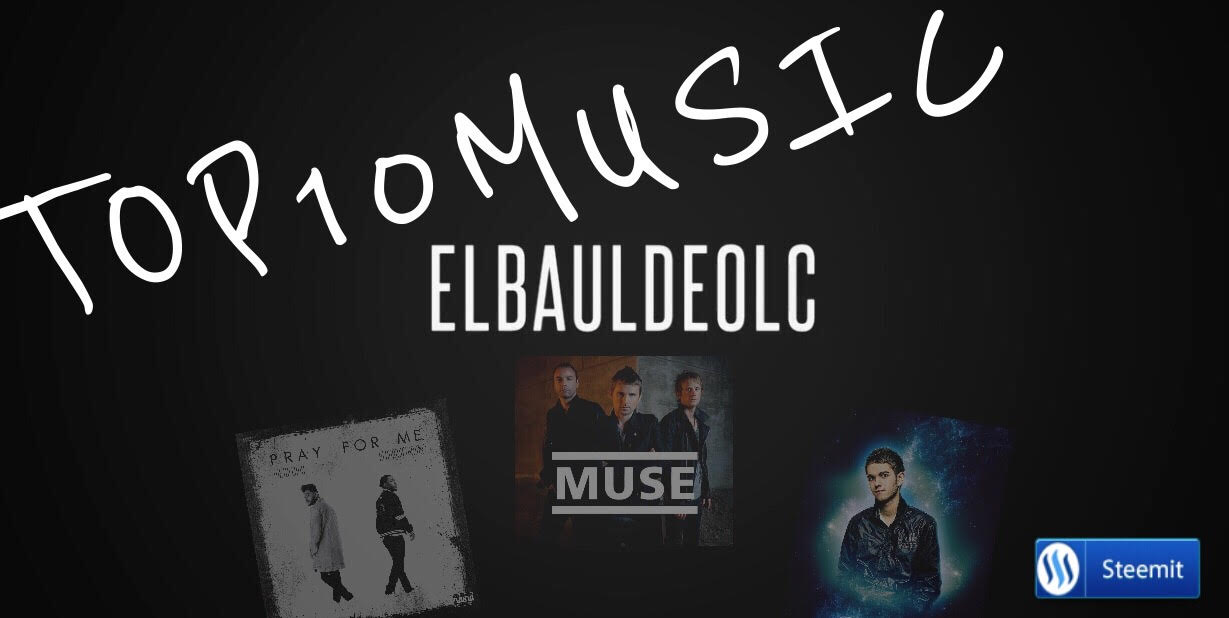 ---
Novedades del 10 al 5 en esta semana
---
DÉCIMA POSICIÓN
Calvin Harris - Nuh Ready Nuh Ready feat partynextdoor


Pues en esta ya última semana de top10, hoy os traigo uno de mis artistas favoritas, y es él, Calvin Harris.
Ya sabéis que por donde va, triunfa y todos sus singles se cuentan por millones de visitas. Y como él no iba a estar dentro de este top¿?
---
NOVENA POSICIÓN
The Chainsmokers - You Owe Me


Uno de sus singles ya está en la final, y el otro poco le quedo. Ellos necesitaban venir con un tercer single para llevar a la final el máximo de éxitos. Vosotros los volvéis a querer ver arriba?
---
OCTAVA POSICIÓN
Sean Paul, David Guetta - Mad Love feat Becky G


Todos ellos juntos y con Guetta a la cabeza.. esto huele a éxito rápido. Guetta no ha formado parte de esta temporada de top10 pero seguro que apararecerá en futuras temporadas. Mientras, os dejo este temazo para bailar!
---
SÉPTIMA POSICIÓN
Grace VanderWaal - So Much More Than This


Aunque aún no sea muy conocida, esta chica se caracteriza por sus millones de visitas en sus singles.
He querido aprovechar este último top para traérosla y podáis conocerla mejor. Aquí os dejo su nuevo tema!
---
SEXTA POSICIÓN
NF - Let You Down
Poco conocidos pero en dos meses ya están en las primeras posiciones de todas las listas dance del momento. Y como no iba a estar aquí? Esta semana os traemos nuevos artistas sacados del horno!
---
QUINTA POSICIÓN
Rupaul- Call me mother
Aunque sea una canción de hace unos meses, la verdad es que con la nueva edición de su programa,
este temazo ha empezado a sonar ahora. Si no sabéis de que programa hablo.. podéis ir a Netflix y ver Rupaul Drag Race ! . la entrada más fuerte de esta semana viene a manos de esta artista.
---
---
CUARTA POSICIÓN. Salvado por @elbauldeolc
Bad Bunny - Amorfoda
Pues por última vez en este top, traemos el repescado de la semana pasado por mí. He querido apoyar a este artista ya que lleva una muy buena racha y le quería dejar una semana más aquí. Lo queréis para la final?
---
TERCERA POSICIÓN. MEDALLA DE COBRE
Zedd, Maren Morris, Grey - The Middle
Tercera semana que la mantenéis aquí .. la querréis tener en el top de finalistas. Mi enhorabuena por una semana más . Esta canción es todo top!
---
SEGUNDA POSICIÓN. MEDALLA DE PLATA
The Weeknd, Kendrick Lamar - Pray For Me
Al igual que la anterior, vosotros habeis querido que haya vuelto a quedar en segunda posición este artista. LLeva cosechados con este single numerosos millones de visitas y descargas. Conseguirá por fin alzarse con el valioso primer puesto que tanto le cuesta..
---
GANADOR DE LA SEMANA Y AUTOMÁTICAMENTE PASA COMO FINALISTA DEL #TOP10MUSIC
Muse - Thought Contagion
Pues sí, vino y se quedó. Arrasó, esa es la palabra... pero la gran pregunta es .. será el ganador de esta temporada de #Top10Music frente a otros grandes artistas..
---
LISTA ACTUALIZADA DE LOS FINALISTAS DE #TOP10MUSIC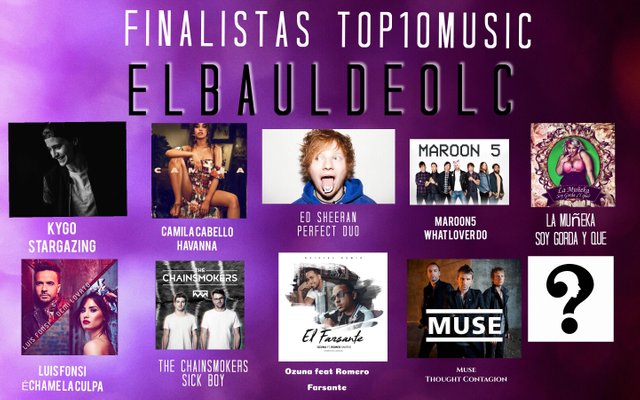 ---
Bueno chicos como sabéis estamos llegando a la final y con este top, cerramos un total de 10 post con más de 100 artistas y de los cuales ahora mismo tenemos estos finalistas. La semana que viene tendremos un recopilatorio de los 10 artistas que forman la final de este top y os explicaré como funcionará la votación y la final, que por cierto ya os puedo decir que será un gran video !!!! Mientras tanto ya sabéis seguir votando en la caja de comentarios que artistas son vuestros favoritos para mandarlos directamente a la final. Solo queda una posición más.. ¿ y tu a quién eliges ..?
Cerramos este post , pero antes quería agradecer a las comunidades de @babelproyect y @mosqueteros por tenerme siempre presente y por seguir creciendo y conociendo a gente impresionante. Gracias sobre todo a @barbaramente @otitrader @angelggomz @abelinche @avellana @carlosgauna @mario-trivelli @luismy entre muchos otros por apoyarme en cada uno de mis decisiones del blog. Gracias también a mi amigo @hr1 y @rok-sivante por su apoyo en mi contenido y también agradecer a la comunidad de @cervantes y todo su gran equipo por darme fuerzas para seguir trabajando en todo mi contenido. Quiero dejaros aquí su Discord para que podáis aprender mucho de ellos y preguntarles lo que necesitéis Discord. Y sobretodo gracias a cada una de las personas que dedica un ratito de su tiempo para seguir leyéndome. Muchas gracias.!!

Nos vemos en mi próximo post chicos! hasta la próxima.. cerramos el baúl hasta aquí

@elbauldeolc

Los videos están sacados de la plataforma youtube y las fotografías son editadas por mí. Muchas gracias