I frxxking (xx = 'ea', not 'u') LOVE global warming! Living in a country with a mild climate, we normally get wet seasons, for all seasons we know. But this year, well, this year we had such a great Summer with so many full sunny days, with not too high humidity, and super temperatures, we can't wish for more. Today, again, blue sky with the moon and all! COOL: If I may say so myself. Disclaimer: certainly I do not like the effects of global warming, and I think we shall fight it with all our means.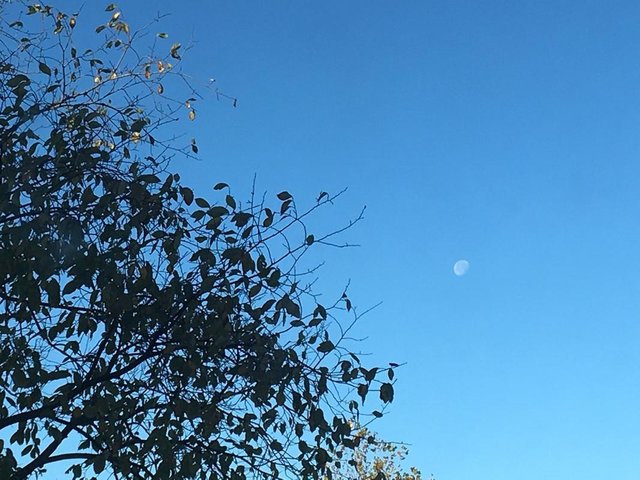 © edje
I LOVE the fact I was waking up at 10 o'clock this morning, to find out it was actually 9 o'clock. The clock rules did its thing again last night. I hope we gonna stick to this what we call 'winter time' forever. The winter time is actually the real time and for whatever reasons we change clock time for the Spring and Summer seasons. I love after sunset, so let us have an hour more of darkness in the Summer evenings! Fortunately, the debates are happening in the EU.
Lanoche...I LOVE her music! This morning I had to listen to one of her most recent publication on the Internet, while drinking my morning stove top percolator coffee, curating music for @illuminati-inc and subsequently writing this post.
Electronic: YES!
Atmospheric: YES!
Deep: YES!
Mesmerising: (to me) YES!

PPB
Press Play Below
NJOY SUNDAY

Artist: Lanoche
Set: 100% Psych
Year: 2018
Country: Spain
source soundcloud
Artist Music
Artist Discography
Artist Gigs

Music Library with more than 200 Entries
blockchain curator and reviewer for @illuminati-inc
you like stories and music? check @qsounds