The story about "Hey Jude"
In May 1968, John Lennon and his wife Cynthia Lennon separated after John's affair with Yoko Ono. The following month, Paul McCartney drove out to visit Cynthia and John's son, Julian, at Kenwood, the family's home in Weybridge. Cynthia had been part of the Beatles' social circle since before the band's rise to fame in 1963; McCartney later said he found it "a bit much for them suddenly to be personae non gratae and out of my life". Cynthia Lennon recalled of McCartney's surprise visit: "I was touched by his obvious concern for our welfare ... On the journey down he composed 'Hey Jude' in the car. I will never forget Paul's gesture of care and concern in coming to see us."
I started with the idea "Hey Jules," which was Julian, don't make it bad, take a sad song and make it better. Hey, try and deal with this terrible thing. I knew it was not going to be easy for him. I always feel sorry for kids in divorces...
– Paul McCartney, 1997
The song's original title was "Hey Jules", and it was intended to comfort Julian Lennon from the stress of his parents' separation. McCartney later said, "I knew it was not going to be easy for him", and that he changed the name to "Jude" "because I thought that sounded a bit better".
According to music journalist Chris Hunt, in the weeks after writing the song, McCartney "test[ed] his latest composition on anyone too polite to refuse. And that meant everyone." On 30 June, after recording the Black Dyke Mills Band's rendition of his instrumental "Thingumybob", in Yorkshire, McCartney stopped at a village in Bedfordshire and performed "Hey Jude" at a local pub. He also regaled members of the Bonzo Dog Band with the song while producing their single "I'm the Urban Spaceman", in London, and interrupted a recording session by the Barron Knights to do the same. Ron Griffith of the group the Iveys – soon to be known as Badfinger and, like the Black Dyke Mills Band, an early signing to the Beatles' new record label Apple Records – later recalled that on their first day in the studio, McCartney "gave us a full concert rendition of 'Hey Jude'".
When introducing the composition to Lennon, McCartney assured him that he would "fix" the line "the movement you need is on your shoulder", reasoning that "it's a stupid expression; it sounds like a parrot." Lennon replied: "You won't, you know. That's the best line in the song." McCartney retained the phrase; he later said of his subsequent live performances of the song: "that's the line when I think of John, and sometimes I get a little emotional during that moment."
If you think about it ... Yoko's just come into the picture. He's saying. "Hey, Jude – Hey, John." I know I'm sounding like one of those fans who reads things into it, but you can hear it as a song to me ... Subconsciously, he was saying, Go ahead, leave me. On a conscious level, he didn't want me to go ahead.
– John Lennon, 1980
Although McCartney originally wrote "Hey Jude" for Julian, John Lennon thought it had actually been written for him. In a 1980 interview, Lennon stated that he "always heard it as a song to me" and contended that, on one level, McCartney was giving his blessing to Lennon and Ono's relationship, while, on another, he was disappointed to be usurped as Lennon's friend and songwriting partner.
Other people believed McCartney wrote the song about them, including Judith Simons, a journalist with the Daily Express. Still others, including Lennon, have speculated that in the lyrics to "Hey Jude", McCartney's failing long-term relationship with Jane Asher provided an unconscious "message to himself". McCartney and Asher had announced their engagement on 25 December 1967, yet he began an affair with Linda Eastman in June 1968; that same month, Francie Schwartz, an American who was in London to discuss a film proposal with Apple, began living with McCartney at his St John's Wood home. When Lennon mentioned that he thought the song was about him and Ono, McCartney denied it and told Lennon he had written the song about himself.
Author Mark Hertsgaard has commented that "many of the song's lyrics do seem directed more at a grown man on the verge of a powerful new love, especially the lines 'you have found her now go and get her' and 'you're waiting for someone to perform with.'" Music critic and author Tim Riley writes: "If the song is about self-worth and self-consolation in the face of hardship, the vocal performance itself conveys much of the journey. He begins by singing to comfort someone else, finds himself weighing his own feelings in the process, and finally, in the repeated refrains that nurture his own approbation, he comes to believe in himself."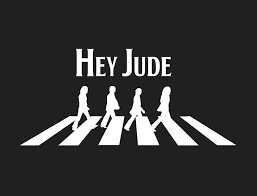 Source Wikipedia: https://en.m.wikipedia.org/wiki/Hey_Jude
Song: