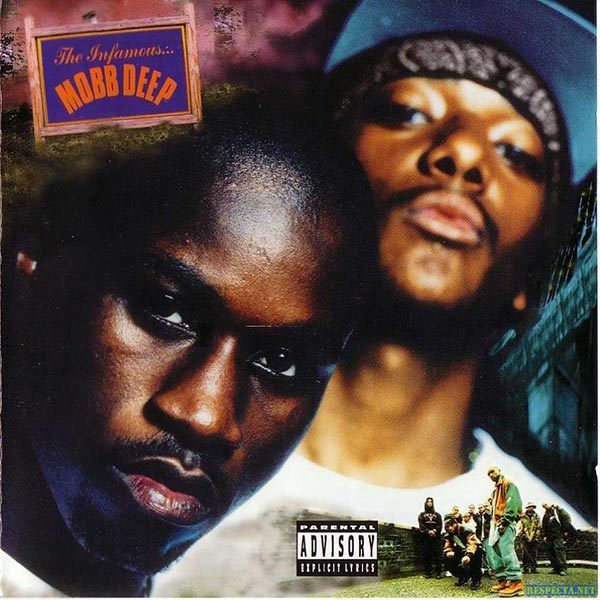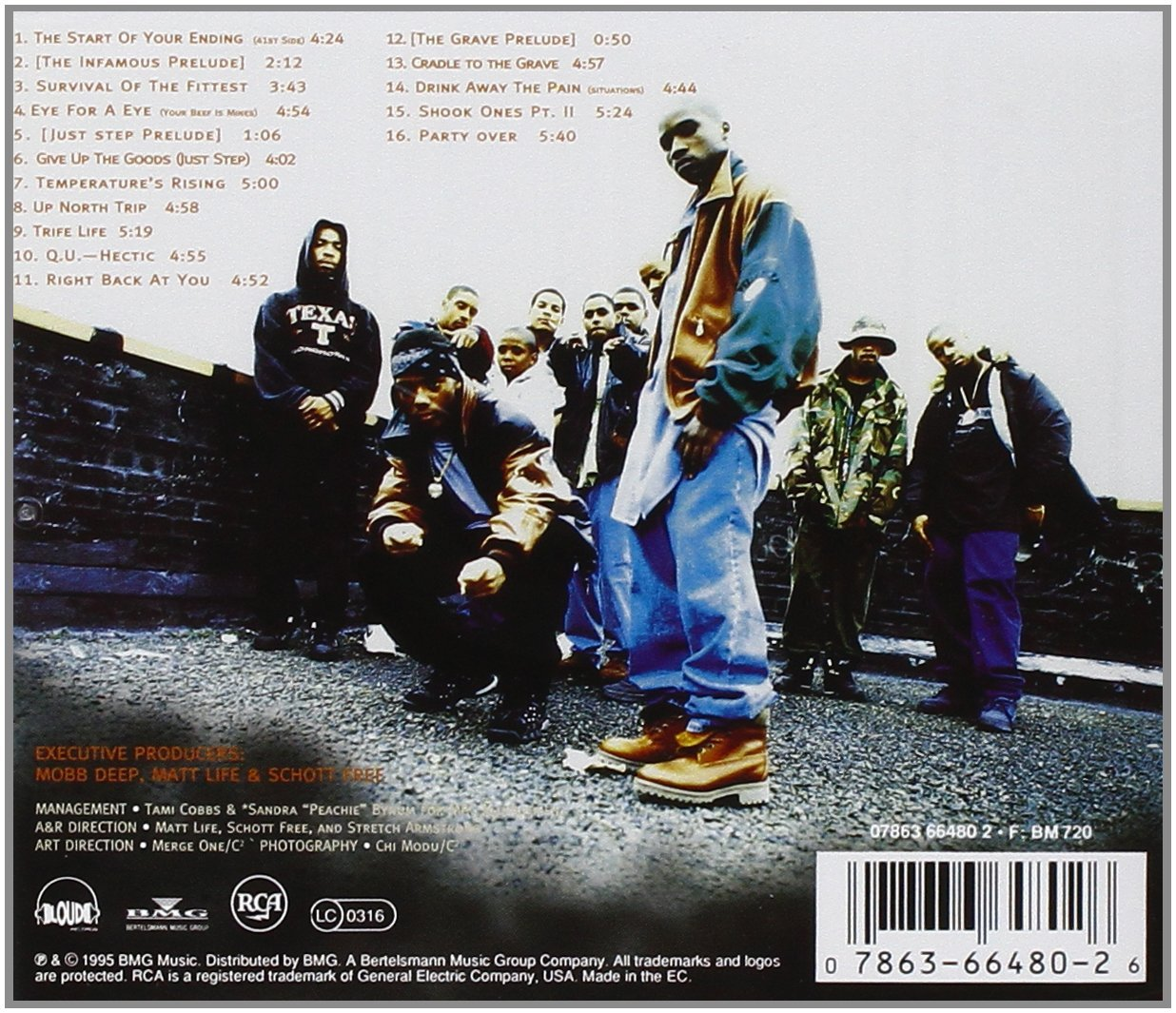 TITLE: The Infamous
ARTIST: Mobb Deep
ARTIST'S HOMETOWN: Queens, New York
RELEASED: April 15, 1995
GENRE: East Coast HipHop/Rap
LENGTH: 66 Minutes 51 Seconds
LABEL: Loud & RCA
The Infamous is the second studio album by the East Coast rap duo Mobb Deep. The album features guest appearances from many big names in Hip Hop such as Nas, Raekwon, Ghostface Killah and Q-Tip. In the year of its release it debuted at number 15 on the Billboard 200. When I was much younger, I remember looking deep into artists like Nas, Big L, The Notorious B.I.G. and Jay-Z, listening to everything they've ever released. To this day I still don't know why I never listened to any Mobb Deep. But I'm glad I've made it a thing to do so now, cuz this is the shit right here. I'm a huge fan of New York Hip Hop. I love it all damn near, from the beats to the lyricism. And this album fits that description perfectly. Guaranteed to keep your head rockin' back and forth from the first song to last. After the passing of Prodigy, I realized I didn't know much about him, or Mobb Deep, so I will be listening to much more form the duo and hopefully review some more of their projects for you guys! I recommend you give this one a listen. Real Hip Hop at its finest.
TRACK LISTING:
The Start Of Your Ending (41st Side)
The Infamous Prelude
Survival Of The Fittest
Eye For A Eye (Your Beef Is Mines)(ft. Nas & Raekwon)
Just Step Prelude
Give Up The Goods (Just Step)(ft. Big Noyd)
Temperature's Rising (ft. Crystal Johnson)
Up North Trip
Trife Life
Q.U.-Hectic
Right Back At You (ft. Ghostface Killah, Raekwon & Big Noyd)
The Grave Prelude
Cradle To The Grave
Drink Away The Pain (Situations)(ft. Q-Tip)
Shook Ones Pt. 2
Party Over (ft. Big Noyd)
SONGS THAT STAND OUT:
#3 Survival Of The Fittest
Produced By Mobb Deep

#4 Eye For A Eye (Your Beef Is Mines)
Featuring Nas & Raekwon
Produced By Mobb Deep

#6 Give Up The Goods (Just Step)
Featuring Big Noyd
Produced By The Abstract

#15 Shook Ones, Pt. 2
Produced By Mobb Deep

PERSONAL RATINGS:
LYRICS:
4 out of 5
This is one of those albums that just purely exemplifies what 90's Hip Hop was all about. East Coast Gangster rap at it's finest. If you are a fan of lyricism with elements of story telling, this is the perfect album to peak your interests. I always enjoy a good verse, when it keeps going and going and holds no dull moments.
BEATS:
3 out of 5
Majority of the beats on the album were produced by Mobb Deep, which completely fit the vibe of the times. I get a boom bap, Illmatic type vibe from the beats in this project. Perfect beats to freestyle to if you're ever just flowin' with some homies or something. Throughout the years Havoc has proved himself quite a bit as a producer, so it's dope to see just how long he's been at it for.
TOTAL SONGS LIKED:
I liked 7 songs out of the total 16 on the album. Now just because I liked that much, doesn't mean it'll be the same for you exactly. I'm a very picky person when it comes to the music, I pass on a lot of albums and I don't get impressed too easily. So, 7 is definitely a good number of songs to like for me, believe it.
OVERALL RATING:
4 out of 5
Overall I think the album deserves a 4 out of 5. It was definitely one of the important albums of the 90's for HipHop, definitely in the top 10 albums of that entire decade, I thought 5 out of 5 might be pushing it a little. If you don't think so, let me know what you think this album might deserve!
FAVORITE QUOTE:
"Your crew is featherweight,
My gunshots'll make you levitate,
I'm only 19, but my mind is old,
And when things get for real, my warm heart turns cold,
Another nigga deceased, another story gets told.."
-Prodigy
"Shook Ones, Pt. 2"