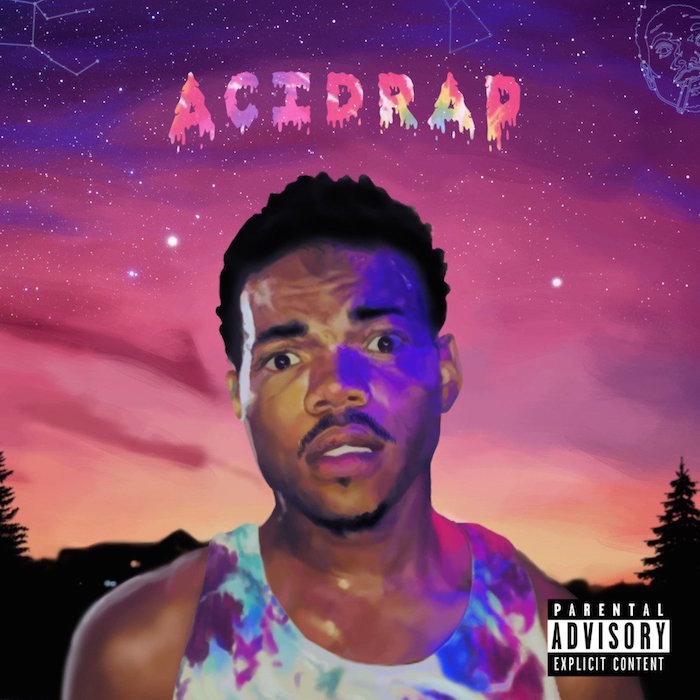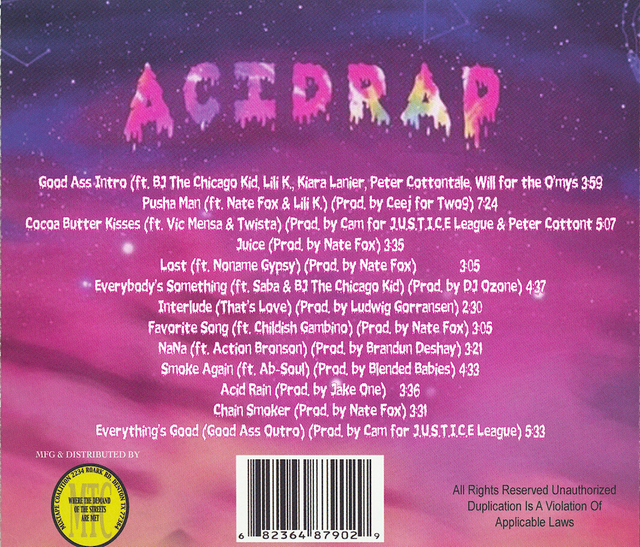 TITLE: Acid Rap
ARTIST: Chance The Rapper
ARTIST'S HOMETOWN: Chicago, Illinois
RELEASED: April 30, 2013
GENRE: HipHop/Rap
LENGTH: 53 Minutes, 52 Seconds
LABEL: Independent
Acid Rap is Chicago rapper Chance The Rapper's second official mixtape released as a free digital download for the world to get there hands on. I remember downloading this tape straight off of Datpiff.com, my main spot for music for at least 4 or 5 years of my life. It has been downloaded over 1 million times, and probably a lot more by now. Most people name this mixtape as the official "Chance made it" stamp, with features from famous artists such as Ab-Soul and Twista. This may not have been his first mixtape to date, but you can believe that after this one dropped, everyone knew who Chance The Rapper was. And no one was ever going to forget. One of my favorite mixtapes of all time, its almost the soundtrack to a specific time in my life. Whenever I hear certain songs, I remember partying in a hotel room all night long in downtown Seattle with good friends and dropping LSD as we roam around the Folklife Festival at the Seattle Center Downtown.
When most people think of Chicago rappers they think of Trap and Drill type artists almost instantly. But when you go back and you listen to artists like Common, Twista, Kanye West and Lupe Fiasco, you can't be too surprised when you stumble upon someone like Chance The Rapper. This tape, in my opinion was put together beautifully. Filled with upbeat feel good songs that make you want to move around as well as thought provoking rhythmic expressions of what it's like to be a youth in South Side Chicago. It's a beautiful mixture of the bad and the good. Definitely one of those projects you can play over and over again, from front to back.
TRACK LISTING:
Good Ass Intro (ft. BJ The Chicago Kid, Lili K., Kiara Lanier, Peter Cottontale, Will Of The O'mys & JP Of Kids These Days)
Pusha Man/Paranoia (ft. Lili K. & Nate Fox)
Cocoa Butter Kisses (ft. Vic Mensa & Twista)
Juice
Lost (ft. Noname)
Everybody's Something (ft. Saba & BJ The Chicago Kid)
Interlude (That's Love)
Favorite Song (ft. Childish Gambino)
NaNa (ft. Action Bronson)
Smoke Again (ft. Ab-Soul)
Acid Rain
Chain Smoker
Everything's Good (Good Ass Outro)
FAVORITE SONGS:
#1 Good Ass Intro
Featuring BJ The Chicago Kid, Lili K., Kiara Lanier, Peter Cottontale, Will
Of The O'mys & JP of Kids These Days
Produced By Peter Cottontale, Cam O'bi & Stefan Ponce

#3 Cocoa Butter Kisses
Featuring Twista & Vic Mensa
Produced By Cam O'bi & Peter Cottontale

#5 Lost
Featuring Noname
Produced By Nate Fox

#9 NaNa
Featuring Action Bronson
Produced By brandUN DeShay

#10 Smoke Again
Featuring Ab-Soul
Produced By Blended Babies

PERSONAL RATINGS:
LYRICS: 5 out of 5
BEATS: 4 out of 5
SONGS LIKED: 12 out of 13
OVERALL RATING: 4.5 out of 5
Normally, how I used to rate any album was purely based of off the number of songs I liked from the album. If I liked 5 songs from any album, regardless of the total songs on the project, then I'd stamp it an awesome project and mark it down as something to get my hands on. But this time I factored in a few more things; number of songs I liked total, a rate on the effectiveness of the beats, a rate on the lyrics (I enjoy when an artist obviously spent time on what he's saying) how impactful or witty they may be on top of an overall rating.
FAVORITE QUOTE:
Now most people would probably try and find a line that holds a deep
meaning or makes you think. But nahh, not me. My favorite line is very
simple and it gets me every time I hear it.
SONG:
Pusha Man
QUOTE:
"You're A Laaaaaaaaaaaaame, And Ya Bitch Break Down My Weed Sometimes"