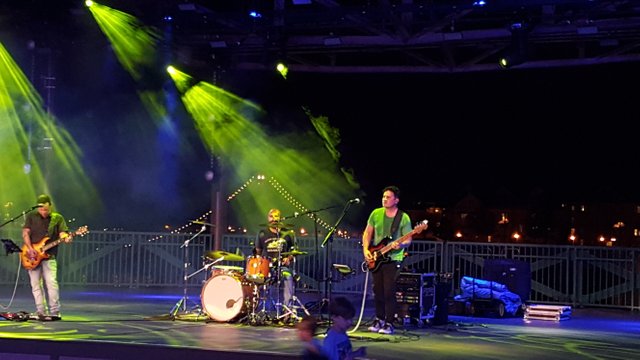 While visiting Disney Springs in Orlando (I guess I should really say Lake Buena Vista), we experienced one of the coolest thunderstorms of the vacation. We took cover underneath a Maleficent display right across from the AMC Theater. After taking cover for a good 30 minutes, we headed out into the entertainment, shopping and dining area known as Disney Springs. Eventually, the sounds of alternative / new wave / punk music were drawing me to a section of the Springs, while checking out some of the most amazing LEGO creations.
These infectious vibes were coming from the Market Place Stage, where a musical unit known as Acoustic Edge were jamming out to a very diverse crowd. Now, don't do what I tried to do by googling Acoustic Edge and finding acts that weren't even similar to the one playing this night. I guess they chose a very popular name. Due to the previous thunderstorm, the Disney crew left a towel by the entrance to the performance area for listeners to dry off their selected seats. This trio was not just a cover band presenting the crowd with their brand of familiar material. They were a band that performed these numbers with a precision unlike many others.
I kept thinking that these could be songs right off my own playlist. The Ramones, The Cure and Billy Idol were delivered in a way that had kids with Mickey Mouse ears enjoying a good pogo. One of the funniest moments for me was when they changed the words "porno mag" to "nat geo mag" in a Beastie Boys song. I understand that they are playing to a Disney crowd, but how many parents would be upset to find a National Geographic magazine in their kid's room. Moving from Violent Femme's "Blister In The Sun" to Journey's "Any Way You Want It" was a big flip, but it did get to show their versatility.
Born in Canada, Kurt Frohlich leads this trio all around Florida, as well as other parts of the United States. Sometimes, he strips the act down to a duo or as just a solo performer. I eventually was able to find out that he had shared the stage in the past with Marky Ramone, Faster Pussycat and the Goo Goo Dolls. He also had an original band called the Underground Rebels, who were responsible for the theme song to the UFC show "Tapout." If you find yourself in the Florida area, look for Acoustic Edge or Kurt Frohlich. It was well worth the wet seat!