Musicoin: Artist Of The Week Update, What is Musicoin & More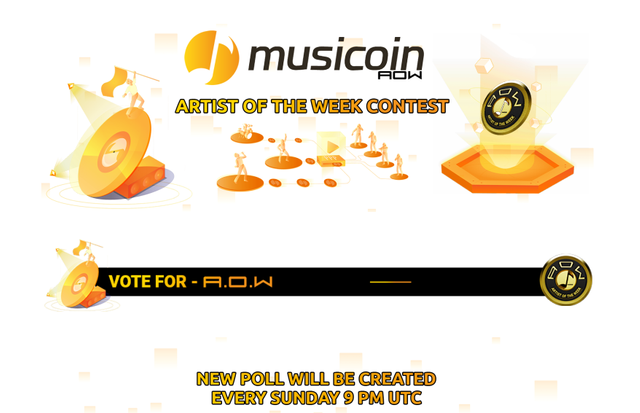 Dear artists,
Musicoin's Artist Of the Week contest (AOW) has now moved on Reddit. You can follow it each week and cast your vote by visiting our subreddit.
---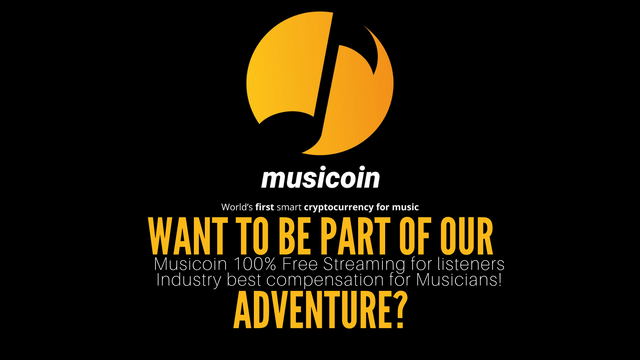 Musicoin
Musicoin is a decentralized platform that leverages the power of blockchain technology in empowering musicians to take full ownership of their content and finances. The Musicoin platform is built on a transparent Peer-to-Peer network powered by programmable smart contracts to enable fair remuneration for all musical content and services.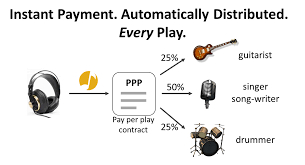 Musicoin Pay Per Play (PPP) smart contract aligns with a musician's intuitive expectation of a payout, from every single stream of their content.
PPP is a smart contract on the Musicoin blockchain that enforces and executes licensing terms to instantly reward musicians with $MUSIC (native currency of the Musicoin platform) per playback. Payments are done in a fair and transparent fashion and can be automatically divided and distributed to all contributors, such as band members, songwriters, and producers.

No intermediaries are required to facilitate payments other than the public ledger of the Musicoin blockchain. Musicoin will leverage the power of blockchain to bring about an equitable environment that is currently lacking in the 100-year-old music industry.
Furthermore, removal of intermediaries has allowed Musicoin to transfer most of the value generated from music to the musicians. Below is a comparison table of per-stream payouts (in USD) among existing streaming platforms, including Musicoin. As you can see, Musicoin does not distinguish between signed and unsigned artists and pays its musicians at a rate that is at least ~286% higher than its closest competitor, Spotify.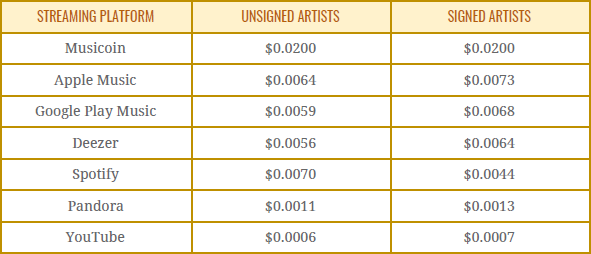 UBI Economic Model
Universal Basic Income (UBI) is a recent implementation of a new economic model on the Musicoin ecosystem. A UBI pool is created to secure musicians' income from PPP on the platform, at a fixed rate that is fair, uninfluenced by market forces and higher than that of any other competing streaming platforms. The rewards from mining are split into the following, 79.6% of each block rewards go to miners, 15.9% goes to the pool, and 4.5% goes to project development.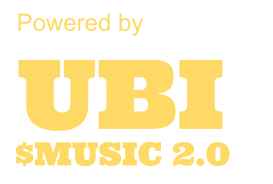 By following the UBI model, this will boost the influx of content from musicians as well as make streaming music free for listeners, thereby ensuring deeper penetration of Musicoin into the streaming market. Unlike other streaming platforms, users on the Musicoin platform will be able to stream songs for free and without ads. Free and unlimited music streaming without ads is the critical feature that will distinguish Musicoin from centralized streaming platforms, allowing us to expand radically and capture a bigger share of the streaming market.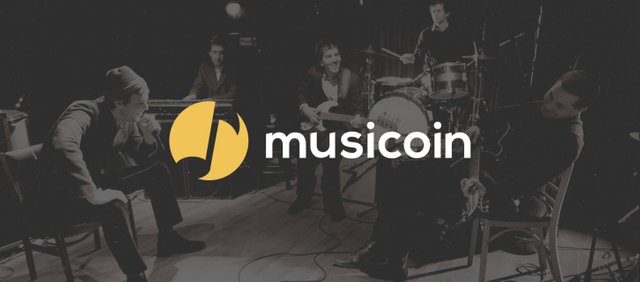 Further information on this model check the following links:
Steemit: Musicoin: Universal Basic Income Unveiled YouTube: Musicoin's Isaac Mao discusses UBI with Deadly Buda from The Hard Data
---
Founder of Musicoin 'Isaac Mao' Talk to Musicoin TV at SXSW
Musicoin Road-map Animated

If you love Musicoin as much as we do and want to spread the word, the Musicoin Foundation will assist you.


The mission of the Musicoin Global Ambassador Program is to make Musicoin a household word across the planet, fostering music creation and appreciation for all.

---


Musicoin will assist qualified ambassadors conveying valuable information about Musicoin to their chosen audiences in the following ways:


Presentations at local meetups Video presentations Online tutorials Interviews and media co-operation Other interesting ideas that may further Musicoin awareness

---

How to Become a Musicoin Ambassador:

All potential ambassadors should be familiar with the Musicoin Facts and FAQs and should send an example of themselves sharing their knowledge of Musicoin in a public way. For example a Youtube video, a blog post, or an article in print.

---
Let me know If you are interested and contact our Ambassador Liaison via email at [email protected] with this information. The Ambassador Liaison will put you in touch with our Ambassador Approval Team for review.
---
If you are approved to become an ambassador, now is the time to be part of the big Musicoin family and start proposing your initiatives and get rewarded & compensated in $Musicoins crypto.

---

More Information about Musicoin and how You can start your musical journey as a musician on the Blockchain check out my recent article featured on The Creative Crypto the Steem powered magazine dedicated to all things creative on the blockchain developed by the @Sndbox Incubator.

---