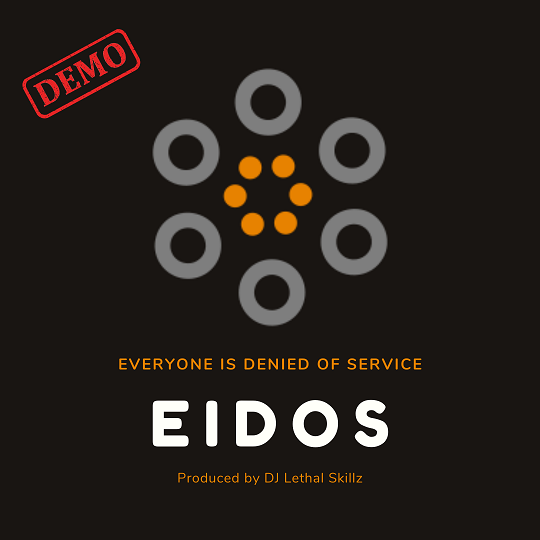 ---
Blockchain Music Series: 'EIDOS - EVERYONE IS DENIED OF SERVICE' | EOS DRAMA & HIPHOP MUSIC
| Crypto | Rap Hip-Hop | Demo |
---

For EOS users the past few days something a bit strange has been going on with CPU, namely if you're a regular user and don't have a lot of CPU resources, you probably won't be able to make a transaction. You will get a failure message about "billable CPU exceeding, ...". The result is that your transactions won't go through.

This is caused by a new project called 'EIDOS' in where lots of people are renting CPU to mine the EIDOS airdrop, which in turn has made CPU a scarce resource on EOS, as I am one of the affected users and unable to do any transactions on EOS or use any Dapps I made this fun demo for the community for fun!

This is not a serious track, not professionally mixed or finalized it is not intended to promote EIDOS or encourage anyone to mine it, I just did it while waiting for my CPU to cool down and release my stress.
On the production tip, as always I mostly use Ableton Studio Live 9 for making my music and when approaching chopping samples I use this great VST called 'Serato Sample' which is a great tool for sampling and sound manipulator that I recommend to any producer, def a strong little tool that can widen your musical production approach and creativity especially when you have a Producer block!

Have Fun Listening to it and hoping this CPU madness finishes quick!
Peace and Salute,
DJ Lethal Skillz

---
ᵀᴴᴱ ᴹᵁˢᴵᶜ ᴵˢ ᴵᴺˢᴾᴵᴿᴱᴰ ᴮᵞ ᵀᴴᴱ ᴮᴸᴼᶜᴷᶜᴴᴬᴵᴺ, ᴸᴼᵛᴱ, ᶜᴴᴬᴺᴳᴱ, ᶠᵁᵀᵁᴿᴱ ᴬᴺᴰ ᴾᴱᴬᶜᴱ
---
ᵀᴴᴱ ᴹᵁˢᴵᶜ ᴿᴱᵛᴼᴸᵁᵀᴵᴼᴺ ᵂᴼᴺ'ᵀ ᴮᴱ ᵀᴱᴸᴱᵛᴵˢᴱᴰ, ᴵᵀ'ˢ ᴼᴺ ᵀᴴᴱ ᴮᴸᴼᶜᴷᶜᴴᴬᴵᴺ
---
You can check out more Music, Stream and Support DJ Lethal Skillz for free on Emanate
---