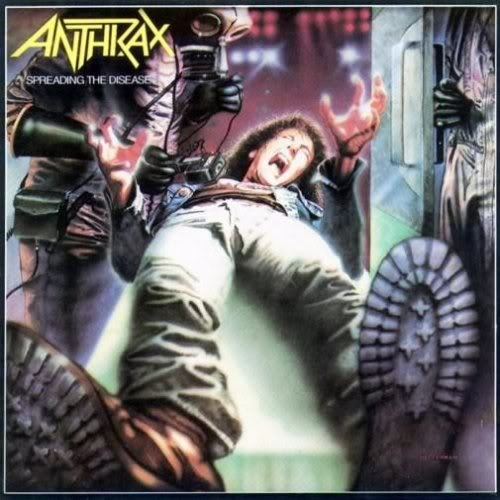 ANTHRAX
SPREADING THE DISEASE
1985-ISLAND
Produced By CARL CANEDY & ANTHRAX
A.I.R.
Lone Justice
Madhouse
S.S.C./Stand Or Fall
The Enemy
Aftershock
Armed And Dangerous
Medusa
Gung-Ho
Spreading The Disease is the second album from Anthrax, and the first featuring singer Joey Belladonna. It's a decent thrash record...all heavy, bounding, fast as lightening metal. They received a bit of a hit when the video for the first single "Medusa" (which may be their best song) was banned by MTV for its portrayal of the mentally ill. "Aftershock" and "Armed And Dangerous" (written by former lead singer Neil Turbin) are great as well. It's a solid, but unspectacular metal fest.
Anthrax had many greater moments to come, but this is a decent second effort. Bang thy head, y'all!
This is album #122 in an ongoing series.