Antonio Lucio Vivaldi is an Italian composer, virtuoso violinist, music pedagogue and clergyman. He was born in Venice and is considered one of the most significant baroque composers. He was alive and venerated, and after his death, forgotten. This year marks the 340th anniversary of the birth of the great composer, called the Abbey Red, because of the red color of his hair and his priesthood. Antonio Vivaldi was born seventh, March 4, 1678. He grows sick and his mother pledges that her son will become a priest if God keeps him alive. His family is a typical Italian family. Unlike Antonio, who becomes a priest, serves in an orphanage and helps many orphans find their vocation and take their bread, his brothers are lush and "gifted" with vices.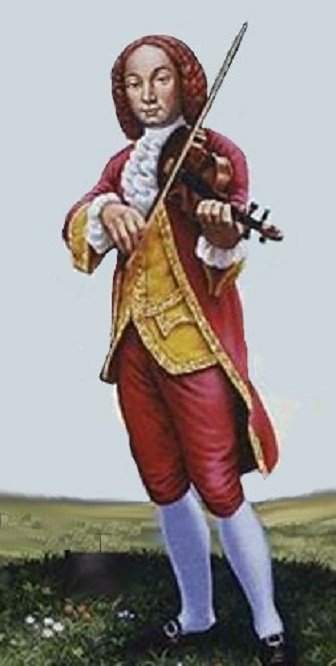 image source
One, Francesco, was tried for drunkenness and hooliganism, and the other, Bonaventura, was even expelled from Venice for the same events. Antonio Vivaldi grows as the "different" in the family. Even his mother, Camilla, who was a favorite, considered the music to be "devilish work." She agreed that her son was musical just because he started playing in the de la Pietà monastery orchestra. Today there is no man on the planet who has not heard and did not know the author of the "Annual Times". Few know that Vivaldi is the first composer in history to introduce wind instruments to classical orchestral music. This is a real experiment for your time. In the 17th century, they saw the wind instruments as "military" and "barbaric". So, for this contribution, Vivaldi is often called by the musicians "the hooligan" and the "punk" of the baroque. At the time of Vivaldi, Rome and Venice are in a constant duel in the music market.
And when Venice Vivaldi threw the glove of the Roman leader of the "Correll Grosso", it became inconvenient because it shifted not only him but Rome from the market. This is why the jealousy avenge him by bringing his name into an intrigue of intimate nature. At that time, Vivaldi contacted many artists, and in the world of music, the abbey was dragged by singer Ana Jiro. The intrigants began to circulate rumors and reports that the Catholic priest had a "immoral" relationship with an actress. This is a painful period in the composer's life. He is forced to humiliate himself to support his creativity. His only true patron, the Austrian Emperor Carl VI, died shortly before their appointment in Vienna On July 28, 1741, Antonio Vivaldi dies in poverty, in debt. He is buried in a graveyard for the poor. Once the baroque in music has given way to the classics, everyone forgets the baron Antonio Vivaldi's "punk". Almost until the beginning of the 20th century, when it was "resurrected" by his opuses. At the end of his days, he himself is called "an orphan of God"! ...