"CARORA"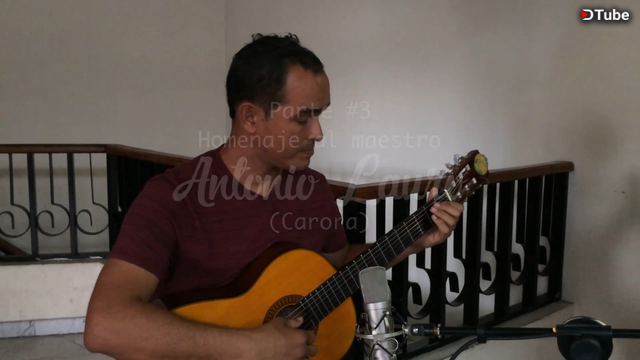 ---
Homenaje al Maestro Antonio Lauro. Ésta semana disfrutarán en la primera entrada de "La Gatica-El Negrito y Carora" a los 101 años de su nacimiento por @danieldedosd2
---
"LA GATICA"
---
"EL NEGRITO"
---
        Para nosotros los guitarristas formados en Venezuela interpretar a Lauro es sencillamente mágico porque sus composiciones nos hacen vivir cada momento en la vida de este compositor. El nombre de cada obra está relacionado con sus vivencias y todo su entorno quedó plasmado en sus creaciones ejemplo de ello, sus hijos "Leonardo, Luís Augusto y Nathalia" que llevan el nombre sus tres de sus mejores composiciones.
---
       En ésta oportunidad les interpreto tres obras las cuales llevan el nombre de "El Negrito-La gatica y Carora" ésta última una de sus creaciones más hermosas y de gran dificultad. Espero sean de su agrado y puedan disfrutarlas ya que están interpretadas con todo mi corazón para los amigos que hacen vida dentro de la plataforma y en especial a los queridos guitarrístas que de una u otra forma mantienen vibrando cada cuerda de éste instrumento en cada espacio que se abre para él.
---
       Quise hacer éste humilde homenaje que consta de tres entradas con 10 obras del Gran Antonio Lauro para así resaltar parte de su trabajo guitarrístico para todos aquellos amigos amantes de la guitarra clásica, la cual contagió mi alma hace unos años atrás y le doy gracias a Dios por permitirme conocer la música de nuestro gran maestro y poder darme el talento para interpretar parte de su obra. Esta primera entrada consta de tres piezas.
---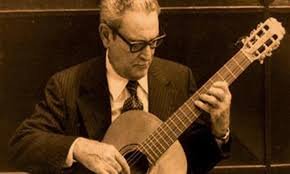 ---
        Antonio Lauro, hijo de Antonio Lauro Ventura, quien era barbero y músico, nacido en Pizzo Calabro, Italia y de Armida Cutroneo, nacida en Maratea un pueblo al sur de Italia, quien fue la inspiración para la pieza musical que lleva ese nombre: Armida.1 Su padre falleció cuando el apenas cumplía 5 años. Los estudios musicales los realizó en Caracas a la edad de 9 años en la Academia de Música y Declamación (hoy Escuela Superior de Música José Ángel Lamas),2 donde fue discípulo de Vicente Emilio Sojo, Juan Bautista Plaza, Salvador Llamozas y Raúl Borges quien fue su maestro de guitarra clásica entre 1930 y 1940, en la primera cátedra de Guitarra Clásica conformada en Venezuela, fundada por el maestro Borges.
---
        Debido a que carecía de recursos económicos con los cuales financiar sus estudios musicales, los tuvo que costear trabajando como guitarrista acompañante en los programas de la emisora de radio Broadcasting Caracas (actual Radio Caracas Radio). También fue integrante del grupo Orfeón Lamas, fundado por Vicente Emilio Sojo en 1928 y la cual dirigió durante 9 años, donde algunas veces le tocaba interpretar el bajo. En 1935, fundó y fue cantante de un conjunto musical llamado "Los Cantores del Trópico",3 donde con su excelente voz de bajo comenzó a destacar como compositor y arreglista, particularmente piezas para guitarra.
---
        En 1940, al recibir su título de maestro compositor se dedica formalmente a la creación musical. Como cantante lírico, el 25 de julio de 1954, estrena con la Orquesta Sinfónica de Venezuela, y junto al tenor Teo Capriles, la Cantata criolla de Antonio Estévez, dirigida por el autor, en el Teatro Municipal de Caracas.
---
English
---
Tribute to Maestro Antonio Lauro. This week will enjoy the first entry of "The Gatica-El Negrito and Carora" to 101 years of his birth by @ danieldedosd2
---
        For us the guitarists trained in Venezuela to play Lauro is simply magical because their compositions make us live every moment in the life of this composer. The name of each work is related to his experiences and all his environment was reflected in his creations example of it, his children "Leonardo, Luís Augusto and Nathalia" named after his three of his best compositions.
---
        On this occasion I interpret three works which bear the name of "El Negrito-La gatica y Carora" the latter one of his most beautiful creations and of great difficulty. I hope they are to your liking and can enjoy them as they are played with all my heart for the friends who make life within the platform and especially the dear guitarists who in one way or another keep vibrating each string of this instrument in each space that it opens for him
---
       I wanted to make this humble tribute that consists of three entries with 10 works of the Great Antonio Lauro to highlight part of his guitar work for all those friends who love classical guitar, which infected my soul a few years ago and I thank God for letting me know the music of our great teacher and being able to give me the talent to interpret part of his work. This first entry consists of three pieces.
---
_

       Antonio Lauro, son of Antonio Lauro Ventura, who was a barber and musician, born in Pizzo Calabro, Italy and of Armida Cutroneo, born in Maratea a town in southern Italy, who was the inspiration for the musical piece that bears that name: Armida .1 His father died when he was just 5 years old. He studied musical studies in Caracas at the age of 9 years at the Academy of Music and Declamation (today José Ángel Lamas High School of Music), 2 where he was a disciple of Vicente Emilio Sojo, Juan Bautista Plaza, Salvador Llamozas and Raúl Borges who was his teacher of classical guitar between 1930 and 1940, in the first Chair of Classical Guitar conformed in Venezuela, founded by the master Borges. _
---
       Due to the fact that he lacked the financial resources to finance his musical studies, he had to pay for them by working as an accompanying guitarist in the programs of the radio station Broadcasting Caracas (now Radio Caracas Radio). He was also a member of the Orfeón Lamas group, founded by Vicente Emilio Sojo in 1928 and which he directed for 9 years, where he sometimes played bass. In 1935, he founded and was the singer of a musical group called "Los Cantores del Trópico", 3 where with his excellent bass voice he began to stand out as a composer and arranger, particularly pieces for guitar.
---
        In 1940, upon receiving his title of master composer, he formally dedicates himself to music creation. As a lyric singer, on July 25, 1954, he premiered with the Venezuelan Symphony Orchestra, and along with tenor Teo Capriles, Antonio Estévez's Cantata criolla, directed by the author, at the Caracas Municipal Theater.
---
---
▶️ DTube
▶️ IPFS