2017 Metal Album Review - "Left Hand Pass" by Cannabis Corpse
Yes, you read that correctly. Not "Cannibal Corpse", but "Cannabis Corpse"! (Though the former will be releasing their new album, "Red Before Black", this month and do expect a review from that album fro me as well! I've already preordered it!!!!)
In a time when cannabis use of any kind was still very much demonized, far more so than this day and age, there was an undergound death metal outfit that always seemed to get confused with its similar namesake ancestor of said death metal. While Cannibal Corpse dominated (and still continues to do so, I feel) the death metal "Mainstream" (if you feel there is such a thing!), Cannabis was doing two things and two things alone.... smoking a ton of weed and playing great old-school sludgy death tunes! And now, eleven full years after their initial release "Blunted at Birth", they are still doing those two things. And by no means is that my way of complaining! Because what they do, they do WELL.
CANNABIS CORPSE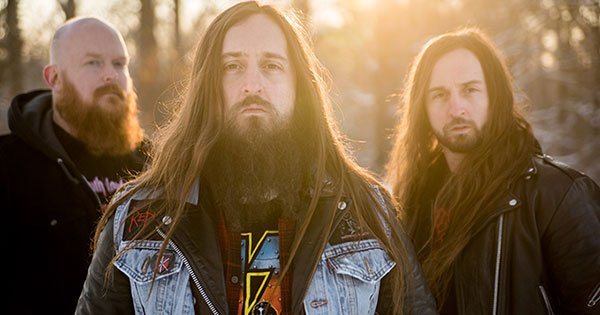 (Image Source: https://www.google.com/url?sa=i&rct=j&q=&esrc=s&source=images&cd=&cad=rja&uact=8&ved=0ahUKEwjHmNPFsKjXAhWIcBoKHaOyAcwQjRwIBw&url=http%3A%2F%2Flambgoat.com%2Fnews%2F28496%2FCannabis-Corpse-announce-new-album-premiere-song&psig=AOvVaw2c2MhGknn5wHW0cAdMZ56M&ust=1510003615377571)
Having a general fetish for naming albums and songs as parodies after famous death metal icons (such as "Blunted at Birth" instead of "Butchered at Birth", Cannibal Corpse's second album), Cannabis Corpse has certainly cleverly earned their spot in the pantheon of death metal legends such as their parody namesake and other bands like Death, Obituary, Malevolent Creation and many others. Their sound is generally very reminiscent on their influences that consist of aforementioned artists and many others as well. Basically, you can tell who inspired them. But that does NOT mean they don't have a unique sound all their own. I mean, very few bands at that time were gathering up the testicular fortitude to speak openly about being a pot head, and beyond Cypress Hill or Kottonmouth Kings, the mainstream wasn't taking much notice to them.
But Cannabis Corpse had a captivating way about them, and soon they broke through the "dank" mold that once covered them. Now here they are, exactly eleven years after their debut, with "Left Hand Pass".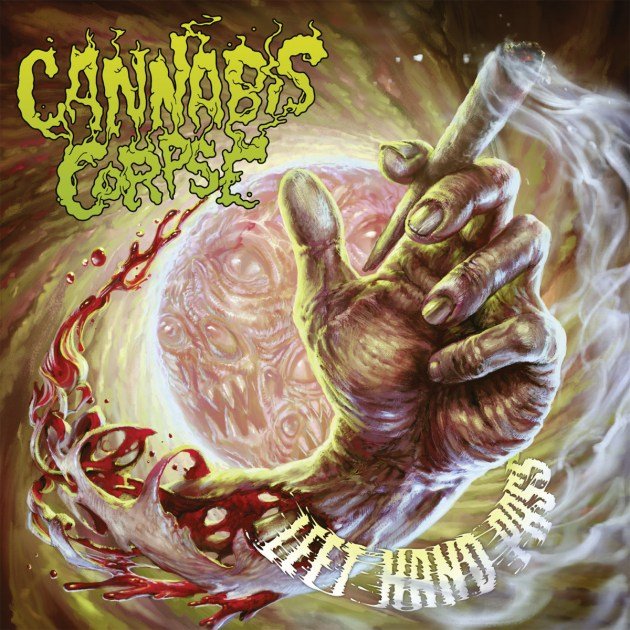 (Image Source: https://www.google.com/url?sa=i&rct=j&q=&esrc=s&source=images&cd=&cad=rja&uact=8&ved=0ahUKEwiCzJeGuajXAhUD_IMKHVAhCxwQjRwIBw&url=http%3A%2F%2Fwww.invisibleoranges.com%2Fupcoming-metal-releases-932017-992017%2F&psig=AOvVaw0I3uqzkX9RrFJpiq5DDYWY&ust=1510006035318863)
And now, to the fun part....
I know that some of you may be feeling skeptical about a band that simply plays death metal and clecerly names some of their songs and records after some of their favorite influences, but here I tell you now.... They do it so well! And their sense of humor never takes away from their true musicianship. Don't believe me? Hear for yourself below!
"The 420th Crusade"
"In Battle There is No Pot"
"The Fiends That Come to Steal the Weed of the Deceased"
Hope you enjoyed listening to a bunch of metal head stoners play some death metal!!!! :D
Till next time, Steemit.