World Premiere of My Original "King Arthur" String Quartet (Original Composition)
Photo credit: Rick Prieur.
Hello everyone! I am excited to say that today saw the premiere of my first String Quartet entitled "King Arthur" based on the life (and death) of King Arthur. This has been a day that I have been looking forward to for over a month. In summary, the workshop saw a lot of incredible work by the 3 other participants. I would highly recommend giving their work a listen, so here is a link to the original Facebook videos:
First Composition
Other Compositions
Edit: I just realized that they sent us the professional photos which were taken so, if you notice higher quality photos, I added them in. These beautiful photos were taken by Rick Prieur.
Performance
Before anything else, here is the performance:

Recount of Events
So, to summarize how I came to this point. . .
Several months ago, I came across a flyer in the Bryn Mawr Conservatory advertising a workshop for Young Composers run by Jennifer Nicole Campbell, and hosted by the Brandywine River Museum of Art. I was intrigued by the idea of this workshop and applied for consideration (with the intent to learn more in the event of acceptance). For those of you who are wondering, I submitted the Nocturne as a sample work.
Anyway, fast forward a few weeks and I receive an email stating that I've been accepted for the workshop with potential times for a phone interview. We had the phone interview and discussed my previous work and potential times to visit the museum.
Fast forward to June and all of the young composers went to the museum to view potential paintings to draw inspiration from. We all had a shared guided tour, and, by the end, I was no closer to knowing what I intended to do. I saw so many options, and none really popped out too much at me. I decided to wait until I got back from Germany (in July) to decide.
When I got back from Germany, I met a friend at the museum and showed her the exhibit. When we were in the gift shop, she decided to purchase some photos of flowers for her room. Near the flower photos, I noticed a book, illustrated by N.C. Wyeth, which described the story of King Arthur. I immediately was intrigued and bought it (as we were in a hurry). When I got home, I set the book aside and continued to work on the graduation piece.
At some point, it became apparent to me that my first lesson with Ms. Campbell was approaching fast (a week away), and I had yet to write a note. I looked at the first painting and read the surrounding story, and immediately decided that the first movement would draw from the Overture to Handel's messiah. Within a few hours (if I remember correctly), I had the first draft of "The Orphan's Processional."
I heavily debated how to design the overall "mother structure" of the work (whilst writing the first movement, I had thought the next movement would be in G major themed on the lady of the lake), but I decided that I should do the trumpet photo next instead (in order to keep the quartet at 4 movements). So, I came up with a theme using three notes and had the first draft of "A Call to Arms" within another few hours.
I posted the first movement on Steempeak, and received a comment from @partitura talking about how he looked forward to seeing how I developed my stray towards G Major in the coming movement. My reaction to this was "Oh crap, he's right, I alluded that the next movement would be in G major then glossed over it when my interpretation of the mother structure changed." So, I spent a few hours composing the beginnings of a new second movement in G major and took a few days to complete the first draft of this movement. Thanks to @paritura, "King Arthur's Water Music" now exists.
At this point, I had like a day or two until my first lesson with Ms. Campbell. I had taken a trip to the museum and researched which paintings hung on the museum wall. I knew the battle scene was a must (because it is on the wall), and I knew Arthur's battle with Sir Mordred would be a satisfying ending. So, I knew I had two more movements to compose, and, by this point, I'd decided the 4th movement would be a Double Fugue. So, me being the confident procrastinator I am, I decided I had enough material for the lesson and that I would not begin work on the Double Fugue until after the first lesson (with a week until the second lesson).
Fast forward to the lesson, I am given plenty of insightful criticisms which I immediately addressed (sadly I'd already posted the earlier drafts of the first two movements, so those were kind of set in stone in regards to the Steem posts). But, I decided to focus on writing the last movements before posting anything more.
So, I began work on the Double Fugue. A daunting process which probably took the most days of any of the movements. I drew influence from Mozart's Kyrie, and drafted, then erased, then drafted, then erased, then cried in my room about how I could no longer compose, then drafted, then erased, then saw my theory teacher and listened to his criticisms of my work so far. Finally, after much more drafting and crying, I got it to the point that I didn't hate it. I sent it to Ms. Campbell, and she seemed to like it, so I called that a wrap. Thus, "The Battle" was born.
Finally, I had one more movement to compose, death music. I talked about the anxiety I felt towards writing this movement in its respective article, but it only took a few hours to compose (after the few days it took me to start it). So, that day, "The Death of Arthur" was finished.
Overall, I'd say it took about two weeks to compose this 10 minute quartet if you don't factor in the days where I just didn't work because, as the procrastinator will always affirm, "Necessity is the mother of invention." If you want to factor rest time, it probably took 2.5 - 3 weeks. Either way, that is the, rather long, back story of this work.
The Day of the Performance
We arrived at the museum around 1:15pm (for a 2pm performance) to oversee the quartet's rehearsals. My paternal and maternal grandparents both came to the performance (Along with some of their friends, so we got several pictures). Here are the pictures we got: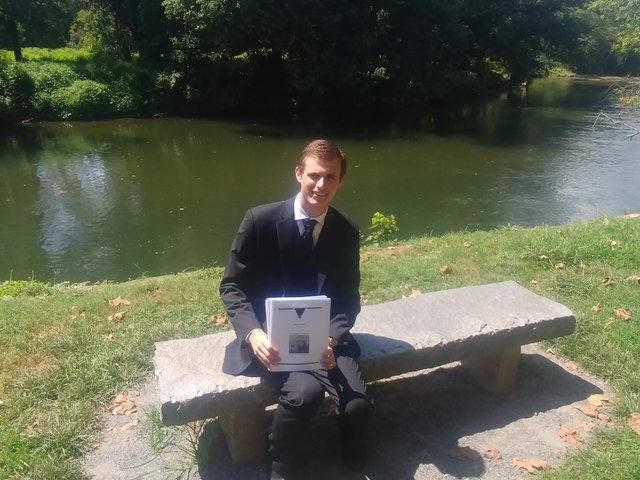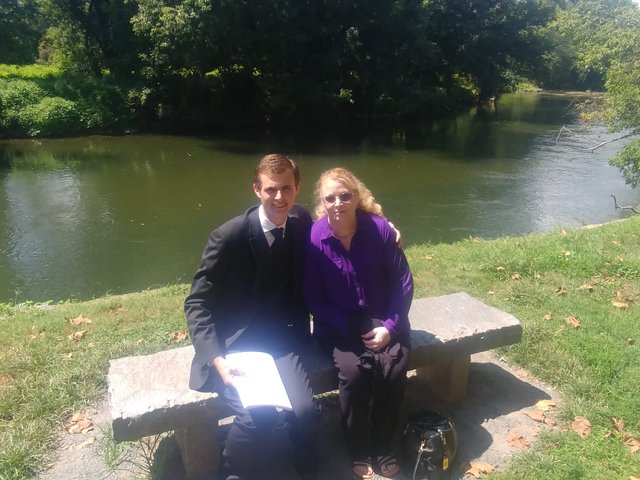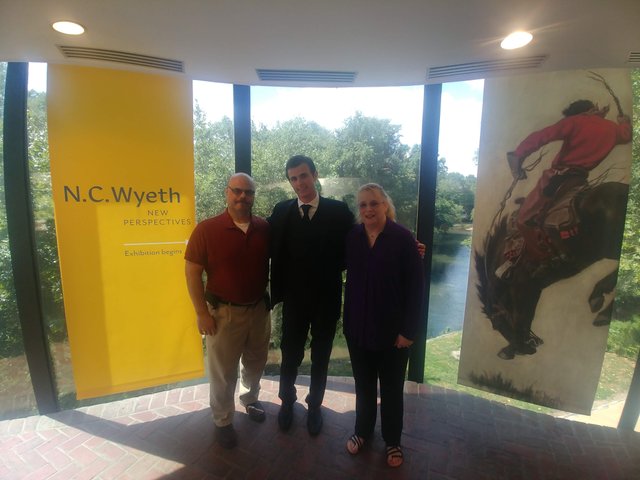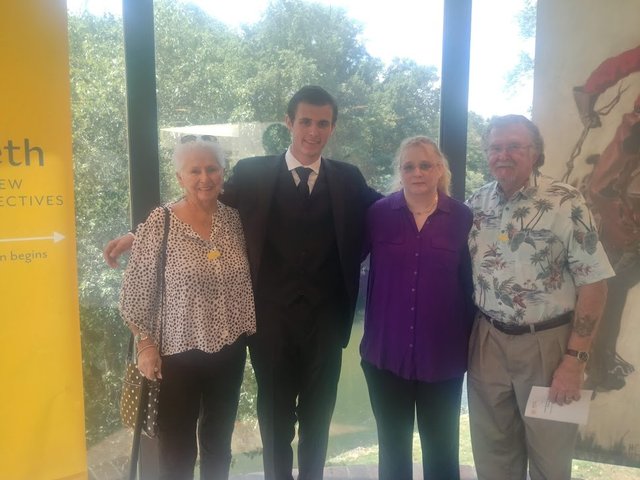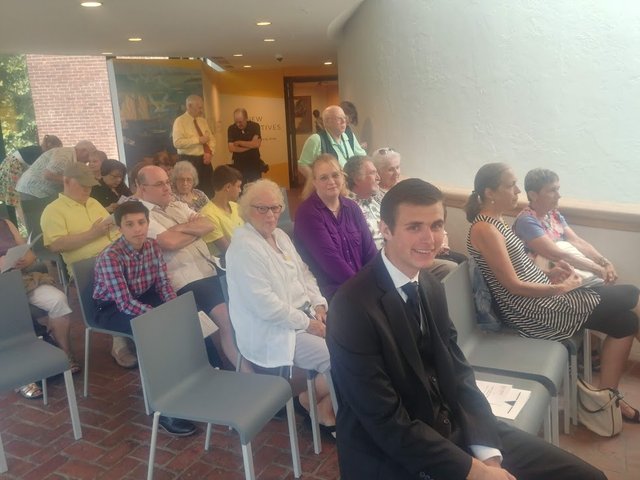 Here's a picture of the Arthur page and biography page of the program (in which I advertised Steem):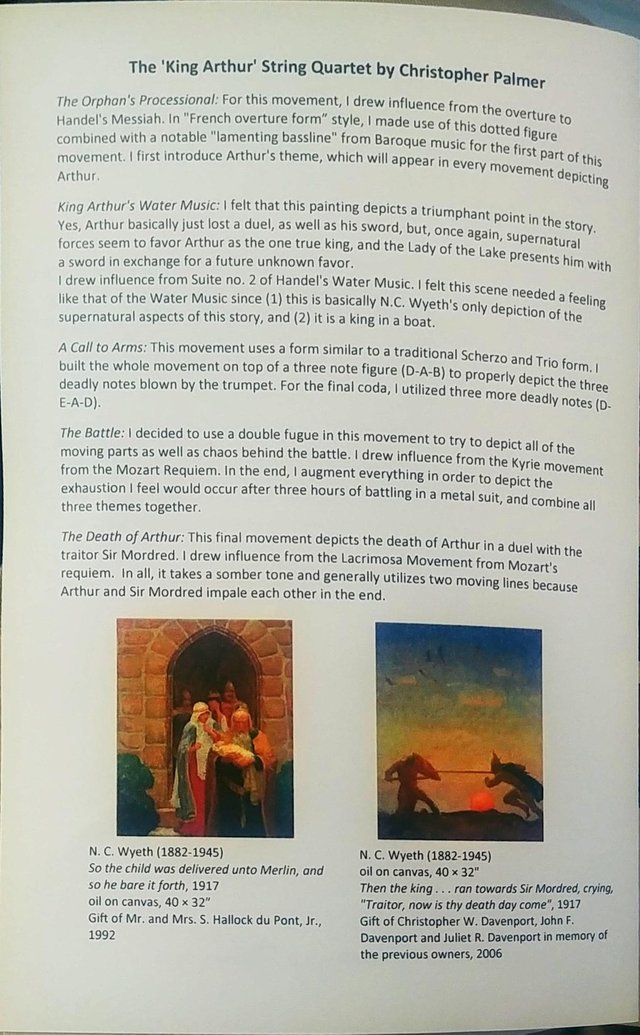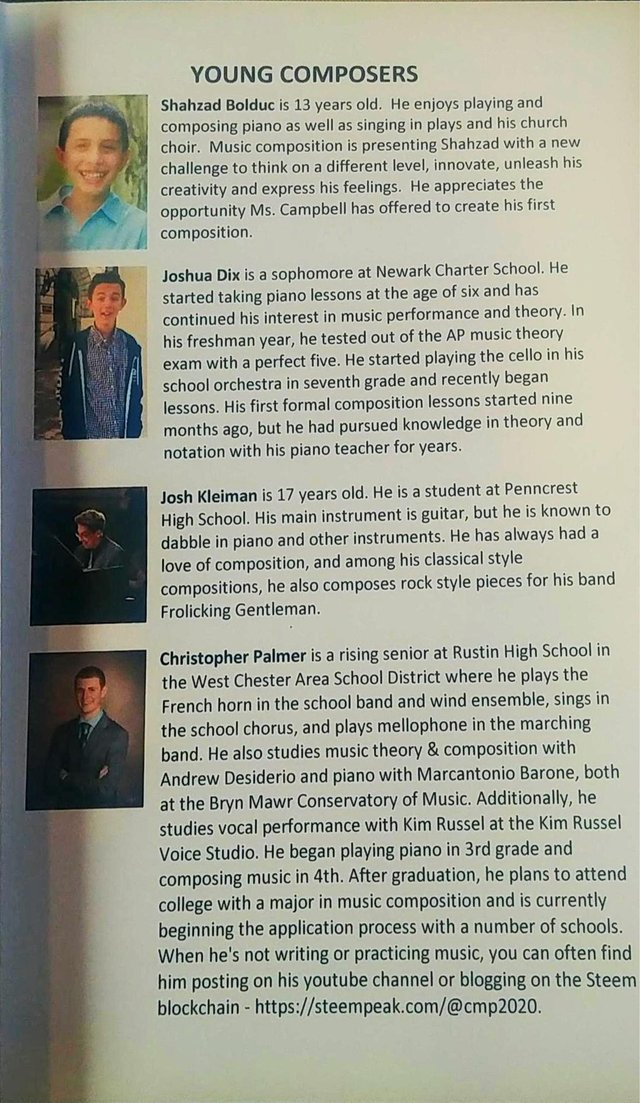 At 2pm, the performance began. I heard the music of the other composers for the first time. It was all quite incredible! I was particularly impressed with a sophomore's Piano Trio. It was quite intricately written in terms of themes as well as their development (something I need to work more on). I also found the stylistic choices to be strikingly symbiotic with those of the painting. Overall, I was quite fond of the piece! You should go check it out (links at the beginning).
My Quartet came last in the program. I am quite thankful to the Quartet for how well they played it. I know what I gave them wasn't easy (and was most likely awkward for stringed instruments since I don't play any). But, overall, I enjoyed their interpretation, and appreciated their stylistic choices in addition to the guidelines I'd already laid out. It came out well in my (totally unbiased) opinion. Here's a pictur eof the quartet: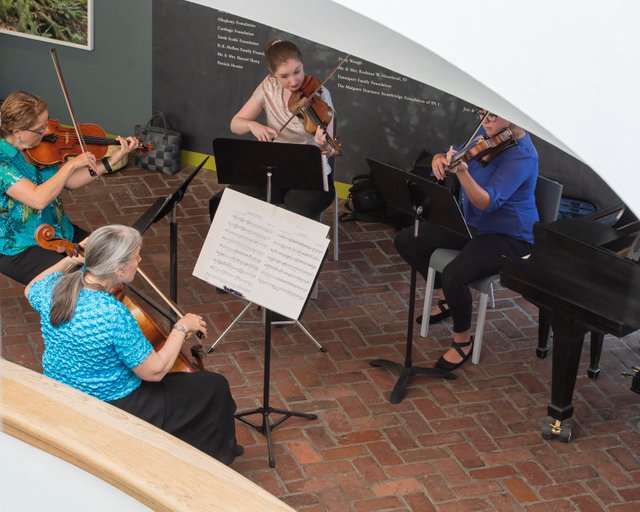 Photo credit: Rick Prieur
Anyway, thank you to the quartet:
Laura Raffaele (violin 1)
Jennifer N. Campbell (violin 2)
Pamela Jacobson (viola)
Vivian Barton (cello)
Thank you also to my instructors in regards to this piece:
Mr. Andrew Desiderio
Ms. Jennifer Nicole Cambell
After the performance, we got several photos then went to a reception: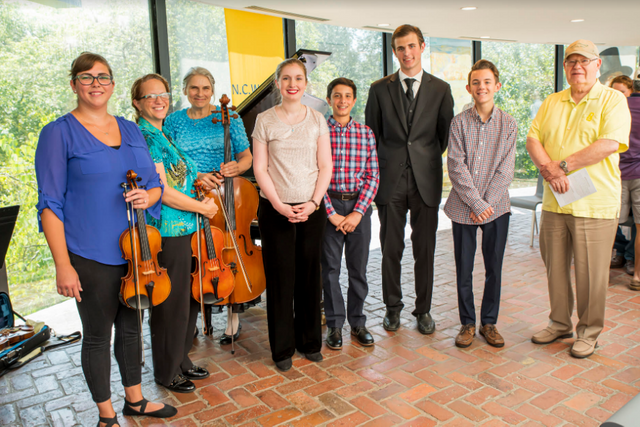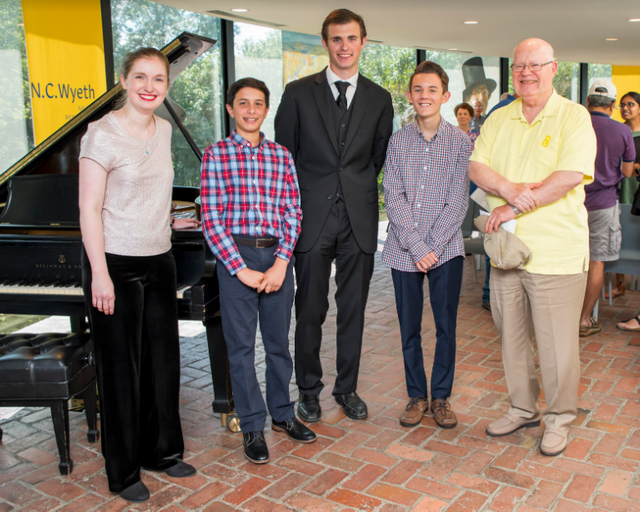 Photo credit: Rick Prieur
Side Note, the man in the yellow shirt in both of these photos is Douglas Allen, the artist who painted one of the works, entitled "North Light-Grizzly," which was utilized by one of the young composers.
At the reception, we had cake (those of us who aren't lactose intolerant at least) and took more photos: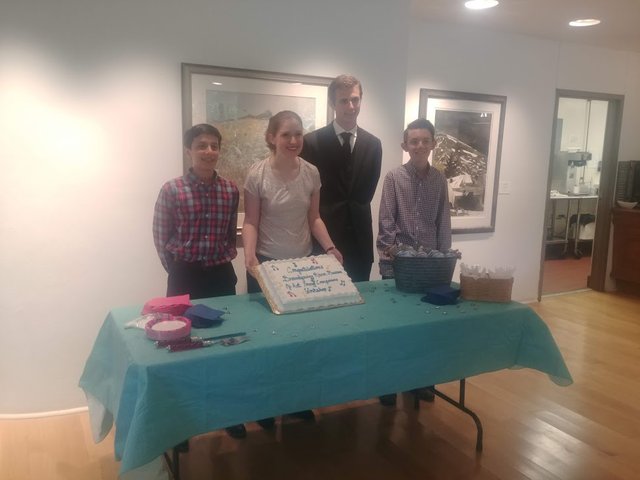 I also got a photo with Ms. Campbell: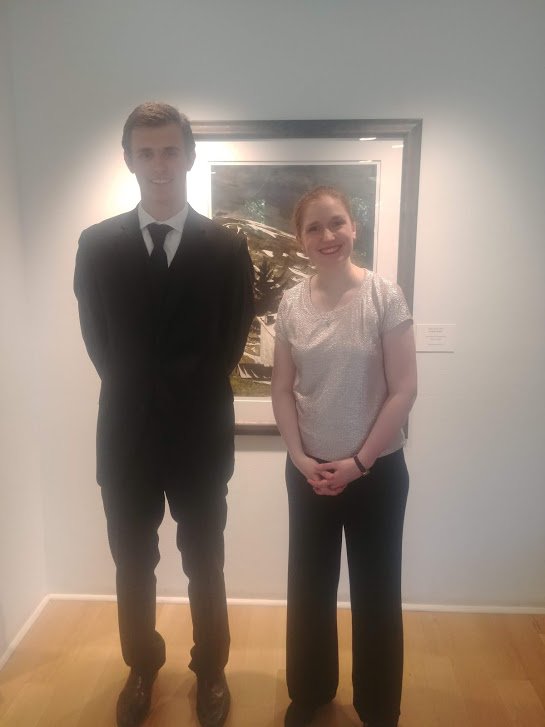 Conclusion
I am quite thankful for having had this opportunity. Thank you to the Museum for hosting, to Ms. Cambell for running, and to the Quartet for performing. As always, feedback is very much appreciated. And, as I've already stated several times, make sure to go check out the other composers' work! It is definitely worth it! (Who knows? Maybe my Steem ad will eventually bring them this platform. :) Have a nice day!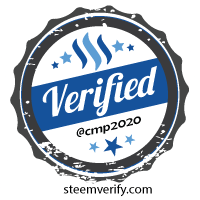 (Note) In order to encourage meaningful feedback on the platform, I will check comment trails of users who leave superficial comments (ie "Awesome post," or "Upvoted.") and will mute any users who exhibit a pattern of leaving "spammy" comments.