Hello everyone! Once again, I have disgraced my word by not posting any of the promised content. I have had more deadlines than I care to admit, and have been composing ALOT in the last few weeks. Truth be told, the Arthur Quartet is complete and sent to the musicians, the graduation piece is nearly finished (the new part), and I have yet to start the project due September 1st. Life is interesting to say the least. I promised a Germany summary, and have several other articles on back log. I need to get to those, and will try to focus on THAT (as well as posting the Arthur Quartet) during the next few days. But, let's get to movement 3:
Art
First of all, the Art. That's what we all came for. This painting comes towards the center of the book in chapter 3. There are other illustrations between the last movement's piece and this one. The reason why I chose this one to set is that it is on the wall at the museum. Later on, I will describe what's going on in the story. Here is the picture: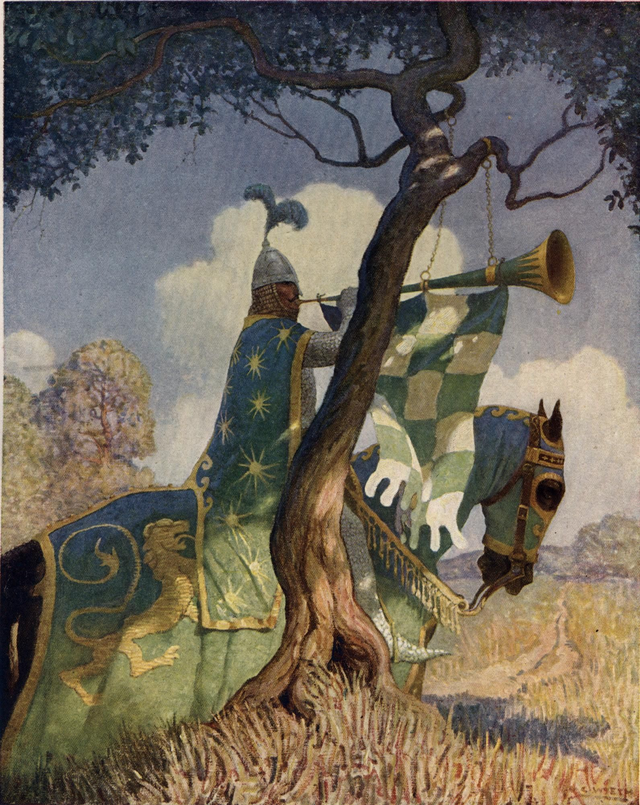 It is captioned:
"It hung upon a thorn, and he blew three deadly notes"
Before we do anything else, here is the movement:
Story
I'm sure you're curious about what is going on in the actual story at this point. This comes in Book 3: "Of Sir Gareth of Orkney." So far, what has happened is that it has been revealed that when Pentecost rolls around, Arthur refuses to eat (feast) until he hears of a new miraculous adventure. The Pentecost occurring at this point in the story brings three men on horseback as well as a dwarf on foot. Arthur's knight Sir Gawaine sees these travelers approaching and goes to tell Arthur
*"Sir, go to your meat, for here at hand come strange adventures."
Arthur agrees to meet with the tallest man who requests three unknown gifts: 1 immediately and the 2 others in the future. Arthur agrees, and the man begs a supply of food and drink for a year. Arthur asks the man his identity, and the man refuses to give it. After this, Arthur provides him a job in the kitchen. Over the course of the year, the man received the nickname "Beaumains (Fair hands)" from Sir Kay the Steward (who mocked him). The two other men left.
A year later, on Pentecost, Arthur continues his tradition of fasting until he hears of a miraculous adventure. A squire came and informed him
"Sir, ye may go to your meat, for here cometh a damsel with some strange adventure."
The damsel informs Arthur that on of her lady friends was taken hostage by a tyrant called the Red Knight. The damsel begs Arthur to send one of his loyal knights to rescue this lady. Arthur asks the lady's identity, and when the Damsel does not know, he refuses to send anyone.
The same man, Beaumains, from the previous year approaches Arthur and begs to request his second and third gifts. Arthur tells him to ask away, and Beaumains asks for his second gift to be allowed to help the Damsel in rescuing her friend, and for his third gift to be Arthur send Sir Lancelot after him in order to grant him knight hood. Arthur agrees.
Basically, what happens from here is the Damsel is mad that a mere "Kitchen Page" is being sent instead of a real knight. Sir Kay tries to stop Beaumains, and Beaumains strikes him down. Lancelot proceeds to challenge Beaumains, and, after more than an hour of fighting to stale mates, Lancelot decides that Beaumains is worthy of knighthood and asks him for his true identity. Beaumains reveals himself to be Gareth brother of Sir Gawaine. Lancelot knights him.
The damsel still considers Sir Gareth unworthy to challenge the red knight, so she tells every single knight they come upon that Sir Gareth is holding her against her will. Each of these knights challenges Sir Gareth and loses (most dying). Eventually, he comes to fight a knight in black armor, and kills him (honorably) and takes his armor. They come upon a green knight who thinks that Sir Gareth is his brother (because the black knight is his brother). When the Damsel tells of how Sir Gareth really is just a kitchen servant who "dishonorably" killed the Green Knight's brother, the Green Knight challenges Sir Gareth. The picture is of the Green Knight blowing the trumpet to alert his servants that he needs his battle gear. What winds up happening is Sir Gareth unseats the Green Knight, and the Green Knight begs Sir Gareth's mercy. Sir Gareth declares he will only give mercy if the lady beg it, and the lady refuses (saying the Green Knight lost because he is not skilled enough). The Green Knight then promises to swear his sword as well as the swords of all 30 of his followers to Sir Gareth if Sir Gareth grants mercy. Sir Gareth agrees.
Stuff going on
THREE DEADLY NOTES
When I began thinking about how I would set this, I became very nervous thinking "Awe man, I need to come up with a motif that this piece can be built off of based on three notes. Which three should I do? There are so many?" I then thought back to a joke I'd made on the board in the choir room last year. I'd written out a piece of music which I called "The Dab Song" and based on the three notes D-A-B (an apparently popular dance move among my generation). Now, let's be real. . . That "joke piece" was simply a piece of crap. I wrote it in my head during a ten minute span (when left unattended and bored in the room). But, I fancied the idea of trying again with more time to prepare (especially when I realized it is only three notes). So, I built this movement.
For the final coda (and cadence) I introduce three more (quite literally) deadly notes D-E-A-D.
Form
This piece is most comparable to a traditional scherzo - trio movement (though the trio is oddly in common time in this case). Overall, the piece is quite short, but all of the sections are built upon the D-A-B motif (whether in d minor or Major).
Time Signature
I decided to write in 3/8 for the scherzo because of some of the baroque music I've heard recently which utilizes this signature. Specifically, the opening movement of Bach's Christmas Oratorio, Bach's 3rd 2-part invention, and Handel's But Who May Abide the Day of His Coming. I realized I hadn't written much in 3/8, and decided it would be the perfect time signature to raise the blood pressure for this movement. I am fully aware that the mood of these pieces is in no way similar to my piece (by design), mine is much more scherzo like, but these pieces are what made me contemplate 3/8.
Conclusion
Thanks for reading/listening to this! This Quartet will have its world premiere on August 21st at 2pm at the Brandywine River Art Museum. I look forward to posting live recordings! As always, feedback is always appreciated! Thanks again for your time!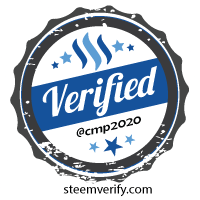 (Note) In order to encourage meaningful feedback on the platform, I will check comment trails of users who leave superficial comments (ie "Awesome post," or "Upvoted.") and will mute any users who exhibit a pattern of leaving "spammy" comments.