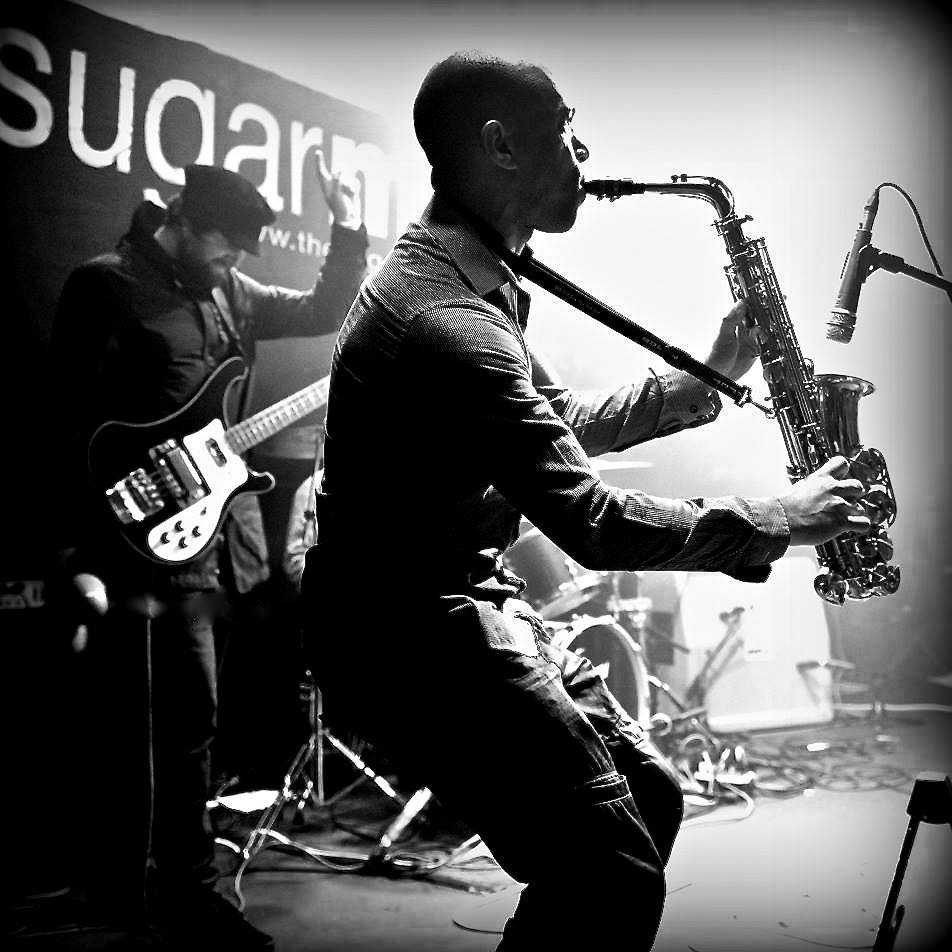 Photo's were taken by a local Photographer, Chris Brian Hollingworth who I hope to see on Steemit because I think he has awesome talent. Do check out his instagram here and if you agree please comment and lets get him on here!
https://www.instagram.com/_cbhphotography/?hl=en
So this photo takes me back to December 2016 when a local indie band called The Rivalry had a gig in less than 24 hours and was missing their usual saxophonist. I was contacted via Facebook and within a couple of hours I was jumping in a taxi to the studio where they were getting ready for their performance at "The Sugar Mill."
What they wanted was for me to play on their last song of the night a song that they had wrote called "Touch The Sky". Now I may be able to upload the recording of the practice later on dsound later and I kinda regret not getting footage of the actual night maybe somewhere some one has, I will have to investigate but wow, you know that moment when you hear a song and you just get goose bumps all down your neck? That was me when I heard this song and I will leave you a link to their uploaded version from YouTube.
So been a musician and having this ability to freestyle to literally anything I love, I knew straight away that I was going to let loose on this song and play my heart out.
These guys are such a bunch of talented musicians I really want to see them on here, but when it came to the next night I was totally in my zone focused and just waiting to come on right at the end. Even now when I go back in my mind I can remember the feel of the atmosphere when I blew my first note and to the surprise of the unaware audience the vibe all of a sudden just had me feel like I was floating above the stage, that feeling of gratitude, I was totally lost in the song and where words stopped my saxophone penetrated right through the hearts of the crowd, such an uplifting feeling it's hard to describe but plenty of musicians will know that feeling. It felt awesome to feel so much love in that room and it felt awesome to give it my everything that I had.
These guys seriously have a talent and I would love them to see for themselves how unique they are. I have them down as the best group I have performed with locally so any positive feed back on this would be great so I can show them.
I have not been very active here for a few months and to be honest it was because I found myself getting burnt out with the effort i was putting in. I don't really see myself as a blogger but I do have a massive heart for spotting talent and giving them a stage so if anyone would like to retweet any of my steemit posts please hook me up because in the back ground i'm still talent scouting and encouraging people to join.
https://twitter.com/martin_clive/status/995028559910637569
https://twitter.com/martin_clive/status/974562901846523905