Hector Lavoe, one of the Greatest Salsa singers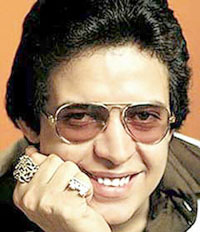 Hector Lavoe (who was born Hector Juan Perez Martinez) was a Puerto Rican singer, and one of the greatest stars in the Fania. Fania was possibly one of the greatest salsa music bands of all time, very popular during the 80s, and had many other great artists such as Celia Cruz and Willie Colon.
Lavoe was born in year 1946 in Puerto Rico, and died in 1993 in New York, but his legacy and his salsa lives on! Some of the best songs sung by Hector Lavoe include El Cantante, La Fama, and Periodico de Ayer.
If salsa music interests you, I highly recommend you to watch the movie El Cantante starring Marc Anthony and Jennifer Lopez, a biography told by Lavoe's widowed wife.
Comments? Please post! :)